If you are picking up your motorhome rental in Hobart, you'll find this small city with big ideas sitting on the edge of the River Derwent, with a stunning back drop of the 1,279m high Mount Wellington.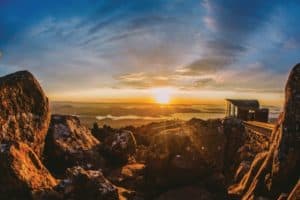 Hobart is the capital of Australia's island state of Tasmania and is steeped in convict and colonial history and the perfect place to start your motorhome holiday. With its dynamic food scene and a wealth of natural attractions you'll find yourself immersed in a plethora of things to do.  There is also a good range of motorhome rentals available from Hobart.
This city has made its mark on the map with its fashionable Salamanca Place with its old sandstone warehouses hosting art galleries, theatres, cafes, bars and shops; here you can soak up the atmosphere where Hobart's historic, creative and cultural heart beats. Nearby is Hobart's oldest and prettiest suburb Battery Point, which is a historic district with narrow lanes and colonial-era cottages and has plenty of café and restaurants making it a great spot to settle in for a drink and dinner.
There are numerous sights to be seen in and around Hobart before you grab one of the motorhome rentals. If you are looking for the top things to see, check out our blog here on the Top 5 things to do in Hobart.
Picking up one of the motorhome rentals from Hobart is a breeze. There are nearby locations to stock up on supplies before hitting the bitumen for your Tasmanian adventure.  You'll also find caravan parks nearby too.
If you are still looking at organising your motorhome rental from Hobart, check out our vehicle options or get in touch with us to see how we can help assist you in the planning of your trip.
Hobart Motorhome Depot Locations
While none of the Australian motorhome depots provide transfers, some of the Hobart Motorhome depots are close to the Airport which saves a few dollars on a taxi or uber.
Maui / Britz / Mighty depots are located at 14 Long Street, Hobart Airport, Cambridge, Hobart, Tasmania, 7170.
Distance (approx.) from airport: it is located within the airport car parking facilities / City 18km
Walking distance from airport (200 metres) / City $60 (AUD)
Apollo – depot is located at 1 Hawkesford Road, Hobart Airport, Cambridge, Hobart, Tasmania, 7170.
Distance (approx.) from airport 1.3km / City 17km
Taxi Fare (approx.) Airport $15 / City $55 (AUD)
Cruisin depot is located at 3 Runway Place, Cambridge, Hobart, Tasmania, 7170. Tel: 1300 664 485
Distance (approx.) from airport 3.5km / City 15km
Taxi Fair (approx.) from airport $25 / City $45
Nearest Supermarkets
After you have picked up your motorhome rental from Hobart, you are perfectly placed to stock up on some supplies from Eastlands Shopping Centre, which is Tasmania's biggest shopping centre. There is ample parking and you'll find everything that you need here – supermarkets, banks, Kmart, chemists and bottle shops. Address: Eastlands Shopping Centre, 1 Bligh Street, Rosny Park, Hobart, Tasmania
Recommended Hotels/Motels
We don't hold any affiliations with hotels in and around Hobart, but for your ease of reference we have researched a couple of suggestions that you could stay at. You could also check out Wotif.com and Booking.com for some last-minute deals online, but please be aware with any city hotels in Australia, the accommodation can get booked up well in advance.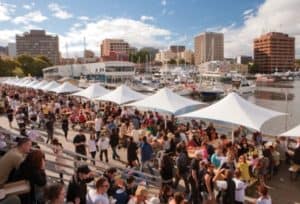 A couple of our suggestions are:
Travelodge Hotel Hobart Airport – 1 Holyman Ave, Cambridge, Hobart. Tel: 13 86 42

The above hotel is perfect if you are simply looking for somewhere to stay before you pick up your Hobart Motorhome rental. It saves an unnecessary taxi ride into the city back out again, unless you are wanting to wander around the City in the afternoon or morning.

City Hotels

There are a few different options in the city and it really depends on the features you are after and your budget. Being close to the waterfront is best. Have a look in a couple of the websites such as Booking.com or Wotif.com for a summary.
Recommended Campgrounds
If you don't plan on travelling too far on your first day of picking up your motorhome rental then these campgrounds could be a good spot for you to settle in at while you get used to your rig!
Discovery Holiday Parks Hobart – 673 East Derwent Highway, Risdon, 20km from airport. Tel: (03) 6243 7185
Hobart Airport Tourist Park – 1 Holyman Ave, Cambridge, 2km from airport. Tel: (03) 6248 4551
Getting around Hobart
All of the motorhome rental depots are to the east of Hobart city centre so you are beautifully positioned to set off out and up the eastern coast if that's your planned route. If you are planning on heading out west then the main roads out that way are the B64 which will take you up past the entrance to Mount Wellington (a very worthy detour!) or you can head down around the coastline and take the B68 as if you are heading to Bruny Island (another worthy place to visit). There are no toll roads in Tasmania. Check out our Tasmanian Travel Route here to get some great tips on where you can venture out to!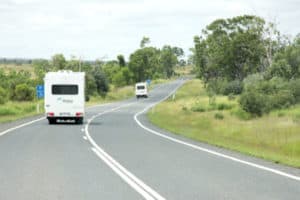 Cruising around the city in your motorhome is not usually favoured on day one while you're getting used to the motorhome, however if you fancy parking up in the city so you can have a wander round, then parking at the open air car park on Evans Street, just a 5 minute stroll into the city centre is your best bet.
Don't forget you can also contact the Hobart Visitor Information Centre before you go as they'll be a great source of up to date and local information on what's on.
If you know you want to pick up your motorhome rental in Hobart but haven't yet decided on what vehicle to choose, browse through our vehicle options and get in touch with us so that we can help assist you in the planning of your trip.