Gallivanting Oz escorted Motorhome Tours explore the length and breadth of this amazing country and have 8 mainland escorted motorhome tours and 2 Tasmanian escorted motorhome tours currently running next year, so you're spoiled for choice!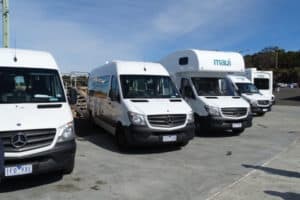 The difficult part will be deciding which Australian motorhome tour to go on.  The Adelaide to Darwin motorhome tour is popular, although we have plenty of options running throughout the year, you'll be sure to find one that has a date to suit you.
Not exactly sure what an escorted motorhome tour is?
Our Australian escorted motorhome tours each have a designated route and are led by our experienced tour leaders.  They offer support, ensure you know the very best things to see and do each day, and are there to make sure you are safe in the knowledge that there is someone at hand every step of the way.  We only invite a maximum of up to eight motorhomes to join us on tour and we don't travel in convoy as we encourage you to explore at your own pace during the day but you do receive a set of detailed travel notes, maps and driving/sightseeing instructions that you follow for each day and you are free to roam and uncover the route at your own pace.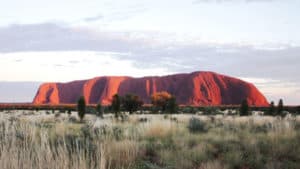 All our escorted motorhome tours come with a premium motorhome with the highest insurance available, all the hassle has been taken out of planning the route as the campgrounds are pre booked and entrance fees into the must see attractions along the way are included.  We have boat cruises included on tour and even some evening meals are included too. In fact, there is very little you need to be dipping into your own pocket for, unless there is a special interest activity that you are into such as a scenic flight which isn't for everyone.  Fuel is an extra cost, as is food, although we do include a few group meals on each and every one of our escorted motorhome tours.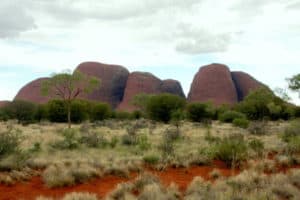 If you are considering the amazing Adelaide to Darwin motorhome tour route, then you'll be in for such a delight. This iconic  route explores the spectacular outback, vast deserts and truly amazing canyons, stunning wine regions of the south and world heritage listed national parks in the north – this route has a fabulous mix of it all!
You'll be setting off from Adelaide, cruising through the Adelaide Hills and world renowned wine regions such as the Barossa Valley and onto Clare Valley.  You'll no doubt be sampling the local produce and fine cuisine along the way!
Then you'll be heading north towards the 'opal capital of the world' as you get to explore the quirky town of Coober Pedy and see what life is like in this unusual town where the majority of homes and buildings have been dug out underground. We know you'll love the spectacular view of the Breakaways too
As you venture through the outback, you'll be dazzled by the vast red deserts which is perfectly set against the brilliant blue skies that stretch to the horizon which will eventually lead you to the magnificent Uluru-Kata Tjuta National Park. Here you'll get to spend a couple of days so that you can soak up the amazing sights of Uluru and Kata-Tjuta. There are so many incredible sights you'll see while you are here, it'll be a moment to remember for life!
Then you'll be on your way north for a short while to visit Kings Canyon which is a fantastic example of the rugged Australian outback landscape. The canyon is an extraordinary chasm with plunging sandstone walls of 270m to a tropical oasis at the base, with an eco-system that has all but disappeared in other parts of the country
As you cruise on through Alice Springs you'll get to visit the world's biggest classroom at the School of the Air, and the outback's medical service 'The Royal Flying Doctors' before you continue heading north and into the tropics of the Northern Territory
You'll begin to see dramatic differences in the landscape scenery as you soak in thermal springs at Mataranka and enjoy dawn cruises in Katherine Gorge in Nitmiluk National Park and Yellow Water in the world heritage listed Kakadu National Park
You'll get lots of opportunities to check out beautiful wetlands along the way which will be teeming with birds this time of year and see rock art which are centuries old
Visit Litchfield National Park and head out on numerous walks, explore and discover some amazing swimming spots, waterfalls and even be amazed by the sheer size of the giant termite mounds! Our favourite is to swim at the bottom of the waterfalls in Litchfield National Park – which is easily accessible in your motorhome
After 21 days of being on the road and travelling up the length of the country, you'll end up in Darwin, the jewel in the crown, and explore this vibrant multicultural city steeped in WWII history. In fact, there is a lot you can do in and around Darwin so we suggest adding on a few extra days to see more of this incredible city either from a city hotel or perhaps extend your motorhome hire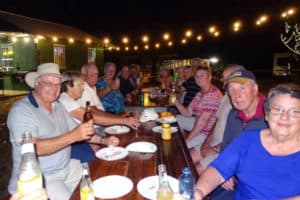 The motorhome tour route from Adelaide to Darwin is certainly a popular choice.
We get consistent raving reviews for our tours and pride ourselves on the service we provide.  We take care of all the little details so that you can focus on the good stuff! If you are thinking about one of our Australian escorted motorhome tours, then get in touch with us and we'll send you the information on a particular tour you are interested in.