Have you ever considered planning your own motorhome tour of Tasmania and felt overwhelmed by the enormity of planning it all? It can be a difficult task planning when to go and what specific places should be on your itinerary.  Worried you might miss something important?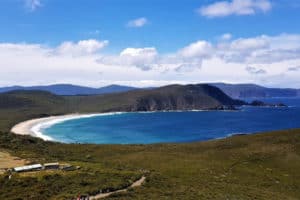 We know that feeling and how hard it can be to make decisions on how to select the best activities for a motorhome trip, which is why we created our world class motorhome tours of Australia.  Our escorted motorhome tours to Tasmania are popular becuase they make travel easy.  Don't miss a thing!
If Tasmania is on your bucket list, and you like the idea of an escorted motorhome tour where all the hard work of planning the trip has already been done for you and the security of travelling with like-minded travellers and our caring tour leaders, then you'll definitely want to get in touch with us.
Our tours operate with a unique concept and we are so proud of the feedback we receive.   The motorhome tours to Tasmania perfectly blend the mix of freedom on the road (we don't encourage 'convoy' driving, however your tour leaders are close at hand), camaraderie of other like-minded travellers, and comfort/security of knowing all the hard work has been done for you and you will not miss a thing.  You will find our tours are highly organised, but very relaxed – it is all about us giving you the opportunity to see and do as much as you'd like to each day.  If you are still unsure how we do this and how our tours operate, we'd love the opportunity to speak with you regarding all the inclusions and value for money, to make sure you are comfortable with this concept and number of inclusions.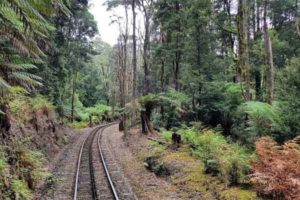 As one client said this year, our tours are all about 'choices'.  Hours upon hours are spent meticulously researching the areas we explore on tour, to ensure we show you the very best bits – and we include entrances into the must-see attractions and activities, plus boat trips to ensure you're not digging into your pocket all the time for extras, as we certainly know the costs for those add up.  Anything we consider a 'must do' and to give you a well-rounded view of Tasmania is included.
On top of all the activities and attractions being included, we've also included a premium motorhome with the highest level of insurance (no large bonds), overnight camping is taken care of along with so many other extras.
Some of the areas our 21 days escorted motorhome tour of Tasmania gives you the opportunity to experience:
Pick up your premium motorhome hire in Hobart while meeting the rest of your travelling companions and experienced tour leaders
Experience the stunning scenery and amazing local produce that Bruny Island has to offer
The rugged and remote wild west doesn't disappoint as we had across the picturesque highlands to Strahan, while taking in a ride on a steam train through steep gorges and rainforest. Discover the ancient forests, convict history on Sarah Island and Hells Gate with a boat cruise
No trip to Tasmania is complete without a visit to the world-famous Cradle Mountain National Park. Maybe you'll make friends with a wombat or two?
You'll discover the Nut at Stanley as you get to ride the chairlift to the top and experience spectacular views
Coast through Launceston and absorb yourself in colonial architecture and history
Cruising on down the eastern coast and experiencing the delights of St Helens and the picturesque Freycinet National Park where you'll get to walk on one of the worlds best beaches at Wineglass Bay!
You'll also have a guided tour of Port Arthur and learn about the convict history of this land
Along the way, we call into heritage centres and learn more about what life is like in the various corners of Tasmania through history, modern times and the gourmet food Tasmania produces
There are also some inclusive groups dinners along the way and many a 'happy hour' spent sharing the tales of the days adventure around a campfire enjoying the camaraderie of like-minded people on this amazing adventure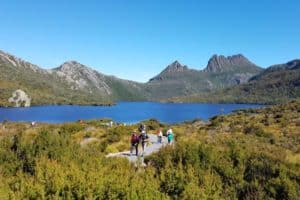 Our motorhome tours provide a great mix of adventure, sightseeing and relaxing in small groups of no more than 8 motorhomes and are escorted by our experienced tour leaders who journey with you along the way. Our motorhome tours to Tasmania are great for first timers in a motorhome as well as the more experienced as we encourage you to explore at your own pace yet safe in the knowledge that the tour leaders are close at hand.
The price of our escorted motorhome tours come inclusive of the premium motorhome hire, motorhome insurance, campgrounds, entrance fees into all the must-see attractions along the way, boat cruises and even some evening meals just to name but a few! You'll need to dip into your pocket for items such as fuel and your personal food and extras like scenic flights as these aren't for everyone.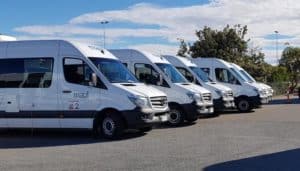 You'll also receive a comprehensive set of tour notes, lots of local information and points of interest so you don't miss a thing!
Find out what escorted motorhome tours we have going for 2024 here .  We have numerous motorhome tours on throughout the year so you can pick which one appeals to you the most!