Our tour leaders, Dave and Jean recently had another adventure in a lovely little corner of the world called Tasmania.  They arrived in Hobart a few days prior to starting the first of our escorted motorhome tours of Tasmania for 2019 giving them time to enjoy the Wooden Boat Festival and revisit some of Hobarts highlights, before setting of on tour with a lovely bunch of 'gallivanters'.
Dave and Jean share some of their highlights which may be helpful for you too, before joining their group on the escorted motorhome tour of Tasmania.  If the timings don't work for you, or you prefer to freestyle it and would prefer to hire a motorhome with us, read on as you'll gain insight into the fabulous highlights around Hobart!
The Wooden Boat Festival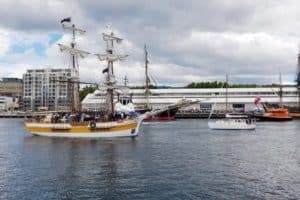 A walk around the waterfront on a Thursday afternoon and evening left us wondering if the Wooden Boat Festival had its day, but come Friday what a difference it was as tall ship after tall ship made their way into their respective berths.  The rest of the allocated berthage area quickly filled with wooden boats of all types and sizes from all around the southern hemisphere. Resplendent with their colourful nautical flags fluttering in the breeze.  It soon became clear this was a show that was going to be bigger and better than two years ago.  A look over the replica Endeavour left us surprised at what a bath tub shape she has and could only imagine how she would go in any sort of a sea way.
The wooden boat festival is held every two years for four days to coincide with Hobarts public holiday, the Royal Hobart Regatta public holiday, so it always falls on the 2nd Monday in Feb.   In 2019 the Wooden Boat Festival was held 8 – 11th Feb 2019.
MONA (Museum of Old and New Art)
We tore ourselves away from the festival to go and visit MONA (Museum of Old and New Art) and got there by taking the ferry up the Derwent River.  There are two ways you can get up to MONA, the first is you can walk up ninety-nine steps which can be quite challenging for some but worth doing if you can or you can request that the ferry take you round to the next  jetty where they have golf buggies to take any of you who may have mobility issues. MONA is the largest privately funded Museum in the Southern Hemisphere and is well worth a visit, which is better accessed by ferry from Hobart than by car.  You can easily spend half a day or more there as there is so much to see and do.
Hobart Convict Penitentiary (The Tench)
Hobart is a charming seaside city that combines the old and the new in a way that does credit to both.  The Hobart Convict precinct is definitely worth a visit to gain insight and hear stories of convicts that passed through here in the 1830's.
Salamanca Markets and the waterfront
We always time our visits to Hobart to be there on a Saturday morning so we can experience the Salamanca Markets.  This is where over 300 stall holders congregate to offer an eclectic mix of delicious Tasmanian produce, handcrafted timber art, jewellery, handmade clothing and vintage collectables.  Its such fun to grab a coffee and wander amongst the stalls and soak up the atmosphere.
This entire area is fabulous to explore even on non-market days with the historic buildings, piers and ships, plus plenty of interesting cafes to pop into and wet your whistle.  Those on our escorted motorhome tour often arrive into Hobart a couple of days prior to meeting up with us so they can enjoy a wander around the waterfront and spend more time in the city.  Having said that, on tour there are opportunities to pop into the city too, if you're not really city people and prefer a shorter look.
Mt Wellington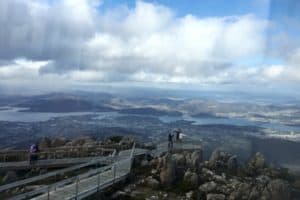 You can't help but notice Mt Wellington right on Hobarts doorstep.  For those joining us on the escorted motorhome tour of Tasmania, we have a few opportunities to head up the mountain.  For those hiring a motorhome in Hobart, you should definitely plan to head up Mt Wellington if you're passing and its not covered in clouds.  Offering incredible views of the city and Derwent Valley, you'll be amazed how easy it is to get to the top of the mountain. Of course, if you're more energetic, there are hiking trails! We often find the temperatures much cooler at the top of Mt Wellington so make sure you have a jacket handy – and hold onto your hats; it can also be pretty windy up there too. The road up isn't too hair raising – a couple of narrow stretches, but if you take your time, you'll be fine.
We didn't have time this visit, but its often nice to call into the Cascade brewery on the way back to sample one of the local range of beers and ciders – you can even take a tour here.  Nearby, the Cascade Female Factory certainly has some horrific stories to tell too.  Operating from 1828 to 1856 it was were female convicts were sent for punishment and reform, before it continued as a jail until 1877.
The tour!
We're looking forward to meeting our next excited group of gallivanters joining us for an escorted motorhome tour of Tasmania later this year in November.  We are looking forward to seeing some of our fabulous clients from previous mainland oz tours, plus meeting the new fresh faces to make up the group. We've found that limiting the group size to just 8 motorhomes provides the best experience for our escorted motorhome tours.  At Gallivanting Oz, we know it's the small details which makes all the difference on our Australian escorted motorhome tours and we're looking forward to ensuring we exceed the expectations once again for our new group.
Our tours aim to provide you with a great mix of adventure, the outdoors, sightseeing, relaxing and socialising and are perfect for first time motorhomers or those more experienced that prefer the camaraderie of group travel.
If you'd like to join us on a future Australian escorted motorhome tour, make sure you get in touch.  Not only do we run tours in Tasmania, but also across a range of iconic routes in mainland Australia, such as Darwin to Perth, Darwin to Brisbane and Adelaide to Darwin.