The weather can affect road conditions for your planned campervan or motorhome holiday.  For current road reports you can contact the local Information Centre or Automobile Association in the appropriate state.  Please note for accurate conditions it is best to contact close to the time of your journey.
Queensland                       13 11 70 (local call)                           Queensland Automobile Association Website
NSW                                    1300 13 11 22 (local call)               New South Wales Automobile Association Website
Victoria                            13 11 70 (local call)                            Victoria Automobile Association Website
South Australia               1300 361 033 (local call)              South Australia Automobile Association Website
Northern Territory          1800 246 199 (free call)              Northern Territory Automobile Association Website
Western Australia            1800 013 314 (free call)              Western Australia Automobile Association Website
Ring 000 for emergency services including police, fire brigade and ambulance
In various parts of northern Australia, roads may be closed in the 'green season', which is usually during summer.  This may affect some of the things you will be able to see and should be taken into account if you are travelling at this time.  On the other hand if you are considering Campervan or Motorhome hire at this time, you'll find it a lot quieter which may appeal to you, including the opportunity to see some amazing wildlife.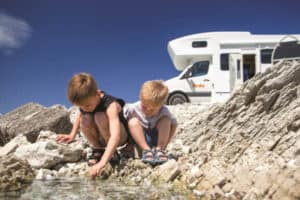 Some roads in Australia can have very soft edges, particularly in the wet.  If possible, when pulling onto the side of the road, stop on the sealed road before manoeuvring cautiously onto the shoulder.