Motorhome enthusiasts will gather from far and wide in Barcaldine Queensland from 23rd to 27th May 2019. What for you may ask?
To attempt to smash the Guinness World Record for two world records "Largest Parade of Camping Vehicles" and "Longest Connected Image Made of LED Rope Lights".
The parade of moving RV's will occur along the Aramac-Barcaldine Road, which is a very long and mostly straight country road.   The current record sits at 672, and the Australian Motorhoming Lions Club (AMLC) are looking to smash that record with at least 1,000 RV's. Many will be travelling from as far away as Brisbane to join in the event.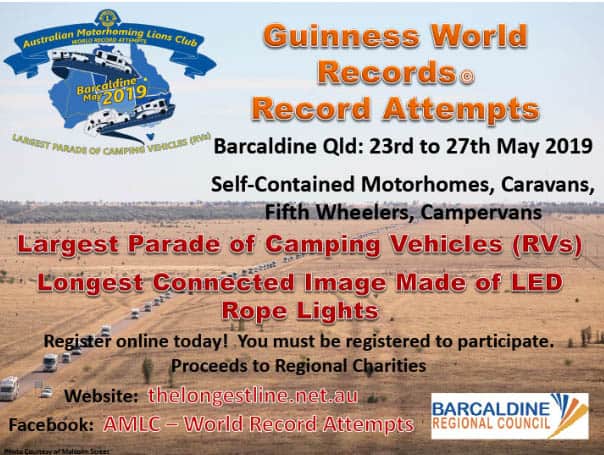 Participants in these events will gather together in outback Queensland, camping in the showgrounds at Barcaldine, Aramac, Jericho and Muttaburra, with the main event centred in Barcaldine.
In the afternoon of Saturday 25th May 2019, vehicles taking part will move out to the Aramac-Barcaldine Road and line up in preparation for the attempts.   All vehicles taking part in the "Longest Connected Image Made of Led Rope Lights" will be at the front of the line.  The attempt will be measured in the evening of Saturday 25th May 2019.
The following morning, Sunday 26th May 2019, vehicles which are already lined up in single file, will participate in the attempt for the "Largest Parade of Camping Vehicles (RV's).  The Guinness World Records rules require that all vehicles must be moving along the road when the count takes place.
If you are looking to be part of this iconic event check out the Outback Queensland Events page and don't forget that registration is essential!