There are many wonderful places to visit in a Perth camper hire. A motorhome road trip! From WA's cosmopolitan capital Perth to the exquisite beaches and fringing reef of Coral Bay. It comes mighty close to ticking every box on the ultimate holiday checklist. This is a road trip like no other! With its clear turquoise waters, rugged red coastal cliffs, yellow sand deserts and bubble gum-pink lakes!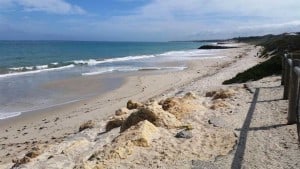 How long does it take to travel between Perth and Coral Bay in a camper hire?
This magnificent route stretches north for 1,200 km (as the crow flies) along the pristine Coral Coast. To do it justice you need to allow at least 10 to 14 days. Although travelling from Perth to Coral Bay in a camper hire is possible year-round, the very best time year to visit is between April and October when the weather is mild, the ocean warm and the wildlife prolific! Top Tip if you are travelling over the school holidays during the peak season. We highly recommend booking your campsites and day tours well in advance to avoid disappointment. If you know your travel dates, it is a good idea to book ahead to avoid disappointment.
What is the best time of year for a camper hire holiday from Perth to Coral Bay?
What's one of the best things about travelling from Perth to Coral Bay in a camper hire? There are so many natural events on throughout the year. That no matter which month you arrive, mother nature will be putting on a show! The headline acts are the glorious wildflower season (August-September). When the open landscape is carpeted in spectacular colours as far as the eye can see. And of course the arrival of Ningaloo Reef's famous gigantic visitors, the whale sharks (April-June).
Where do I pick up my camper hire for my Perth to Coral Bay road trip?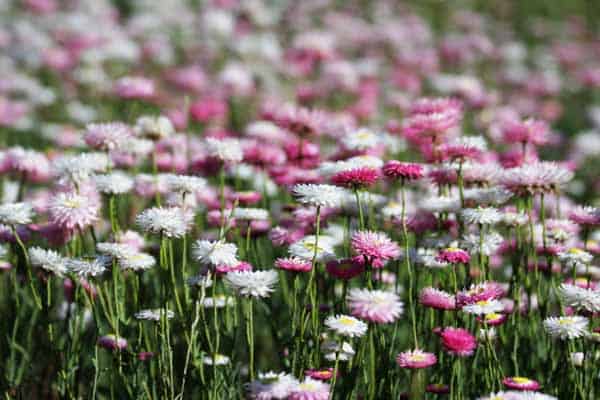 Your adventure from Perth to Coral Bay in a camper hire starts in the relaxed waterside capital of Perth. Where our motorhome depots, such as Maui, Britz, Apollo, Cheapa and Let's Go and others, are located – near the Perth International and Domestic Airports.
Popular motorhome choices for a road trip from Perth to Coral Bay include the Maui Ultima. This option is great for couples with its external BBQ. Or there's the Let's Go Conquest which is a good option for families; particularly if mum and dad want an innerspring mattress – plus there is even a bike rack on this one! If you'd like two seating areas to really stretch out, the Maui Beach or the Britz Frontier are both great choices. Along with a fully equipped kitchen, aircon/heating, and a shady fixed awning for those quick lunch stops.
Highlights on your Perth to Coral Bay camper hire adventure!
It's a good idea to allow a few days before (or after) your trip from Perth to Coral Bay in a camper hire for exploring Perth. Soak up the laid-back sunny vibe of the beachside suburbs and the buzz of the city centre. It's a treat for the senses with its beautiful parks, sophisticated dining scene and trendy watering holes. Just outside of the city, historic Fremantle (or Freo, as the locals call it) is the perfect way to get a feel for the history of the region. You can also enjoy a bit of artesian seaside goodness. Want to know another great place to visit? Pop on a ferry over to Rottnest Island,. Here you can grab a quokka selfie! Or you can explore the Swan Valley, WA's oldest wine growing region.
Perth to Jurien Bay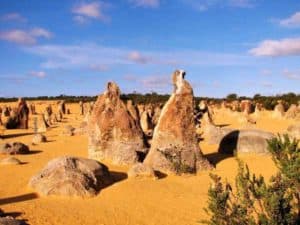 Pick up your camper hire in Perth then make your way north. Stopping off to sandboard the giant Lancelin Sand Dunes. Marvel at the surreal assembly of sandstone pillars, the Pinnacles, rising up from the desert floor in Nambung National Park. Sample some fresh lobster at the nearby seaside town of Cervantes. Here the pretty beach and calm waters are perfect for a lazy swim after a day of exploring. Continue on to the relaxed fishing town of Jurien Bay. Snorkel with playful sea lions in the wild, and if it's wildflower season (July to September) don't miss Lesueur National Park. Over 1,100 species of flora explode into a profusion of colour!
Sandy Cape Road, Jurien Bay WA (5km sealed, then 2 km on a good quality, compacted gravel road)
Phone: 08 9652 0870
This low-cost camping ground has over 70 sites running behind the dunes of the most beautiful cove which is great for swimming, fishing and sunsets. No advance booking so get there early and relax. The friendly onsite caretaker takes good care of everything. Unpowered, drop toilets, BYO water.
Jurien Bay to Kalbarri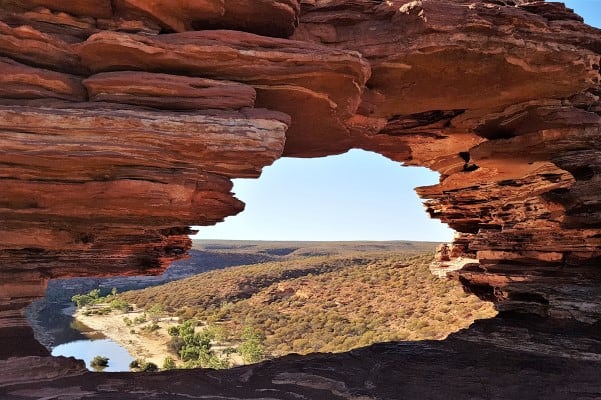 Geraldton is the Coral Coast's only city. It is worth a stop to check out the emerging café and art scene. It's on to #instaworthy Hutt Lagoon, WA's famous bright pink lake! Take your time and prepare for multiple photo stops! as you cruise through the next stretch of breathtaking coastal scenery of red, rugged coastal cliffs as you approach Kalbarri and the Kalbarri National Park. We suggest getting an early start. Hike out to the iconic rock formation, Nature's Window. This natural phenomenom beautifully frames the Murchison River far below. Don't miss the newly opened Kalbarri Skywalk. It sits on the edge of a 100m drop, providing spectacular views over the dramatic gorges and the national park.
Campground suggestion:  Murchison River Caravan Park
92 Grey Street, Kalbarri WA
Phone: 08 9937 1005
This family-owned waterfront park is situated right in the centre of Kalbarri. It has tidy well maintained gardens, a great camp kitchen and ablutions. Plus it's close to shops and restaurants.
Detour to Shark Bay, Denham and Monkey Mia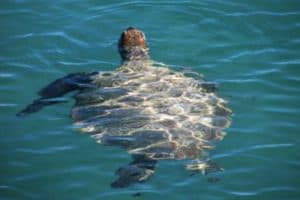 As you detour from the highway onto the stunning Peron Peninsula, allow time for some amazing stops. For example the blindingly white Shell Beach, made up of billions of tiny shells. There's also Hamelin Pool home to the 3,000-year-old stromatolites. These are the oldest living fossils on the planet. This is one of only two places in the world that they are found! Meet the wild bottlenose dolphins of Monkey Mia. Be mesmerised by the colours and incredible wildlife of the World Heritage listed Shark Bay region. We suggest staying in the former pearling town of Denham. This has a great swimming beach and is close to everything that you'll need, from restaurants to all the major attractions.
Hamelin Station Shark Bay Rd, Hamelin Pool WA (1 km off the highway)
Phone: 08 9948 5145
This 202,000 ha nature-focused property is owned by Bush Heritage Australia. You'll find it right next door to Hamelin Pool and the ancient stromatolites. It has great facilities and has a fun campfire in the evenings. It is set in truly stunning surrounds, perfect for bush walking and bird watching.
Kalbarri to Coral Bay
In this next section of highway is probably what you dreamed of when dreamed of travelling from Perth to Coral Bay in a camper hire. With its vast red open plains of the remote outback! So, from this point onwards the surrounding scenery changes to vast and red and flat. What is astonishing is that you are now approaching Carnarvon, 'The food bowl of Western Australia'.
This oasis in the desert is a testament to modern irrigation methodology! Drive the 'fruit loop' andfeast on fresh local produce from the sweet local bananas to delicious king prawns before you head north via the astonishing Quobba Blowhole to your final idyllic destination: the tiny coastal settlement of Coral Bay. Surrounded by crystal clear water, brilliant white beaches and the magnificent colourful coral gardens of Australia's only fringing reef Coral Bay is somewhere that you'll want to kick off your shoes and stay for a while. Snorkel right off the shore, join a glass bottom boat tour, or venture further out into the marine sanctuary for a chance to swim with turtles, manta rays or at the right time of year, the region's pièce de resistance – swimming with the huge gentle whale sharks!
Robinson Street, Coral Bay WA
Phone: 08 9385 665
This well-run caravan park has a lovely pool, clean ablutions and it's lovely and quiet at night. Short walk to the shop, Bill's Bar and the stunning beautiful beach and crystal-clear water. They may be small sites but believe us you won't be spending much time in your motorhome! It's paradise on your doorstep!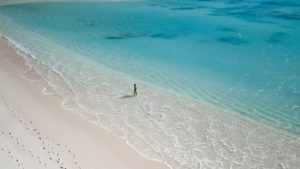 We hope we've given you some great inspiration for your very own road trip from Perth to Coral Bay in a camper hire! And don't forget, we're right here waiting to help you find your perfect motorhome hire, answer all your questions and get you out there exploring and living your best life!
Get in touch with us now! See how we can help you find the right camper hire for your Perth to Coral Bay trip!