In this post, we're continuing a Queensland loop for you to explore in your 6-berth motorhome hire.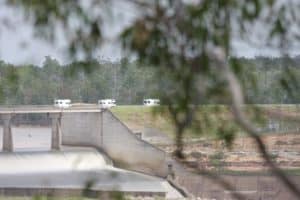 There are so many wonderful places to explore with your Queensland motorhome hire. While you can get to Emerald and Rockhampton from a few different directions, we've suggested a nice loop from Brisbane for those that have about 14 days available to them. This loop is great for families travelling in a 6-berth motorhome, taking you west through Roma with a stop in at Carnarvon Gorge – prefect for our outdoor loving clients.  Read more about 'Brisbane to Roma and beyond in a 6-berth motorhome' here. 
Heading north from the Carnarvon Gorge turnoff, you'll find yourself in Emerald, before turning east and heading back out to the coast.  We'll share a few of our favourite things to do in Emerald and Rockhampton to inspire you.  If you're continuing on the loop in your 6-berth motorhome hire, enjoy meandering down the coast to the motorhome depot in Brisbane. More on that in the next post.
For now though, let us tell you about visiting Emerald and Rockhampton in your 6-berth motorhome hire.
Emerald
Another 3 hours north of Carnarvon is Emerald, established in 1879, this large country town has become the gateway to one of the largest sapphire fields in the southern hemisphere. While you are here, in your motorhome we suggest the following must-do things:
The Sapphire Gemfields – first discovered in 1875 by a railway surveyor, this discovery was the beginning of the historic journey we witness today. There is a Sapphire Gemfields Interpretive Trail you can explore which gets you out and about and journeys through the four townships that make up the largest gemfields in the southern hemisphere. Check out the trail here.  Please remember that 2WD motorhome hires need to stay on sealed roads, with the exception (for most suppliers) of up to 12 km of a well maintained unsealed road to recognised campgrounds.
In and around the township or Emerald itself, be sure to visit the information centre found on 3 Clermont St where you'll be able to get the most up to date details on all the activities to do in the area and the town.
We suggest checking out the interesting and unusual sculptures and artefacts in and around the area. There is an excellent Aboriginal canoe tree, lots of historic buildings and also the 'Emerald Dragon' situated just outside the visitor centre which is made out of scrap metal and has become a nice addition to the Emerald Walking Trail that includes the towns other public art pieces.
You'll most likely find that Morton Park keeps coming up in many references for this town as there's a few things going on here. First there's the Centenary of Federation Mosaic Pathway which winds itself across the park from the visitor centre to the huge image of Van Gogh's 'Sunflowers'. The pathway comprises of 21 tiled mosaics which depicts the history of the township and district. As mentioned already you'll also find an incredibly large replica painting of Van Gogh's Sunflower painting mounted 25 meters high and is a tribute to Emeralds' history as the town was once a huge sunflower producer.
Emerald also has a botanical garden which is located on the banks of the Nogoa River and covers an area of 42 hectares. They are home to 12 different themed plant communities and makes for a wonderful afternoon stroll and a picnic.
Near Emerald is Lake Maraboon, also known as Fairbairn Dam which has a nice caravan that is good to park the 6 berth motorhome hire at, if you're travelling with the family.
Otherwise, you can stay in town.  You'll most likely only need to spend a night at Emerald before setting off east out towards the coastline of Queensland and heading into Rockhampton.
Rockhampton
Continuing in your 6 berth motorhome hire on this suggested 14 day loop, you can continue east from Emerald back towards the coast. In just a little under 3 hours, you'll drive into a modern throwback to the heydays of Queensland colonial past known affectionately to the locals as 'Rocky' aka Rockhampton or 'The Beef City' in reference to its pastoral pedigree and being the beef capital of Australia – although this is under dispute from the town Casino in New South Wales!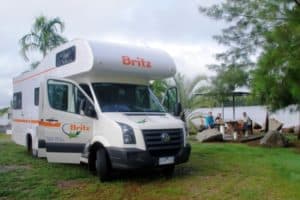 Not only is it the heart of the Fitzroy Basin (Australia's' second largest river system), it is also home to cosmopolitan conveniences such a bars and restaurants set on a contemporary riverside setting with lots to see and do while you are here. The Riverbank Precinct has newly been redeveloped and is home to the Kershaw Gardens and Central Precinct playground and water play area – great for kids, and the beautiful Botanic Gardens and Zoo which has over 70 species of native and exotic animals.
You may want to visit Mount Archer National Park also, as you can enjoy outstanding views of Rockhampton from the new Nurim Circuit Elevated Boardwalk which extends 25 metres outward and 7.5 metres high on the mountain top.
No trip to Rocky is complete without a visit to the Capricorn Caves, located just 23 km north. The limestone caves are one of the largest privately owned cave systems in Australia and were formed from corals growing in shallow waters around volcanic islands and started building up as limestone and in the tumultuous geological period that followed, the limestone bed lifted up the landscape and changed so much that over the years it formed the hollowing out of caves and we are left with the splendour of what we see today. Check out their website for up to date information on tours and prices.
If you are planning on staying in Rocky for a couple of days you'll want to visit the Spire Tropic of Capricorn Visitor Information Centre on Gladstone Road to find out the latest and up to date information on things to do in the area.
After you've finished checking out Rocky, you'll want to hit the road and start heading south and stopping off at the laid back and relaxing town of 1770!  From there it's a fantastic drive in your motorhome hire back to Brisbane.
If you are looking specifically at a 6-berth motorhome hire, check out our vehicle options here and you can also get an idea of indicative rates here. Then get in touch with us to see how we can help you organise your next Australian adventure with Queensland Motorhome  hire.