There are a few motorhome adventures that are as Aussie as vegemite, thongs and a Sunday arvo barbie… and a road trip from Brisbane and Cairns in a motorhome hire tops the list!
A motorhome hire is the perfect way to explore this route.  Covering a gob smacking 1,700 km, the iconic route from Brisbane to Cairns leads you from the sun-kissed surf beaches and skyscrapers of the cosmopolitan south through a spectacular diversity of ever changing scenery until you emerge into the lush warm tropics of Far North Queensland.  . You certainly don't need Google Maps to tell you that you've covered a fair old whack of ground!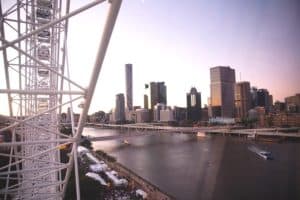 Magnificently showcasing some of Queensland's most beautiful beaches, waterfalls and national parks, plus throwing in the odd 'natural wonder of the world' like the Great Barrier Reef, this route is a feast for the soul of nature lovers and beach bums alike! There is such a wealth of incredible stops and detours along the way that, although you could technically drive this tremendous route in a week, we most definitely recommend taking at least 14-21 days to ensure you do it justice!
Begin your adventure by picking up your Brisbane motorhome hire in Queensland's state capital, known as the River City for its relaxed outdoor lifestyle which centres around the Brisbane River; in fact much of the cosmopolitan CBD's culinary, entertainment and cultural precincts such as Southbank, Fortitude Valley and Howard Smith Wharves can be explored by hopping onboard a CityCat or a free Cityhopper ferry. Cool off in Southbank's sandy swimming lagoon enjoying the city backdrop, get a culture-fix at GOMA, stroll the gorgeous Riverwalk, and kick back with a local craft beer and treat your ears to some awesome live tunes. Packed full of boutique bars, world-class art scene and attractions such as the Lone Pine Koala Sanctuary and the magnificent City Botanical Gardens, Brisbane is the ideal place to kick off your epic Queensland motorhome hire road trip.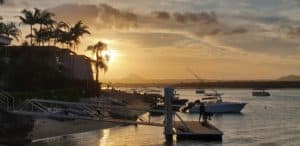 It's just a hop, skip and a jump up the road to the much-loved Sunshine Coast, taking in the dramatic steep-sided Glass House Mountains on the way, or maybe detouring to one of the lookouts for the pitcure postcard-worthy views and dropping into Australia Zoo to say g'day to a croc or three! With 100 km of white sandy beaches, excellent attractions and bucketloads of adventure activities, the Sunny Coast has something for everyone! Smile at a seal show, take a surfing lesson, treat your taste buds to some culinary fabulousness, or hang out with the beautiful people on Noosa's iconic main beach!
Continuing north, enjoy a delightful drive through eucalypt forest and rolling green hills to Gympie, where you can brush up on your gold rush history and even try your hand at panning for some of the sparkly stuff! Lake Alford Park is a great motorhome rest stop – make a cuppa and stretch your legs around the lake as you admire the ducks, swans and other birdlife.
Detour time! At this point, you can decide to continue north on the highway, cutting a more direct path through the fertile farmland of the Mary Valley, or take the winding coastal Cooloola Coast detour through the sandy heathlands and pristine waterways of the Great Sandy National Park, stopping off at idyllic little coastal holiday towns like fishing mecca Tin Can Bay, home to a pod of Australian Humpback dolphins who swim to be hand-fed a fishy snack every morning by delighted visitors. Join a tour in Rainbow Beach to see the coloured sands that inspired the town's name. If the crystal-clear freshwater lakes, virgin rainforest and wild dingos of the world's largest sand island, Fraser Island are on your bucket-list, this is one of the two access points (hire a 4WD or join a tour), the other being the scenic coastal town of Hervey Bay, famous for its scallops and incredible whale-watching between July to October.
This part of the journey, as the population centres become fewer and further between, is where you start to come over all smug about your comfortable, self-contained Brisbane to Cairns motorhome hire! Relax and enjoy the pretty scenery as your motorhome cruises though green rolling hills, charming rural towns, rich red-dirt farms and fields of sugar cane pulling up for a stroll and a cuppa wherever your heart desires! Stop into Childers for a locally made ginger and macadamia nut ice-cream, or if you're lucky enough to be travelling during the season, join a ranger for the spine-tingle of experiencing the leatherback turtles laying and hatching at Mon Repos! Take a tour of the Bundaberg's famous rum factory, and get your zen on as you drink in a glowing sunset over the surrounding pristine sandy waterways and national park in the tiny historic town of 1770…named after the year that Captain Cook spotted it as he sailed by!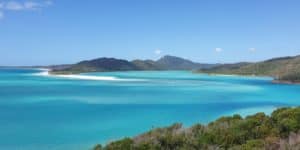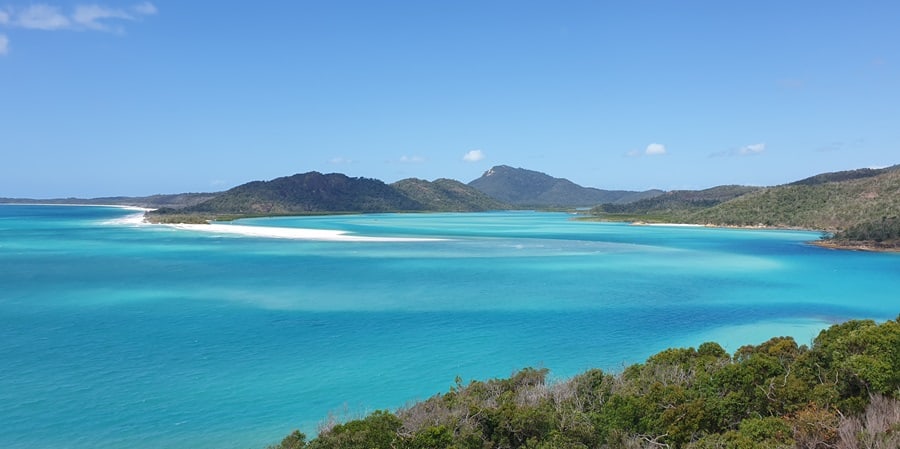 Continuing north, you'll love checking out tucked-away delights, such as the cavernous limestone Capricorn Caves, or spotting platypus and other native animals in the gorgeous Eungella National Park. This is roughly the half-way point of your Brisbane to Cairns motorhome adventure and you'll start to notice the climate change as move into the Queensland tropics. The lively holiday town of Airlie Beach acts as a gateway to the tropical paradise that is the Whitsunday Islands, an archipelago of 74 islands of which most are uninhabited and pristine national parks, edged by pure white beaches and surrounded by warm tropical waters. There's never a dull moment here! Eat, drink and be merry, cruise to breathtaking Whitehaven Beach, island-hop between fabulous resorts, snorkel the pretty reef, go sailing, or take a cooking course! If you are up for an adventurous boat trip and amazing snorkelling experience out to the islands, then check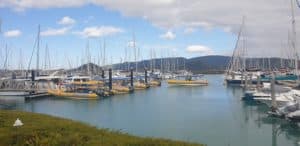 out Ocean Rafting at Airlie Beach and say hi to Braden and Nicole who will take you out on a fabulous and exciting boat ride, be sure to check out Champagne Beach!
Be captivated by palm-fringed beaches and colourful coral gardens of Bowen and don't miss a happy snap with the Big Mango. This region is known for fresh produce, harvested from both the land and the sea and there's plenty of opportunity for decadent self-indulgence! Stop off at Flagstaff Hill for wonderful views over town and the Whitsunday Islands, with easy motorhome parking and a couple of flat, easy walks. North Queensland's largest city, Townsville, is best known (well, to us motorhomers at least!) as the gateway to magnificent Magnetic Island. Take the car ferry across to explore the 25 kilometres of walking trails through the national parks and 23 bays which provide a haven for native wildlife; including koalas, rock wallabies and over 100 different species of birds!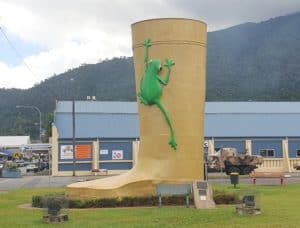 The last stretch between Townsville and Cairns is known as the Great Green Way and this lush, scenic drive certainly lives up to its name! Wind your way through misty rainforest covered mountains, spectacular waterfalls, rich fertile farmlands and breathtaking national parks! Bird nerds should flock to the amazing Tyto Wetlands just outside of Ingham, and don't miss another 'big pic' with the Golden Gumboot in Tully (Australia's wettest town!) then drop into friendly visitor centre for a choc-covered banana or join a tour of the local sugar mill.
Beautiful Mission Beach, surrounded by rainforest and coastal farmland has managed to retain its quaint unhurried beachy vibe…even as the funky bars, cafes, boutiques and visitors have arrived. Stay a day or a week – pure bliss! Paronella Park is a 13-acre wonderland of tropical gardens, powered by waterfall and complete with ballroom, tennis courts and even a tunnel – it's a must see if you have time! The entry price includes tours and unpowered overnight camping.  There are a few great campgrounds in this area for you to rest up with your Brisbane to Cairns motorhome hire.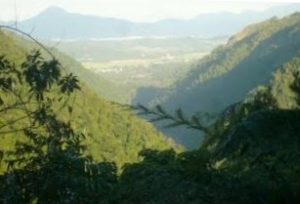 Cairns is the gateway to two World Heritage listed treasures, the Great Barrier Reef and the ancient and pristine Daintree Rainforest. Snuggled between mountain and sea, surrounded by rainforest, waterfalls and idyllic coastal towns that are perfect for kicking back and watching the world go by for a while, this is not an area you want to rush through! Stroll the Cairns Esplanade to soak up the buzz, take a dip in the lovely swimming lagoon and enjoy the excellent bars and restaurants. Taste the region's flavours at Rusty's Market, wander through the lush tropical magnificence that is the Cairns Botanical Gardens and the Kuranda Skyrail and scenic train are a must – the panoramic sweep across rainforest canopy, coastline and sky will render you speechless!
Whatever you do and wherever you go, we promise you one thing, this incredible Brisbane to Cairns motorhome road route will leave you with a suitcase full of experiences, memories and a lifelong love of the people and places that you discovered along the way!
Keen to have a more detailed look at this amazing route? Our guide, Brisbane to Cairns – Hints and Highlights for your motorhome hire road trip will tell you all you need to know!
Ready to book?
Check out our range of motorhomes and get in touch with our customer service team with your dates and travel route and we'll find you the right motorhome for your holiday!