We've already covered off how to select the best vehicle for your needs and some tips for keeping your budget down while on the road here in this blog. However, there are some other ways that you can save money… before you even leave home!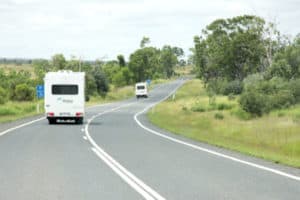 If you are looking to save money when travelling in Australia, one of the most important factors to consider is the time of year that you visit. Concerned about compromising your experience? Don't be! Did you know that the optimal time to visit some of Australia's most beautiful areas is outside of peak season? With a bit of planning and (and some inside knowledge!) motorhome holidays can work out to be really cost effective.
Our blog offers you great guidance on all of this – and don't forget, if you have any questions or would like a quote, chat with us to grab our best deals at the moment!
One way to save money is to travel and visit areas in less popular seasons such as off-peak and shoulder seasons. While we don't have 'set dates' for the lower rates, if you're flexible with your travel plans, we can have a look to see when is the cheapest time for you – the rates do vary significantly throughout the year, all based on supply and demand.  Generally we see the rates at their cheapest for 2WD campers during May and June.
During off-peak, the weather may be at its 'worst', but in so many places in Australia, this doesn't mean it's bad!  For example, it is the beginning of winter here in Queensland and where we are based, just north of Brisbane, our winter day time temperatures drop to a low of 200C (and often even higher). When the sun is shining (which it usually is in winter) this means, at worst, you'll need a jumper and perhaps long trousers.
Exploring some of Australia's most spectacular regions, walks and National Parks can be a bit hard-going in the summer heat, so this is a great time of year for walking. The mornings and evenings can be cold but our fav is to rug up and sit around a crackling campfire, enjoying a warm drink and a good old yarn (please check that fires are permitted at the campground where you are staying, because there are fire restrictions in some places).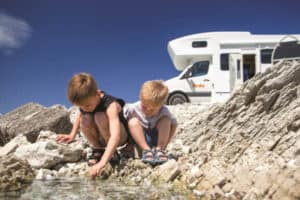 Off-peak also means the children are at school which means you can save money when travelling in Australia, so if you are looking for some serenity and to escape the masses – and enjoy a bit of 'bracing' weather, then this can offer you a much cheaper and more peaceful holiday!
Shoulder season is what sits either side of the most popular times to visit. Most often you'll find that the prices are cheaper than peak season and that the weather is just as enjoyable as peak season, if not perhaps a little more bearable, in some States!
One other benefit of travelling out of peak-season, is that quite often, you'll find that you won't need to book ahead. This can offer up more flexibility in your travel plans in case you fancy going off to explore in another direction last minute. This also means that you are more likely to get the prime campsites (think ocean-front with pure white sand just metres from your campsite) which can be hard to get during peak season.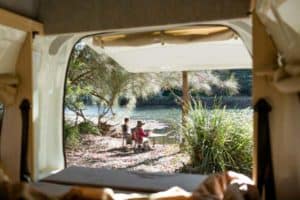 If your only option is to go camping with the kids during peak season, then consider Freedom Camping. The money you save on accommodation can go towards additional fuel which in turn means you could travel for further distances and longer! Check out the Camps Australia Wide Guide as it is a great resource for free camping along with locations of commercial campgrounds too.
Also, you could consider booking a campground for longer than a week. A lot of campgrounds offer a discounted rate if you book for longer than 7 days, or perhaps keep an eye online as some places will offer better deals for booking early bird rates or even last-minute deals.
If you have a Senior's Card, be sure to mention this when on the road, as some campgrounds and attractions will offer a discount for those too.
With some good planning and research, you can be sure to save yourself some money. If you know where you want to go and what your dates are, you should check out our special offers page and potentially save yourself 10%, 15%, 20% or even 25% or more on some of our special deals!
If you have any questions about where you want to go and what the best time of year is, be sure to get in touch.  We know Australia, we know motorhomes and we'd love to help you plan your journey!