What do campers do when staying at unpowered sites?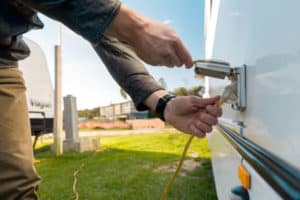 The battery on your motorhome is able to keep things ticking over for you for a couple of days (most likely will require charging up on 2nd or 3rd night) and will provide power for between 12 – 20 hours when fully charged depending on use. It is possible to comfortably stay away from powered sites for the majority of the vehicles, especially if you are driving reasonable distances each day.
The ancillary battery (which runs your lights, fridge, water pump and flat screen/DVD player) is charged when you're at a campground and plugged into power and it also charges when you're driving.  If you are driving only a short distance though during the day or not at all, then your battery would not last as long as if you had driven for a much longer period.
If you are a bit mindful of your power usage when you are not plugged into a power socket, then you can last longer 'off power' than someone who watches DVD's for example – that will drain the battery very quickly.
There are two batteries in the motorhome – one to start the vehicle and the other to run the living space (ancillary battery) – so even if you run down the battery, you can still start the vehicle. However, as the fridge requires a constant power supply, it will stop working and eventually your food will spoil if you don't get the ancillary battery re-charged.

You have 240 volt plugs, an air con and microwave also in the living space of the motorhome – these only work when you are plugged into power, as the draw of these is too great for the ancillary battery. The hobs in the kitchen use gas and a couple of our larger motorhomes have an electric hotplate which can be used when plugged into the main power supply at a powered campsite.
There are lights that work in the motorhome when you are camping off power such as an outside light, but we'd highly recommend bringing a torch too, particularly a head torch if you have one just in case you are wandering around the campground at night. From personal experience we have found this to be very handy.

Some motorhomes also have a solar panel on the roof which trickle charges the battery. It's best to enquire about this when you book if you are interested in having this additional feature on your motorhome.
All the motorhomes hired through us for our Escorted Tours have the solar panels but not all of our stand alone hires do.
We have a page dedicated to all sorts of Travel Tips where you may find lots more answers to questions you may have.
If, however, you'd like to find out more information about your campervan hire with us, please get in touch with us so we can take you through what is included with your hire in more detail.