The Sunshine Coast is every bit as wonderful a destination for a family motorhome hire holiday as its warm, summery name suggests.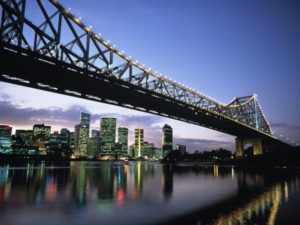 Relax and soak up the friendly laid-back vibe, stunning white beaches and an endless choice of coastal-path walks, top-notch restaurants and exciting activities that will put you in holiday mode instantly!   There are loads of holiday accommodation options on the Sunshine Coast, from penthouse apartments to holiday park cabins…but let us tell you why picking up a motorhome hire from Brisbane and 'cruising the Sunny Coast' is the very best way go!  
Why a motorhome hire from Brisbane is your very best option
Hiring a motorhome from Brisbane to explore the Sunshine Coast adds a whole new level of awesomeness to a family holiday; and once you've discovered it, trust us, there is no going back! Why, you ask?
Because, basically, it takes all the great things about a family holiday and leaves all the boring, hard stuff behind.  The ease of having your own comfortable, fully equipped beach house-on-wheels travel with you wherever you want to go, for example. Begone, heavy overstuffed day pack! Farewell wrangling kids into the car, then wrestling them off the beach a few hours later to trek around town (I'm staaarving!) in search of lunch.  Being on the move in a motorhome hire to the Sunshine Coast is the ultimate kids boredom-buster…and the biggest bonus? Technology loses all appeal with the great outdoors right outside your front door.  Prepare dinner while the kids kick the footy…then bundle them inside for a warm shower, light the campfire…and relax.  In a motorhome hire, stress-free family time just happens by itself…new day, new view, new adventure!
Sunshine Coast Hinterland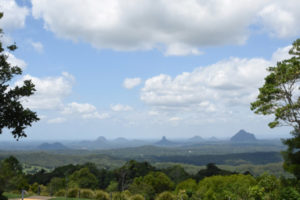 After picking up your motorhome hire from Brisbane, it's an hour's drive north to reach the southernmost point of the Sunshine Coast, Caloundra, after passing through the stunning southern section of the Sunshine Coast Hinterland on the way.   The craggy volcanic peaks of the Glass House Mountains jut dramatically from the otherwise flat landscape and the two largest peaks, Mount Tibrogargan and Mount Beerwah, can be seen from your motorhome as you drive up the highway. We highly recommend taking a detour to see them in all their glory from incredible lookouts such as the Glasshouse Mountains Lookout, or Mary Cairncross Reserve, which also features a short but gorgeous circuit walk through the rainforest with tiny Paddymelon wallabies hopping right beside the path. There are lots of other great hiking tracks for all abilities, the most popular family option being the 2.3 km return trail to the summit of Mt Ngungun (pronunciation is a topic of debate, but locals say GunGun) for some breathtaking views at the top! Have fun exploring the cafes and handicraft offerings of the quaint mountain villages of Maleny and Montville, trek through the rainforest for a refreshing dip in the pool at the top of beautiful Kondalilla Falls or spend a day at the outstanding Australia Zoo, made famous by Steven Irwin (aka the Crocodile Hunter), meeting animals from all over the world and catching the incredible crocodile show!
Sunshine Coast
Travelling in your motorhome hire to the Sunshine Coast is all about beautiful sandy beaches; 65 km of them in fact! Despite being a large population centre, the 'Sunny Coast' is friendly and laid-back – no towering skyscrapers or glitzy casinos here.  From its proximity to Brisbane's motorhome hire depots, to its endless choice of fabulous beachfront campgrounds and incredible range of activities, the stunning Sunshine Coast really is a dream motorhome holiday destination! Be sure to pre-book if you're travelling through school holidays or if you have your heart set on a particular place to avoid disappointment on where you can park your family sized 4 berth or 6 berth motorhome hire.
Caloundra has a great feel and is popular with holiday makers.  Bustling Bulcock Street, with its ice cream and bric-a-brac shops, invokes a nostalgic feeling of beach holidays of old.  On Sundays, the street is closed to cars and hosts an excellent Sunday market.  The beachfront carparks can get very busy especially on weekends and holidays, so we recommend parking a few streets back to avoid waiting around.  Stroll the boardwalk beside Bulcock Beach, enjoying the gorgeous views across Pumicestone Passage, stop in for a cool drink at the Caloundra Surf Club or catch a wave at popular King's Beach. Aeronautical buffs will be excited to hear that Caloundra is home to the Queensland Air Museum, Australia's largest Heritage Air museum, which features over 80 restored aircraft!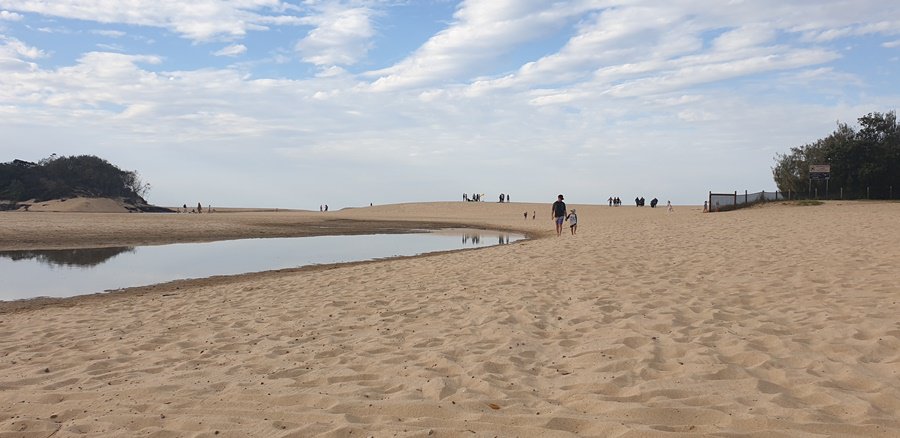 Moffit Beach is the locals' favourite lunch spot, with great cafés and views to match, framed by the towering Norfolk Pines which line the edge of the rocky beach.  Dicky Beach is a favourite with family motorhome hire holidaymakers, with a sheltered lagoon for the little ones behind the wide sandy beach and an excellent surf club too.  Nearby Curramundi Lake is another perfect spot featuring a tranquil tidal lake of clear shallow water and golden sand, which connects to a long stretch of beautiful surf beach through a narrow tidal channel.  Picnic under the shady trees or grab an ice cream from one of the little cafes!
Mooloolaba's extremely popular beach is known to be the safest on the Sunshine Coast, and is surrounded by resorts and has a small but perfectly-placed campground right beside the surf club and the beach.  Stroll the beachfront promenade lined with al fresco restaurants, juice bars and fashion boutiques. Take a scenic boat cruise from the nearby Mooloolaba Wharf complex or catch the famous seal show at Sea Life.  Fancy some fresh seafood? There's easy motorhome parking at Mooloolaba Spit, which is where the trawlers come in, and where the locals pick up their fresh (or freshly cooked) seafood.  This is also a lovely calm section of the beach which, despite being just a stroll up from Mooloolaba's main beach, is always much quieter, plus its shadier and more sheltered too.
If you fancy a dip in the sea without surf, stop off at Maroochydore where you'll find a lagoon-like beach – no waves to worry about here!  This is also the location of one of our fav campgrounds on the Sunny Coast; Cotton Tree Holiday Park, which is exquisitely located on the waterfront between the Maroochy River and the stunning Maroochydore Beach. Maroochydore also boasts one of the Sunshine Coast's funkiest food and wine precincts, Ocean Street… think, little wine bars, jazz, tapas and cocktails, and the largest shopping centre too, Sunshine Plaza which, despite its generous proportions, manages to maintain a relaxed coasty vibe.
Marcoola features a perfect beach and a scattering of shops and restaurants but has slightly less character than some neighbouring communities.  Saying that, sometimes the it's quiet ones you need to watch out for…
Busy Coolum Beach is a popular holiday town focused around a spectacular beach that's known as one of the best surf breaks in the region.  Reasonably fit and able walkers shouldn't miss the 1.5 hr return walk to the summit of Mount Coolum; the panoramic views from the top are just magnificent! A little further north, artistic little Peregian Beach is a wonderful place to kick back and take in the world over a chai latte in one of the outdoor cafes in the shady village square.  Peregian marks the start of a unbroken string of stunning white beaches, ending at a huge headland at idylic Sunshine Beach, where you can climb the first 200 steep steps of the Noosa National Park coastal trail for an awe-inspiring view over the ocean and beaches stretching to the south. The laid-back beachy ambience, leafy surrounds and some of the coast's best restaurant make Sunshine Beach a wonderful choice to while away the hours!
On the other side of this headland is the chic coastal town of Noosa, which offers everything from boutique shopping and exquisite cuisine along iconic Hastings Street, to picnics on one of the picturesque beaches. There's more to Noosa than Hastings Street though, including the riverside suburb of Noosaville, the long leafy esplanade lined with cafes and restaurants.  Jump on the local ferry service and stay on for the whole scenic loop to get your bearings! It's important to understand how loved this town is; if you're planning on staying here be sure to book your campsite well in advance! Many families even choose to pick up their motorhome hire in Brisbane and head straight to Noosa…there's certainly plenty to keep you busy with a myriad of entertainment, activity and dining choices, including tours to surrounding gems such as paddling the Noosa Everglades or 4WD adventures along the beach to Double Island Point.  If you've ever fancied learning to surf or stand up paddleboard, this is the place to do it, or there are fishing charters and cruises galore along the Noosa River and through the stunning surrounding waterways.  The small, but extremely lovely Noosa National Park situated on Noosa's headland is full of walks and wildlife.  You may even spot a koala if you're lucky!
Inland from glamourous Noosa, you'll find her alternative-lifestyle cousin; the pretty little township of Eumundi where, beneath the shady heritage-listed fig trees every Wednesday and Saturday, the town centre transforms into one of the biggest artisan markets in Australia. On other days, there's still plenty to entertain visitors (and it's easier to park your motorhome too!) with hippie clothing stores, art galleries, cafes and even a brewery!  There's so many other gorgeous little townships tucked away in the hinterland as you explore through the windy country roads, from Kin Kin to Pomona to Boreen Point…and you're going to love them all!
That's a wrap folks!  We hope we've given you oodles of inspiration your next Brisbane motorhome hire holiday to the Sunshine Coast…and beyond.  The Sunshine Coast is the perfect start or end to a longer road trip to some of Queensland's incredible destinations such as the pristine beaches and waterways of 1770 and Agnes Waters, the hidden wonders of Carnarvon Gorge, or a journey into the outback to Longreach or Winton.
And now the real fun begins! Ready to discover your own hidden gems, local specialities, off-the-beaten-track experiences and jaw-dropping natural scenery in a motorhome hire?  Let's do it!
Ways to say G'day!
Our friendly team is ready and waiting to help find your perfect motorhome and answer all your questions.  We're looking forward to hearing from you!
Some photographs are supplied courtesy of Tourism Australia.