With a Tasmania campervan hire or joining one of our Tasmania escorted motorhome holidays the possibilities are endless. The experience is both flexible and stress-free whether you choose to travel with friends or separately. Tasmania's rich food and wine scene, diverse wildlife, scenic drives, and vibrant culture make it a playground for friends seeking unique, shared experiences. Read on to discover the wonders of Tasmania, where friendships are forged, memories are made, and adventures await. It's time to unmask Tasmania's adventurous charm. Explore the best this island has to offer as the perfect motorhome holiday destination.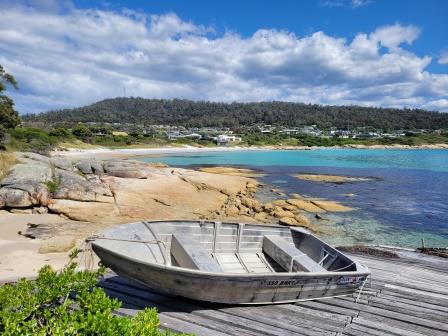 The Myth of Quiet Tasmania
First thing's first. Let's start by busting the myth that Tasmania is Australia's 'quiet' holiday destination – a tranquil little escape that best serves lovers, birdwatchers and introverts. If you were asked to select three words that encapsulate The Apple Isle, we reckon you might find yourself leaning towards words like scenic, peaceful, historic, just like many others. But hold onto your hat because we're here to change your mind!
Okay, we're not going to lie. Tassie IS drop dead gorgeous. And it's also true that it boasts some the cleanest air and water in the world…and a tiny population, as far as populations of supermodel islands go. Oh, and a cracker of a history, come to that. BUT what people don't know is that this petite island, home of Princess Mary and that debonaire swashbuckler, Errol Flynn, practically invented quirky! In fact, it's so jam-packed with fun and fascinating attractions that it caters to absolutely everyone!
Why is this important? Because we would like to present to you (drum roll..)
Tasmania campervan hire, the Perfect Destination for your Group Holiday!
Travel is far more than just sightseeing; it holds a unique power to forge connections with people and places. When travelling with friends on a Tasmania campervan hire holiday, this is even more true! One of the best things about Tassie when it comes to group motorhome holidays is the dense and diverse range of attractions in each region. With manageable distances between activities, the challenges of planning around various wish-lists diminishes. You can choose to do things together or separately, ensuring a flexible and stress-free holiday.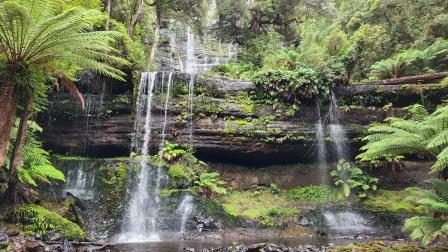 If you already know that you'd love to travel Tassie with friends, you'll find loads of tips at the end of this blog. Find out how to find the perfect motorhome hire to Tasmania or leave all the planning to us and join our awesome Tasmania scenic tour.
Sharing experiences and learning new things together is not only lots of fun but it also makes it more meaningful. You share different perspectives, hear stimulating questions and engage in interesting discussions. It's easier to split up to accommodate different interests. The mountain bikers hit the trails together for the day, and the hikers head off on different ones! There are often activities friends want to try that you may not have considered, which makes your trip all the richer.
In the evenings, chat about your day as you share a meal or a lovely bottle of wine that you picked up in a little vineyard. Another great thing about travelling in motorhomes….you're with friends but when you need your own space, you've got it! And it's a very nice space at that; a big comfortable bed, decent kitchen and a warm shower.
Once you're back home again, it's so wonderful to be able to reminisce and share all the happy memories of your amazing adventure. Travel really is where friendships deepen and flourish.
Best things to do on a Group Campervan Holiday with Friends in Tasmania
The world is your oyster in Tasmania! And that's a great place to start, with Wining and Dining! And this, Gallivanters, is when travelling with friends on a Tasmanian campervan hire holiday comes into its own! As we always say, sharing is caring! Literally everywhere you go in Tasmania, quality food and wine abound. Meandering the historic streets of Hobart is a great introduction to the island's vibrant food scene. And we reckon the first stop on your culinary journey should be sampling a famous scallop pie! Jump on the ferry to spectacular Bruny Island! Sample fresh berries, handmade cheese and to slurp down an oyster or twelve, harvested from the pristine waters. Sip a glass of Pinot Noir overlooking the idyllic Tamar Valley, taste the uniquely delicious honey from the lush Tarkine rainforest, search for truffles, or take a cooking class! Feeling hungry yet?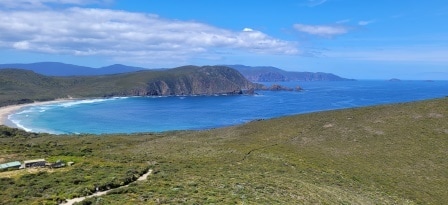 Who's up for a Tasmania campervan hire adventure? Wild and remote, Tasmania is tailor-made for adventure! Embark on a cruise! Glide along serene rivers through ancient rainforests. Or crash through the ocean waves to see the rugged sea cliffs and remarkable wildlife. For something calmer, kayak through the crystal-clear waters of Freycinet National Park, or take the chairlift to the top of the volcanic plug known as The Nut in Stanley. And adventurous or not, you'll adore hiking the breathtaking lakeside trails at Cradle Mountain. Having friends by your side adds to the thrill and the fun of any adventure…and makes you feel a little braver too!
Meet the natives! Anyone who thinks a Tasmanian motorhome holiday is a quiet affair has clearly not spent any time with a Tasmanian Devil. The shrieks, growls, grunts and snorts of Tasmania's most iconic little marsupial sounds like a cross between a chainsaw and a kazoo! They are tricky to spot in the wild. However, there are plenty of excellent wildlife sanctuaries around Tassie where you can see these vocal locals! There are so many unique creatures in this pristine and isolated place. They range from giant rainforest lobsters, to little penguins and white wallabies!
Scenic Drives, History and Culture: With your trusty Tasmania campervan hire, you can embark on unforgettable road trips. The Great Eastern Drive offers breathtaking coastal views, and the journey is as rewarding as the destination. As you go, enjoy Tasmania's rich convict history. With places like Port Arthur or the remote windswept Sarah Island offering a glimpse into the past. Explore the ruins, and maybe even spot a ghost or two! So much more than this to see of course – you can find out more in our campervan guide on Tasmania.
Hassle-Free Motorhome Holidays with Friends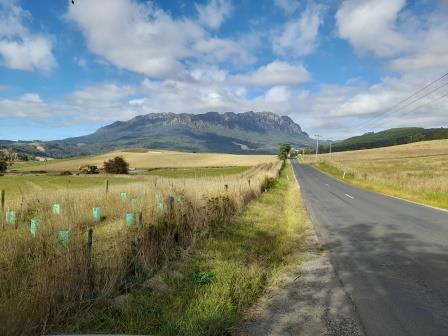 Friends are the best. They enrich our lives with fun, laughter and shared experiences. They give us a safe space to share our views on the world, make life's challenges less daunting and life's highlights more special.
But let's face it. Planning a trip with them can be a NIGHTMARE!!
We always assume friends will want to travel just like we do. After all, you have so much in common! But after countless hours of playing diplomat, peacekeeper and travel agent while discussing different route preferences and negotiating clashing wish lists… and that solo monastery retreat in Nepal is sounding mighty appealing. It's not always a picnic; sometimes it's more like a stress smorgasbord!
Saying all that, as we mentioned earlier, choosing to take a motorhome hire holiday with friends in Tasmania helps avoid many of these issues. The relatively small travel distances the abundance of attractions in each region help ease the pain of travel planning.
BUT if you just want get on with spending that quality time with friends travelling and experiencing all Tasmania has to offer, you might like to consider our much-loved, beautifully organised and wonderfully independent escorted motorhome tours. See below for details!
Alternatively, we have a large range of motorhome and campervan hire that can be collected in Hobart. And the great news is that when you travel independently you can have different features and budget to your friends.
Our 21-Day Escorted Motorhome Group Tour of Tasmania!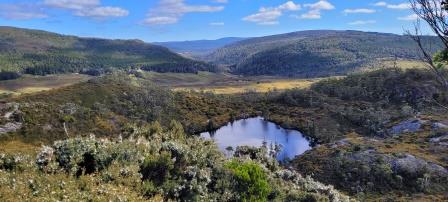 Are you ready for the ultimate adventure in Tasmania? At Gallivanting Oz, we offer an extraordinary 21-day escorted motorhome group tour. It promises an unforgettable journey through the breathtaking landscapes and rich culture of this island paradise. Whether you're travelling with a group of friends who share your adventurous spirit or looking to make new travel companions, our tours are designed to provide an exceptional travel experience for all.
Our experienced and friendly tour leaders create a warm and inclusive atmosphere throughout the trip. This ensures your comfort, safety, and enjoyment as our top priorities. We understand that every traveller is unique. That's why our tours are thoughtfully crafted to cater to diverse interests and preferences within your group.
But what if you're itching to explore Tasmania, and your friends aren't? No worries! Our Tasmania guided tours are the perfect opportunity to forge lifelong connections with fellow travellers who share your passion. By the end of this incredible journey, you'll not only depart with cherished memories but also with new friends who'll be a part of your lifelong adventures. Tasmania is calling, and we're here to make sure your travel dreams become a reality!
Or give us a call to ask about spaces on our next tour!