Are the Undara Lave Tubes on your Cairns motorhome rental itinerary?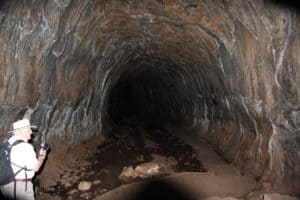 The small tropical city of Cairns in far North Queensland welcomes millions of visitors each year, who flock from all over the world to visit two of Australia's biggest natural drawcards; the twin World Heritage Areas of the Great Barrier Reef and the Daintree Rainforest. These amazing places sit, quite rightly, at the top of the list for most of our Cairns motorhome rental customers, but there is another much lesser-known natural wonder that we think should be up there too – the Undara Lava Tubes.
What is this geological wonder you speak of? These cavernous underground tubes formed 190,000 years ago, when an enormous volcano erupted here, spewing out so much molten lava it could have filled the Sydney Harbour in just six days! Much of this lava was channeled into a deep, wide riverbed nearby, creating a fiery river of magma that flowed for 160 km (the longest single lava-flow in the world!) before the outside eventually cooled and crusted over, and the liquid centre drained away leaving a vast tunnel of hollow lava. And they're big! You could fit a bunch of motorhomes inside some of these (if that was allowed!).
Calling all flower-fanatics and bird-nerds! At the time the tubes were formed, the surrounding vegetation was completely different to today. The cooler climate and lack of bushfires meant flora was still largely unchanged from the days of Gondwanaland, 300 million years earlier when Australia, Africa, South America, India and Antarctica were all connected. Over the years parts of the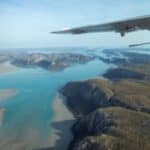 tubes have collapsed and these cool, damp microclimates with their natural springs within, provided protection from fires and the elements throughout the millennia to support a rare, isolated pocket of Gondwanaland flora, such as relict flowering vine-thickets. With wonderful wildlife, such as wallaroos, northern quolls, colonies of microbats and over 120 species of birds, including the venerable red goshawk, this is a nature-lovers dream. If you're lucky, you may even spot a Whiptail wallaby when driving into the area in your motorhome hire from Cairns. You can see why these little creatures are also known as a pretty-faced wallaby.
How do I get there in my motorhome rental from Cairns and where do I stay?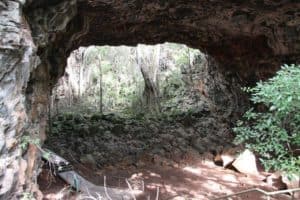 Undara is a local Indigenous word that means 'a long way'…but don't worry it's not too far these days and easily accessible in your motorhome hire! Perched on the edge of the Undara Volcanic National Park, Undara is less than 4 hours' drive south-west of Cairns and easily accessed via sealed roads that take you through the lush green Atherton Tablelands and down onto the eastern section of the iconic Savannah Way (the 3,700 km outback adventure drive which links Cairns with Broome).
The lava tubes themselves are only accessible through a range of fascinating guided tours that are conducted from the Undara Experience complex. This is also where you'll find the shady, peaceful campsite (there's no camping available within the national park), with facilities aplenty like camp kitchen, BBQs, fire pits, bistro, shop, and a gorgeous billabong-style swimming pool. It's a perfect place to park up your motorhome hire for a couple of nights. Plus, there are lots of other things to do too, such as a range of walking trails – several to panoramic lookouts – and free campfire activities every evening.
If this is on your bucket list and are looking at a motorhome hire for this trip, get in touch with us and we can help organise the perfect motorhome hire for your trip!