What are the best Gold Coast destinations to explore on a Brisbane Motorhome hire?
Did you know that the Gold Coast is Australia's sixth largest city? The Gold Coast covers a whopping 1,334km2. This iconic holiday destination boasts over 60 km of golden sandy beaches and innumerable world-class attractions and entertainment. It's huge, it's gorgeous and there is so much to do and see! Let's explore some of the amazing destinations and the best caravan parks to stay on the Gold Coast too!
Firstly, get your bearings! The Gold Coast starts at Southport and runs 70 km south to Coolangatta on QLD/NSW border. To the west, the city hugs the Gold Coast Hinterland; a magnificent mountainous area of waterfalls and ancient rainforest, much of it World Heritage listed. And to the east, South Stradbroke Island and the warm waters of the Pacific Ocean, stretching to the horizon. In short…after you pick up your Brisbane motorhome hire, head south for an hour and you'll find the Gold Coast!
PS: Not sure of the best time of year to grab a motorhome hire from Brisbane? Take a peak at another blog of ours. Here we share what each season is like when you head to the Gold Coast in a Brisbane motorhome hire.
Places to explore in a Brisbane motorhome hire on the coast
Northern Gold Coast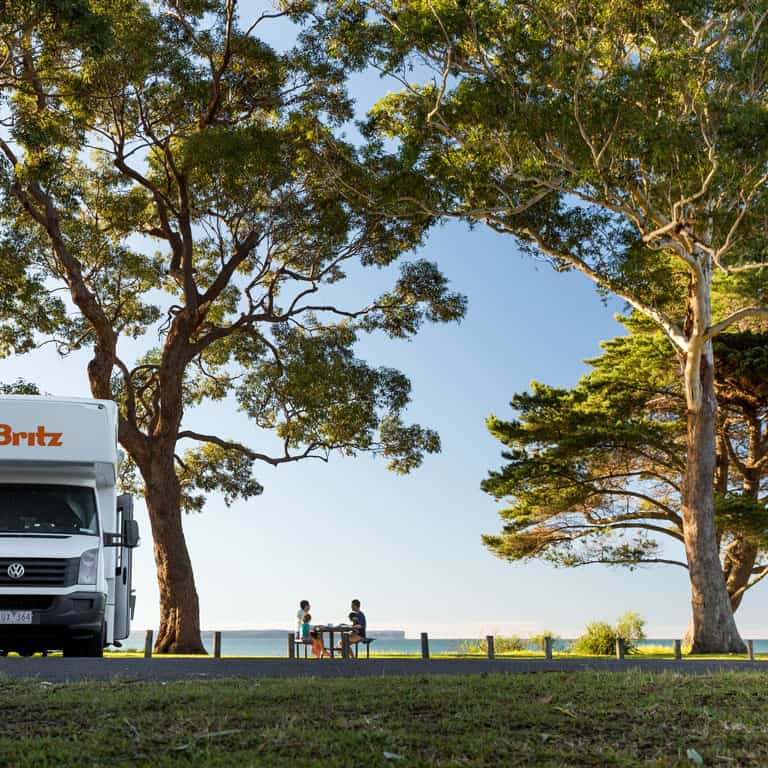 Southport and glamourous Main Beach wrap around the Southport Broadwater. It's a calm expanse of water protected from the ocean by a 5km long spit. This is the coast's watercraft and watersport playground, with a super-yacht adorned marina and high-end fashion boutiques. The Spit, however, is a more laid back spot that's popular for fishing, with lots of parking for your campervan. Nearly half of the sandy isthmus has been reserved for parkland, and it's also home to the Sea World Resort. There's a few good caravan parks here. One of our favourites, especially if your Brisbane motorhome hire holiday includes fishing, watersport and swimming, is the exceptionally well-run Broadbeach Tourist Park.
Central Gold Coast
This lively suburb of of Surfers Paradise is all about fun in the sun by day, and bright lights and nightlife when the sun goes down! Cavill Avenue is at the centre of all the glizt and glam! Broadbeach is a little more relaxed, sophisticated and family friendly. 'Broadie' (as it's known locally) is renowned for its quality restaurants, stunning surf beach and sprawling Pratten Park, a beachfront picnic fav!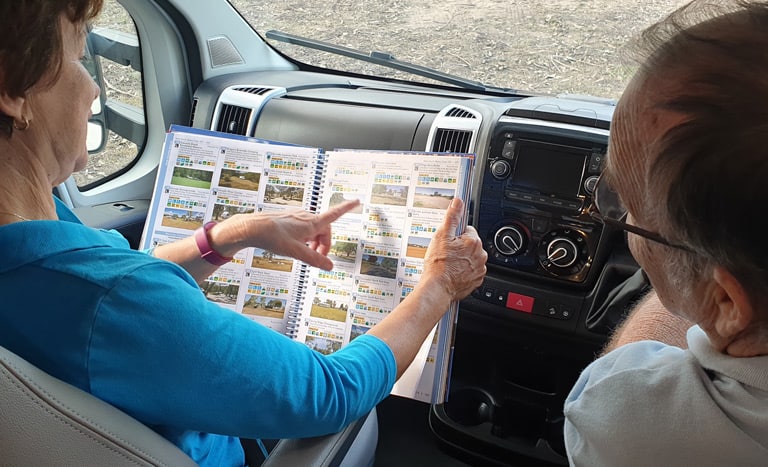 A little further south, Burleigh Beach has a relaxed café culture, with markets and ice cream shops aplenty! Burleigh and neighbouring Kirra are great destinations or stop overs on your Brisbane motorhome hire holiday. For a quintessential beach holiday you can't beat friendly Ocean Beach Tourist Park, mere steps away from the white sandy beach and warm ocean. There's less than 1.5 hours between picking up your holiday-home-on-wheels from a motorhome hire depot in Brisbane, to sipping a cold drink overlooking the beach!
Southern Gold Coast
As you move further south to Currumbin, Kirra and Coolangatta you'll notice there's more more open space and natural surrounds. A place we highly recommend on a Brisbane to Gold Coast motorhome hire holiday is gorgeous Tallebudgera Creek. Bordering Burleigh Head National Park, the calm fresh water of the creek meets the ocean, creating a shallow paradise of white sand and warm water. Visit for the day (limited parking so arrive early) or otherwise the riverfront Tallebudgera Creek Tourist Park is a super spot to base yourself. This region is also home to the excellent Currumbin Wildlife Sanctuary. The white surf beaches, little fish and chip, arty shops and galleries of the southern Gold Coast lend a real old-fashioned beach holiday charm.
Gold Coast Hinterland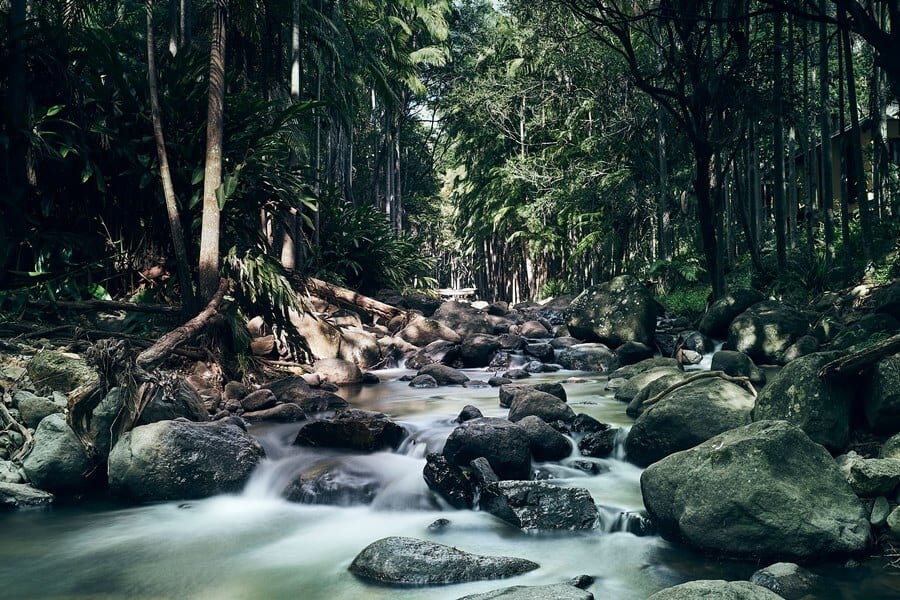 The Gold Coast Hinterland rises up in a blanket of green to the west of the Gold Coast. This very special region is often a highlight of a Brisbane motorhome hire holiday, so be sure to make time to visit!
The mountain community of Mount Tamborine is a lovely place to spend the day, checking out the wineries, cafes and art galleries, all with great views and easy access to rainforest strolls. Take one of Springbrook National Park's myriad of beautiful walking trails through eucalyptus and rainforest to discover a place as magnificent as it is varied. Drink in stunning panoramic coastal views from the many lookouts, discover hidden waterfalls or visit after dark to see the glow-worms at Natural Bridge.
You'll be enchanted by World Heritage listed Lamington National Park, a place of dense ancient rainforest, tiny streams and 360-degree panoramic views of the coast and the Scenic Rim to the south. This is bushwalking heaven, with every type of trail imaginable and a huge array of animals and birdlife. Lamington National Park is also home to O'Reilly's Rainforest Retreat. Have a bite to eat in the café, feed the wild birds or learn about the rainforest on their lofty Treetop Walk.
And of course if your motorhome hire holiday is starting or finishing in Brisbane, the Gold Coast is the perfect location to spend 2-3 days also if part of a larger trip. Maybe you are going from Cairns to Brisbane or perhaps Sydney to Brisbane is on your radar.
What are the best vehicles for a Brisbane motorhome hire holiday when hitting the Gold Coast?
Let's get to the bit that you're here for. How do you put yourself in this glorious picture? What motorhome or campervan hire options do we offer? We're happy to report that whether you plan to hire a premium motorhome from Brisbane or an older more cost effective campervan hire, the options are almost endless. And they always come with great standard features too!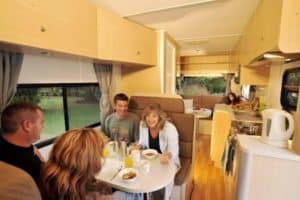 For families or groups of friends. One of our big comfortable motorhomes are often perfect for a Gold Coast motorhome hire holiday from Brisbane. They come in a myriad of shapes, sizes and layouts to perfectly accommodate your travelling group. Rest assured! There will always be a big fridge, spacious kitchen, onboard bathroom, and usually a big shady awning to provide that instant beach lifestyle. You may wish to ask which vehicles fit portacots, have bike racks, solar panels, an outdoor BBQ, or a bigger family bathrooms. Park up, unfold a camp chair, pour a cold drink, DONE.
For couples and small groups. The focus is usually on exploring lots of different places , which often means a premium vehicle with a more compact layout is often favoured. These layouts fit comfortable beds, hot showers and cooking facilities into a smaller more maneuverable campervan. Making it easier to park in tight spots and negotiate winding roads and steep inclines with ease. Of course, many couples opt to hire a bigger motorhome that allows them room to spread out. It's horses for courses, as we always say!
For everyone! When you consider Brisbane Motorhome hire through Gallivanting Oz, you don't just select from one fleet. Our partners include all the biggest and best motorhome and campervan hire fleets across Australia. And they come with our Gallivanting Oz top notch personalised service, support and advice.
Yikes! That's a lot of options…how do I pick the right motorhome?
Sound overwhelming? It would be if you were trying to find all the information about the perfect motorhome hire on your own. But you are not on your own! Brisbane motorhome hire holidays are what our travel-obsessed team know and love. They can let you know the pros, the cons, the ins and the outs of every vehicle in every fleet. Chat to the Gallivanting Oz travel team about all your specific holiday needs, wish list and budget. We'll answer all your questions. We provide hand-selected campervan options matched to your perfect Brisbane and Gold Coast campervan hire holiday. At the very best price too.
We'd love to make your Brisbane motorhome hire holiday dream become a reality!
Ask us for a Quick Quote or give us a call today!