Motorhome hire in Cairns is extremely popular in the dry season (and rightfully so). Cairns is nestled amid rainforest-covered mountains and fringed by the world's largest coral reef system. This laid-back city and surrounding region offer a truly unique travel experience. And there's no doubt the best way to experience it is to hire a motorhome from Cairns. You can explore in self-contained comfort and style.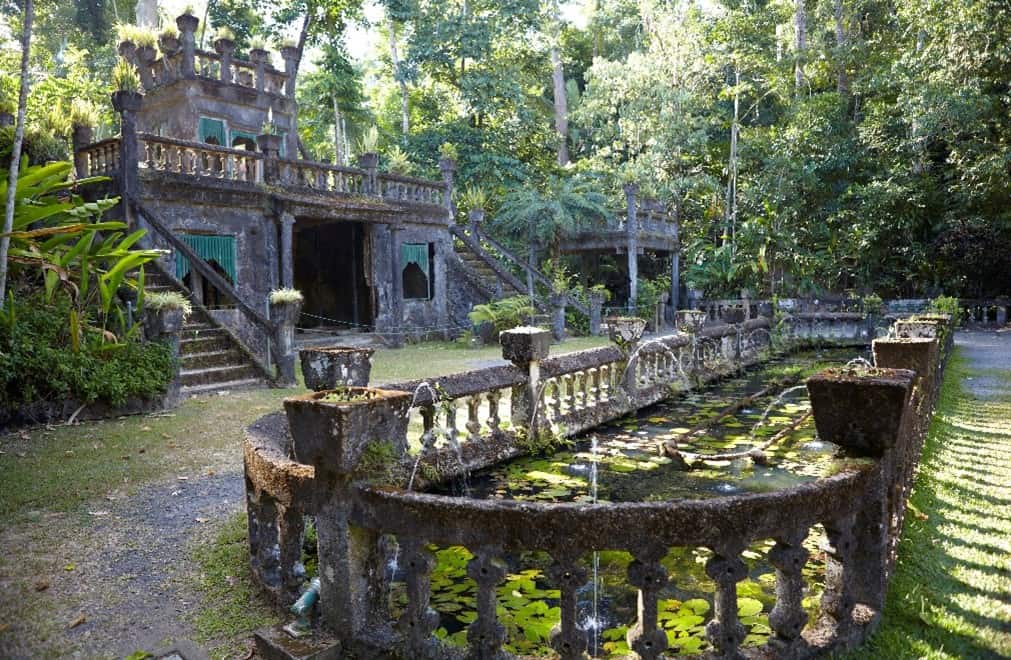 All over the world, people know of the magnificent Great Barrier Reef and the ancient World Heritage Listed Daintree Rainforest, the world's oldest living rainforest. But pick up a motorhome hire in Cairns and travel 75 km south, and you'll discover another marvel. This one however, is not only a testament to the wonder of nature, but to the power of love!
Introducing Paronella Park, a Catalonian-style castle hand-built in the 1930s by Spanish immigrant (and incurable romantic!) José Paronella! This extraordinary place is set on 13 acres. It has over 7,000 tropical rainforest trees including an avenue of towering kauri pines. There is a full-sized ballroom, tennis courts, bridges, a tunnel and a grand 47-step staircase leading to a picnic area by beautiful Mena Falls. Did we mention to this day, the whole property (and the adjoining campground) is powered by that waterfall? And that the electricity is captured by North Queensland's very first hydroelectric power plant?
When you start planning to a motorhome hire from Cairns you might have a few pictures in your mind's eye. White beaches and lush rainforests, reefs, crocs and cassowaries… But the last thing that you'd expect to find tucked away in the rainforest is a fairy-tale castle, complete with a tragic love story!
So how did this incredible place come to be?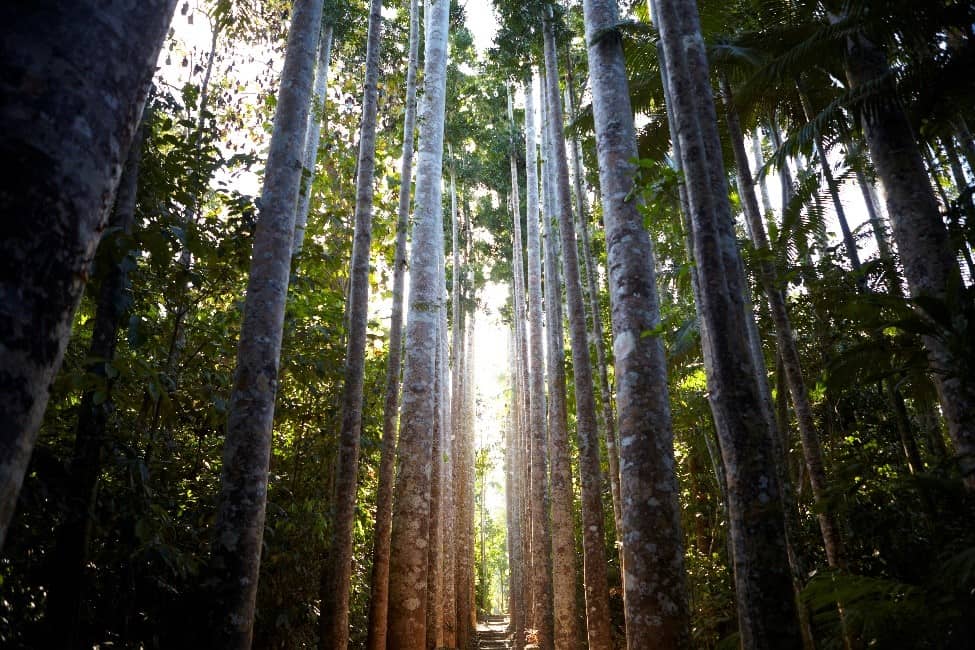 It all began in Catalonia in the north-east of Spain back in 1912. A young baker by the name of José Paronella had fallen deeply in love with his sweetheart, Matilda. But the prospect of providing for Matilda and the family they dreamed of having, was completely out of reach on his meagre baker's salary. Then one day, José picked up the local newspaper and learned that there were fortunes to be made in Australia! So, he kissed Matilda goodbye and promised to return to fetch her soon, as a wealthy man.
José arrived in the sugar-town of Innisfail in 1913. The finer details of how he got there have been lost in the mists of time… but safe to say it would have been considerably easier if he could have hired a motorhome from Cairns back then! But we digress. True to his word, José worked and saved hard for 11 years, slowly amassing his fortune. He started out as a labourer in the fields. He was eventually able to buy, improve, then resell sugarcane farms.
But during those 11 years, young José forgot to do something fairly important. He did not send a single letter to Matilda. Consequently, when he returned to Spain, she had long given up on him and married another man. Perhaps the family felt bad about José's wasted journey, because they helpfully suggested that he marry Matida's younger sister instead. José agreed, returned to Australia with his new bride Margarita, and bought their dream property beside beautiful Mena Creek.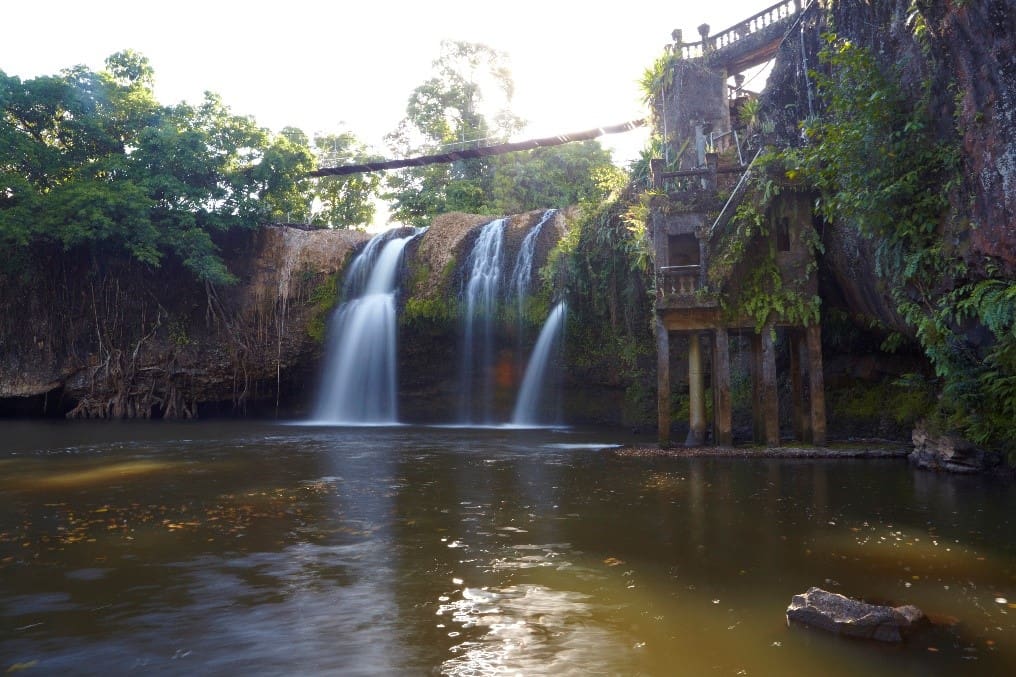 Inspired by childhood memories of Catalan castles, José set to work creating a beautiful tropical fantasy world for his family and visitors to enjoy. It took José a decade of painstaking labour to realise his dream. When he finished, a tropical wonderland surrounded a small castle. The pièce de resistance was the exquisite mirror ball (custom-made in America) that glittered from the ceiling of the ballroom! Its twinkling lights lit up hundreds of well-attended 1940s and 50s dances and theatrical performances – what fun!
Can I visit Paronella Park on my Cairns motorhome hire holiday?
We would suggest that Paronella Park is not a 'can-do' but a 'must-do' on your Cairns motorhome hire holiday! José's dream lives on to this day. With visitors still flocking to the fully restored, heritage-listed, eco-certified Paronella Park to immerse themselves in an incredible long-lost world. Close your eyes inside the ballroom, and you can still almost hear the swishing of the beautiful 1940's ballgowns.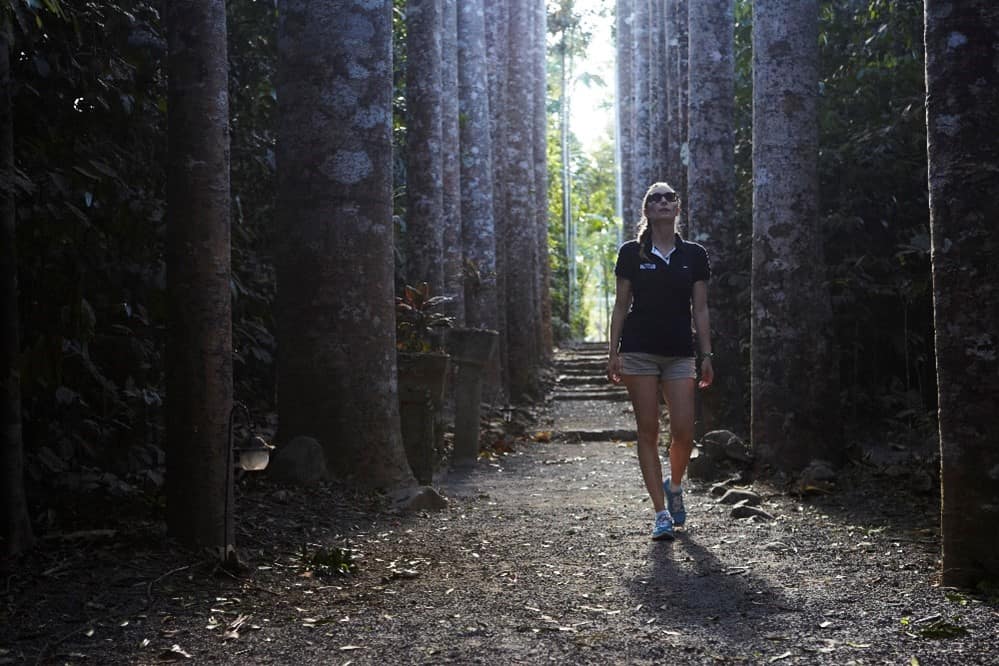 Paronella Park is practically designed for motorhome hire road trips! The entry fee includes overnight camping in the excellent, powered Paronella Park campground next door. (Subject to availability, there's also an overflow camping ground, The Paddock, at the Mena Creek Hotel 250m up the road). Staying overnight is highly recommended. You make the most of the guided day and night tours that are included with your entry fee. There is also a self-guided tour (with accompanying booklet and map). Also food for fish, eels and turtles and a botanical guide included. It's essential to book the campground early, which you can do here.
But first, let's get talk about finding you the very best Cairns motorhome to hire for your adventure! When you're ready, get in touch with our expert travel team! These travel-obsessed ladies love chatting about motorhome travel. Show us your vehicle wish-list. We can explain the differences between them. Finding you the very the best options for your route. Happy Travelling!