If you are out and about in your campervan and are looking for interesting routes across Australia and places to stop at along your way, you could check out our travel route suggestions.
Our Travel Routes page has heaps of really helpful information on places you can stop at and explore when you are out on the road.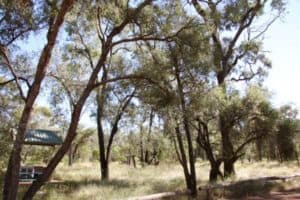 Tregole National Park is a little gem worth checking out if you are exploring the outback of Queensland.  The turn off to Tregole National Park is 10 km south of Morven, on the Morven to Bollon Road – or to put it another way, it's about 160 km west of Roma / 603 km west of Brisbane.
Tregole National Park is unique for its rare Ooline trees.  These trees have rainforest origins and it is unusual to see them in an arid area and due to extensive forest clearing, the tree is now considered a vulnerable plant here in Australia.
The park conserves almost pure stands of the attractive Ooline, a tree that is a medium to large in size with bright green leaves and rough tile patterned bark.  The tree has rain forest origins dating back to the Pleistocene Era when most of Australia was much wetter than it is today.

This National Park does not allow camping, however there is a day use area just south of Morven that has a nice 2.1 km short walk circuit with plenty of info boards of the plants and wildlife you could expect to see while you are there.
During our visit, we saw sand goannas, butterflies and lots of native birds. It makes a great stop when exploring Outback Queensland. It's a peaceful spot which is perfect to enjoy a nice relaxing lunch or coffee break. That's the beauty of travelling in a camper – everything is at your finger tips!
If you are looking for great rates and help in selecting a campervan for your next holiday in Australia, then check out our range of vehicles here and get in touch to find out what deals we can offer you!