Gallivanting Oz have been running escorted motorhome holidays around Australia for some time now. We are so proud of the feedback we receive from the clients that join us on these motorhome holidays.
The Adelaide to Darwin escorted motorhome tour is no exception with this fabulous feedback – complete with loads of inclusions, there is no doubting it is good value for money.
Take a peek on what happens on our escorted motorhome tour from Adelaide to Darwin:
Our tours aim to provide you with a great mix of adventure, the outdoors, sightseeing, relaxing and socialising and they are perfect for first time motorhomers or those more experienced that prefer the camaraderie of group travel.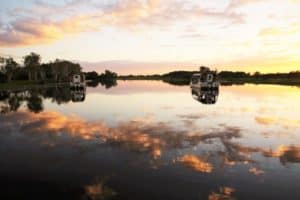 Our escorted motorhome tours from Adelaide to Darwin, include a premium motorhome (choice of two or four berth; both with toilet/shower) with the highest level of insurance cover, experienced tour escorts, entrance into all the must see attractions/boat cruises and activities enroute, campground costs and a few group meals plus other extras. You'll need to dip into your pocket for fuel, food (except when we have noted a group meal included), alcohol, items of a personal nature, and if there was any special interest activity not already included, like a scenic flight for example, perhaps over Uluru or the Kakadu National Park.
What is also great, is that our tour leaders have travelled all over Australia so can provide valuable insight for your future motorhome holiday planning. This is great if this is your first motorhome holiday in Australia, and you'd like loads of tips. Although we have many clients that love the format and experience of our escorted tours and they come back for more! We find it hard to show everything in words that is included as part of our tours (apart from the obvious inclusions), however we know from the consistent positive feedback that our guests consider it value for money and an excellent holiday experience. We are very proud of that.

You'll have the opportunity to explore the stunning wine regions near Adelaide including the Barossa and Clare Valleys. Heading into the vast deserts you'll come across quirky Coober Pedy, famous for its opal mining and underground houses.
Making your way to the spectacular Red Centre, you'll be constantly awed by canyons and gorges. And of course Uluru is no exception and will leave a lasting impression with you. There's plenty of time to explore Kata Tjuta (the Olgas) and Kings Canyon too. During this time we also give you a chance to absorb the ancient Aboriginal Culture.
Alice Springs is a chance to hang up your dusty hat for a few days if you wish, although still plenty to keep you busy. You'll be amazed by your visit to the world's largest open-air classroom, the School of the Air, and Australia's outback medical service, the Royal Flying Doctors. The Alice Springs Desert Park also gives you a chance to learn more about Central Australia's flora, fauna and habitats. Great opportunity for some pics too, if you haven't had a chance in the 'wild' already!
Along the way through the outback on your motorhome holiday we meet interesting Aussie bush characters and enjoy camping under starry skies that reach all the way to the horizon. And of course there are fun nights at an iconic Aussie pub or two as well.

Arriving into the tropical and lush Top End, there's a great opportunity to relax any travel weary bodies in thermal springs for a tranquil float through the perfect temperature water in stunning surroundings.
Of course we visit the famous Katherine Gorge on a dawn cruise, before another huge highlight, the world heritage listed National Park, Kakadu. You'll have a chance to see why it is world heritage listed for both its culture and scenery. The dawn cruise at Yellow Water billabong is always a highlight for these motorhome holidays. The variety and volume of wildlife we see on this and every tour is amazing. And with the stunning backdrop of the wetlands, it sure does impress!
We also make sure you have the chance to visit nearby Litchfield National Park too – while these parks are fairly close, they offer very different scenery and experiences.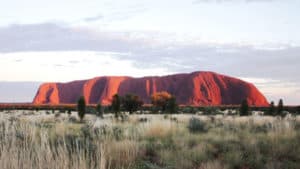 Along the way, you'll be travelling in a premium motorhome with the top level insurance included. We use a range of different camping options along the way, always with the best experience in mind. There's a toilet and shower on board your premium motorhome, should the odd 'facility' be a little more rustic than you'd like! On occasion, on station stays for example, the experience of the rustic charm, certainly is worth it!
Our tours give you the opportunity to see and do as much as you'd like to do along the way. Pack your walking shoes – we'll let you know about shorter and longer walks available depending on your ability and interests. All the hard work has been done for you in terms of your holiday planning, however we still give you as much flexibility as we can, as we know everyone's interests differ.
If you are looking at motorhome holidays in Australia and in particular an Escorted Motorhome Tour from Adelaide to Darwin, make sure you have a chat with us. We can let you know travel dates and options that may suit you.