Adelaide, South Australia's small but vibrant capital city, is the perfect spot to start or finish a gourmet campervan adventure.  It's a breeze to get around and is positively bursting with culture, charm and culinary delights!   Being such a compact and beautifully laid out city makes picking up your campervan hire in Adelaide, both quick and easy.  Adelaide's motorhome hire depots are all conveniently located just minutes from the airport and the city; easily accessible by public transport or taxi. Check out this article if you are looking to do a few things in Adelaide before you set off!
"Travel should be measured, not in distance but in experiences."
Never is this saying more fitting than when exploring the stunning regions surrounding Adelaide.  There is celebrated wine country, white beaches and red outback, ancient, rugged mountain ranges, sea lion colonies, giant cuttlefish and the world's best oysters.  A wealth of motorhome adventures waiting for you within a few hours' drive!
Campervan Hire Adelaide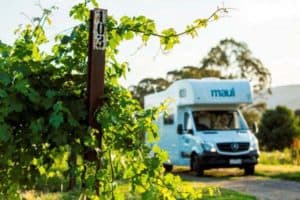 Hiring a campervan in Adelaide is the very best way to experience these fabulous destinations, and beyond.  Enjoy the freedom and spontaneity of exploring your way, in the complete comfort in your very own home on wheels.  No need to pack or unpack, search for amenities, or worry about your mobile running out of battery.  Enjoy stress-free travel with time to stop whenever and wherever your heart desires.
We'll talk more about these exciting routes and destinations, accessible by campervan hire Adelaide later on. But first, let us focus on Adelaide's incredible regional food and wine scene; located right on the city's doorstep!
McLaren Vale
Just 45 minutes south of Adelaide, taking in the ocean views, sandy beaches, gumtrees and olive groves of the Fleurieu Peninsular, sits McLaren Vale.  This pretty town and region is a veritable playground for kids and adults alike.  Besides its impressive array of restaurants, pubs and wineries (such as globally-renowned Wirra Wirra), there are steam train rides, horse riding, markets and live music!  Visit the d'Arenberg Winery for one of the region's most unique experiences – The Cube. This five-story avant-garde structure mimics an unfinished Rubik's Cube…complete with tasting room and 'The Museum of Alternative Realities'.  Cycle the Shiraz Trail, which follows an 8 km section of a disused railway line, with wineries all along the way!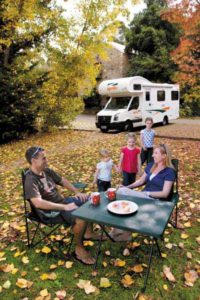 The Adelaide Hills
The Adelaide Hills region is a mere 20-minute drive north of Adelaide's campervan hire depots.  It's a magical place of rolling hills and leafy hamlets, loved for its cool climate wines, award-winning restaurants, beautiful scenery and gardens.  Foodies will be in heaven here, and you can easily spend a day sampling your way around the charming little villages, farms and markets.  Tempt your tastebuds with freshly baked artisan sourdough, handmade cheese, chocolate, local honey and award-winning wine.
What are our favourite things to do in the Adelaide Hills? Here are just a few. Indulging in a long lunch with a view at Hahndorf Hill Winery. Picking strawberries and tasting the sweet offerings of Beerenberg, Australia's oldest family-owned jam producers. Taking in panoramic views of Adelaide and the coastline from Mount Lofty Summit. Visiting the fascinating artists' studio and beautiful gardens at The Cedars. On Saturdays, stop by the Adelaide Hills Farmers Market to stock up on the freshest local produce and gourmet delights. Then cook up a storm in the fabulous, fully equipped motorhome kitchen, glass of elegant Adelaide Hills chardonnay in hand!
The Barossa
Only 1 hour north of the CBD, the bountiful Barossa is a must-do for any campervan hire holiday from Adelaide.  Set amid pretty, rolling hills lined with vineyards, you'll find good food, plentiful culture and quaint towns that reflect the region's German migrant past.  Little wonder this is one of Australia's most-visited and loved wine regions!
Famed for its old vines and full-bodied red wines, particularly Shiraz, the Barossa region hosts such household names as Jacobs Creek, Yalumba, Penfolds and Wolf Blass. But the region is not only famous for wines; it is also one of Australia's top culinary destinations, with a firm focus on paddock to plate. The Barossa actually comprises of two regions; Barossa Valley and the drier and cooler Eden Valley. There are so many incredible things to do in this spread-out region that you'll be feeling downright smug about your choice to hire a motorhome!
What are the best things to do in the Barossa in your Adelaide campervan hire?
There are too many to name, but here are a few of our favs.
Topping the list is cruising down the iconic palm-lined Seppeltsfield Road in your motorhome to historic Seppeltsfield Estate.  In the main town, Tanunda, the rather grand Château Tanunda was the site of some of the first vines to be planted in the region. It's very #instaworthy too.  Many say that Australia's much-loved TV cook, Maggie Beer, put the Barossa on the map.  So…we're sure you'll agree that no visit to the region is complete without a visit to the delicious Maggie Beer's Farm Shop.  Plan to be here on Saturday if you want to visit the renowned Barossa Farmers Market, overflowing with fresh local produce, colour and flavour.  Meet the farmers, taste incredible local produce and stock up on lots of gourmet goodies for the road!
Clare Valley
Follow the Stuart Highway north of Barossa to Clare Valley and discover a drier landscape, a friendly welcome, and over 50 cellar doors awaiting you!  The Clare Valley was established by Jesuit priests in the 1850s who planted some of the oldest vineyards in the state for sacramental wine. The self-guided tour of the Sevenhills Winery, which encompasses the St Aloysius' Church, crypt and vineyard is a must do.  If you can bring yourself to trade in the comfort of your campervan for a bike, the Riesling Trail is a special experience!  Bike through the pretty rural countryside along an old railway line, stopping off at lots of wineries along the way. There are bike-hire shops aplenty in the region's attractive main town, Clare.  We even have motorhome hire options from Adelaide that come with bike hire if that's your thing!
Fun fact!  Screw caps are now used widely on wine bottles all over the world.  The very first screw cap wine bottle was engineered by a small group of winemakers in the Clare Valley in 2000. With 98% of all Australian-produced wine now featuring screw caps…it's fair to say it's taken off!
Where else can I visit when I hire a campervan in Adelaide?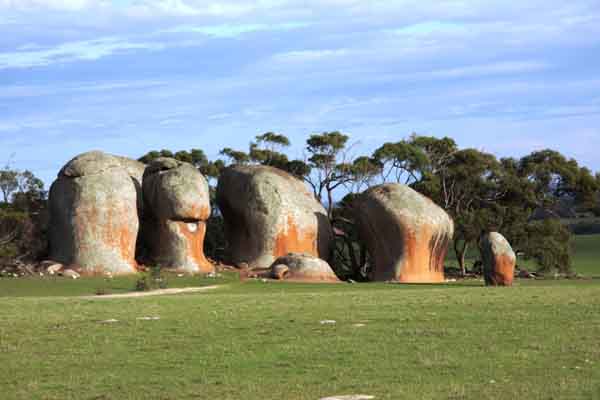 Goodness gracious, where do we start!  Travel west to the stunning Eyre Peninsular to swim in impossibly clear turquoise waters lapping pure white beaches.  Eat ocean fresh seafood (including the legendary Coffin Bay oysters) and enjoy aquatic adventures such as scuba diving or swimming with sea lions! 
Venture north to the ancient red Flinders Ranges to discover Aboriginal culture, outstanding hiking, animal and birdlife. Venture further north along the backbone of Australia, where green turns to red and the iconic Australian outback begins.
Exploring Coober Pedy, the underground town and opal capital of the world, is almost a rite of passage to the intrepid campervan hire road tripper!
Or continue further yet, to the ancient Red Centre and soul-stirring Uluru for an experience that you will remember for the rest of your life.
What other Australian wine regions can I visit on my motorhome hire holiday?
Australian wine regions such as The Hunter Valley, Margaret River and the Barossa Valley are household names across the globe.  However, it comes as a surprise for many to learn that Australia has over 60 wine regions, and produces over 100 different varieties of grapes!
Get out there and explore!
Reasons to hire a campervan to explore this wine country.
We reckon hiring a motorhome is the very best way explore any of these incredible gourmet destinations.  Be it east coast to west, coastal to cool, mainland to island, or isolated to cosmopolitan! Travel in style, wake up with a different view every day, explore on your own terms.
If you're feeling inspired, do get in touch.  We will answer all your questions about motorhome hire, and find you the vehicle that perfectly matches your destination and your wish list.  And, as always, we'll find you the very best price too!  We can't wait to get you out on the road and 'Gourmet Gallivanting!'