Here are the top three questions we're asked about campervan hire in Australia.
Over the years we are often asked these questions by our clients looking at campervan hire in Oz and it is possible that you too are wondering the same thing!
When should I go on holiday?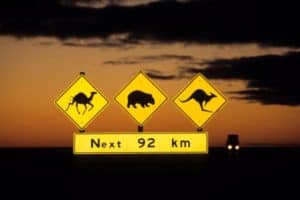 On our main page 'Campervan Hire Australia' we explain about the diverse range of climates that Australia experiences. The climate in certain areas of Australia will certainly affect the best time to travel specific routes, however it is worth remembering that Australia is a big country and therefore it is not 'hot' everywhere all the time, as some might expect!  And yes, it does snow in some areas of Australia!
The popular Top End of Australia is explained in a lot of detail on our Campervan Hire Australia page as this is one key area, it is definitely best to understand about the climate before you book flights.  For an average traveller, it is not the best plan to be in the northern part of the country in your campervan hire over the Australian summer as it's wet season and some areas will be closed due to water over the road.  It is also hot and humid which makes it less pleasant than during the winter months, or dry season.  As this is not a popular time for tourists in Darwin, most of our campervan hire depots are closed late December until early April (Darwin). This page will be useful in helping you decide what time of year is best to travel to the destination you want to visit in your campervan hire.
Where should I go?
If you are contemplating where you want to go in your campervan hire, then you might want to check out our Travel Routes page. Here we list 12 of the most common routes across Australia on an interactive map which makes it super easy to navigate through and select the route you'd like to explore.  From here you can have a read of our top tips and places to visit on that stretch and there's even a downloadable information sheet of that route.
We also advise the best time of year for each of these popular routes to explore in your campervan hire.  We also suggest a minimum time frame, ensuring you get the best out of your amazing time on the road. This is based upon our experience of travelling these routes, however everyone has a different idea regarding 'how' they like to travel.  If you are someone that likes to take your time and sleep in when on holidays, you'll want to allow a little more time, so you return home feeling refreshed.
What campervan hire options can I select from?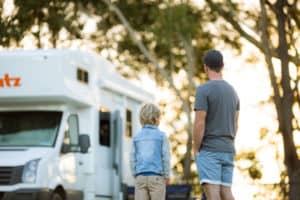 We have over 70 vehicles for you to choose your campervan hire from, so it won't be hard to find you one that best suits your needs and requirements. If you've never done a campervan hire before it can take a while to get your head around all the options and variations in the vehicles.  If this is you and you're feeling slightly overwhelmed with all the choices, we'd strongly suggest we arrange a phone call or let us know via email you'd like some advice.  We're used to breaking it down into plain English to help you chose the perfect campervan hire for not only your budget, but also your needs too.
For us to provide an idea of costs for your campervan hire, if you can give us an idea of your route, your dates and how many of you are travelling we'll be happy to narrow down the list for you with some suggestions.  As the rates vary considerably throughout the year, it is important that we do have approx. dates you are considering travelling so we can send you relevant information.
We also get asked a lot about the driveability of the campervans.  They do all range in size but in general they are easy to drive. Often we're also asked about the space inside the campervan hire including what are the features, fixtures and fittings and how well stocked is the kitchen. We answer these questions here on our campervan hire page in more detail.
Our Top Tip!
Save yourself the time and speak with us from the get-go. We are the experts in the field of campervan hire and we can save you not only time but also make sure you know about the best deals and save you money. There are so many benefits in talking with us directly as we can help you avoid making any potential costly mistake such as jumping into the first campervan hire you see or perhaps booking in the wrong season.
We pride ourselves on our customer service and receive rave reviews about the one-to-one communication we have with our customers.  We believe in good old-fashioned service.
Get in touch today and get a quote to see how we can help assist you in booking your campervan hire!