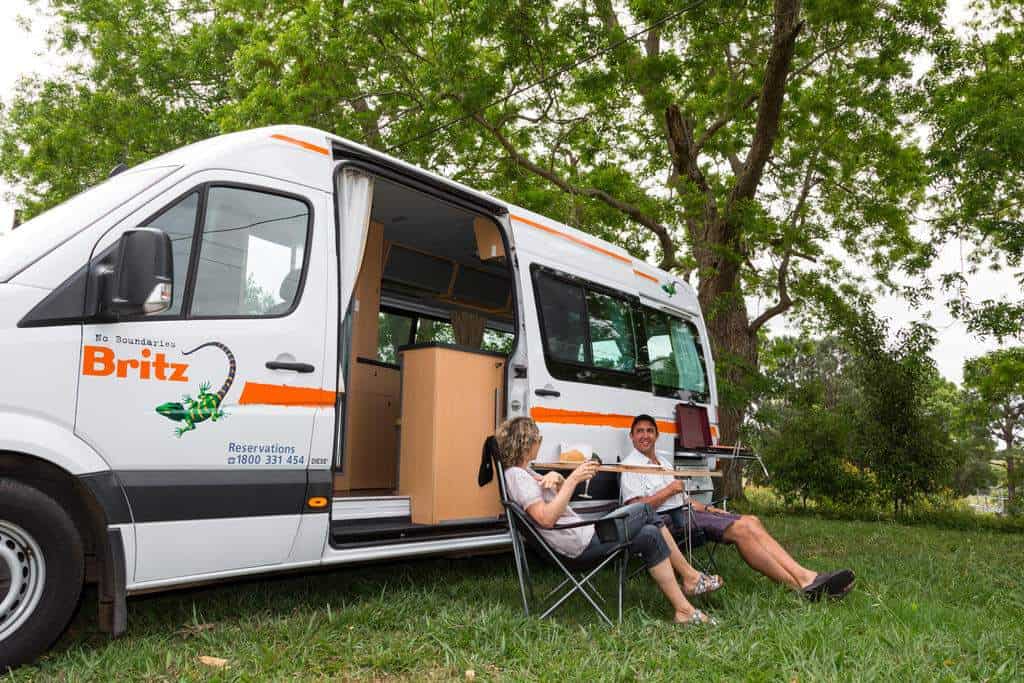 Want an authentic Oz tour? Why not consider campervan hire, including our popular Brisbane motorhome rentals?
Road trips and Oz tours are a very popular way to see Australia, and many people are choosing the convenience and comfort of campervan hire. Travellers are very keen to get out and enjoy the quintessential Australian experience, the real outback of Queensland. And we can help you get there, with guided tours or, for those who want to travel independently, a Brisbane motorhome rental.
Oz tours – what's included?
The benefit of joining a tour means all the hard work has been done for you. You'll enjoy the camaraderie of travelling with others also in a motorhome rental. We have a range of different organised Oz tour routes, however a popular one is from Brisbane to Darwin. Our Oz tours include a premium motorhome rental with the top level insurance. Also included are all your camping costs, entrance into many popular attractions and activities to enhance your experience of this route. We have experienced tour leaders also joining you on your escorted motorhome tour.
Oz tours – where do we go?
Our organised Oz tours travel to many iconic and remote areas throughout Australia. One that is often in hot demand is from Darwin to Perth. This tour has a great mix of open outback spaces and resort towns. The crystal blue waters and dramatic coastline of Western Australia are a contrast to the grandeur of the Kimberley region. Our authentic Oz Tours include many inclusions and activities with local tour operators for a well rounded holiday experience.
Other Oz tour routes on our organised escorted motorhome tours are from Adelaide to Darwin, Perth to Adelaide and of course beautiful Tasmania.
Where to go in a Brisbane motorhome rental?
If travelling independently, or campervan hire is more your thing, we have some excellent resources to help your planning. Brisbane motorhomes rentals are very popular, especially during the winter months. You can travel from Brisbane to Cairns in 7 – 14 days, however 21 is better. There are so many wonderful places to explore in the motorhome rental while exploring the Queensland coastline.
Some favourite places to explore while on your own personal Oz tour could be the stunning Sunshine Coast, Agnes Waters, the Whitsundays and of course tropical north Queensland. It is a good idea to book ahead popular caravan park sites once you have a plan in place with your personalised Oz tour. Some locations in particular can be busy through school holidays. Heading further north from Brisbane towards Cairns, you'll also find some popular locations busy with 'grey nomads'. This is a term we affectionately give to those who are lucky enough to travel for months at a time, often from the southern states seeking warmer weather.
Brisbane motorhome rentals options
The choice of Brisbane motorhome rentals is vast.  You will find there are larger motorhomes suitable for a family or group of friends of up to six people.  There are also options for campervan hire that are much smaller and suit those travelling on a budget – some of these do not have a toilet and shower on board.  The smaller campervan hire is popular for those staying in a caravan park who will utilise these facilities instead. 
Our retired couples tend to either travel in a two berth Brisbane motorhome rental, which has a toilet and shower on board, or a large four-six berth. Even though the six berth campervan hire is large and can carry more people, couples often enjoy the extra space these offer.
Both the smaller campervan hire and the large motorhome rentals from Brisbane come with a practical kitchen. There are gas burners for cooking, sink with water and cooking utensils/crockery etc. They also have a microwave however this is only able to be used when plugging the campervan hire into power in a caravan park. The same is true with the air conditioning (heating and cooling) unit – this will only work when plugged into power. The motorhome rentals also have a fridge to keep your food and drinks cold.
Other places to explore in Australia
While Brisbane motorhome rentals are popular, there are also options to collect your campervan hire from many other locations around Australia. In fact, you can even pick up your motorhome rental in Brisbane and return to another depot like Sydney or Darwin if you wanted. We also have depots in Cairns, Melbourne, Hobart, Adelaide, Alice Springs, Perth and Broome.
In Australia it is popular for travellers to set up an independent Oz tour from one location to another, as many of our iconic routes do lend themselves very nicely to one way travel. That is the benefit of campervan hire – there is only a small extra one way fee which is cheaper than the extra hire time/fuel to return to the same location that it was collected from.
Next step to create your Oz tour
The next step to create your fabulous road trip is to firstly decide on the area you'd like to explore this time. It's important to not try to do too much and feel too rushed for the way you like to travel. From there you can consider if you'd like to join one of our escorted Oz tours, or if independent travel is more your cup of tea. Our team can help you choose the perfect motorhome or campervan hire for your big adventure that will suit your needs and budget. Our experienced team is available to answer your questions via email or phone to help formulate a plan for your next authentic Oz tour. Contact us now.