If you are picking up your campervan hire from Brisbane, then you'll be delighted to start your trip in the city that sunseekers flock to all year round!
Queensland has a subtropical climate defined by warm weather for most of the year which means it enjoys sunshine pretty much all year round, making it the perfect location to pick up your 6 berth motorhome hire from Brisbane.
There are numerous routes you can head out on in a 6 berth campervan rental (check out our Travel Routes here). In this blog we are going to be exploring a fantastic 14-day loop circuit which means you pick up your campervan hire from Brisbane and return your campervan hire to the same depot.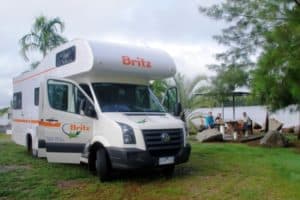 The suggested route is Brisbane – Roma – Carnarvon Gorge – Emerald – Rockhampton – 1770/Agnes Waters – Bundaberg – Hervey Bay – Sunshine Coast – Brisbane.
When you have picked up your campervan hire from Brisbane you can either head north or west to do this scenic 1,984 km route.  We're heading out west and making our first stop in Roma.
The journey out to Roma, the gateway to the outback will take you on average 5.5 hours, although please remember to factor in breaks. Especially important if you are travelling with your family in a 6 berth motorhome hire. Probably best to break this trip up rather than heading all the way out to Roma on the first day after you collect your 6-berth motorhome hire in Brisbane.
The next stop we suggest on this 14-day outback tour is to head north for just over 3 hours to Carnarvon National Park which is natures playground for those who love exploring and nature.
Check out our blog, where we have shared lots of tips in 'Brisbane to Roma and beyond in a 6 berth motorhome' on this exciting 14 day loop when travelling in your campervan hire from Brisbane.
It's easy to spend a few days in Carnarvon Gorge as it's such an idyllic spot.  Once you've soaked up everything this fantastic spot has to offer, it's time to set off out on the road again towards Emerald.  Its around 3 hours drive to Emerald, where we are sure you will want to spend a night, or maybe visit nearby Lake Maraboon.  After your time here, it's another 3 hour drive east, back out to the coast to Rockhampton.  To find out more details on this section of the suggested loop with your campervan hire from Brisbane, take a read our blog that covers Emerald and Rockhampton in the second part in the series 'Cruising Queensland in a 6-berth motorhome'
After you've finished checking out Rocky, you'll want to hit the road and start heading south and stopping off at the laid back and relaxing towns of 1770 and Agnes Waters.  Located close to each other, pick one of these to park your campervan hire up at for a night or three and enjoy the serenity.  Not too far away is the metropolis of Bundaberg, also worth a visit. If you have time in your schedule, call into Hervey Bay too – this is the base for a day trip out to the largest sand island in the world. Highly recommend! We cover more detail on the highlights in our blog of what to see and do in the third part of our series, all about 1770, Agnes Waters, Bundaberg and Hervey Bay Coastal Queensland in a 6-berth motorhome hire.
Sunshine Coast
A little over 2 hours south of Hervey Bay is the Sunshine Coast – it's home to one of the most ideal climates and highest sunshine levels in the world with an average of 7 hours of sunshine a day, it makes a great location for a stopover. A combination of a few regions make up this whole area – Hinterland, Caloundra, Kawana, Mooloolaba, Maroochydore, Coolum, Eumundi, Nambour, Noosa, Gympie and Rainbow Beach.  Any of these places make a great location to spend a few of your last days on the road in your campervan hire from Brisbane. Besides the Hinterland the other areas are based along the coast and have amazing beaches, nature and wildlife. There's plenty of adventure, sports and water sports here as well as markets, shopping and lots of eateries and fine dining. If you fancy finishing up your campervan hire from Brisbane trip on the coast, then we suggest any of these places to enjoy your last few days on the road.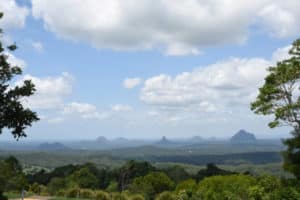 If, however you fancy a change of scenery then going inland a little will take you to a whole different world. Discover the ancient volcanic peaks of the Glass House Mountains, take a walk-through lush rainforest and take in the breath-taking scenery of the natural beauty and serenity of the Sunshine Coast Hinterland. The Hinterland is littered with picturesque little towns such as Mapleton, Maleny and Montville of which each are home to charming and elegant cafes and restaurants with picture perfect views of which some stretch out over to the coastline.
The final stretch of your leg in your campervan hire from Brisbane will depend on whether or not you want the sea and sink your feet in the sand or if you prefer to finish up in the mountains exploring awe-inspiring landscapes.
Once you've finished on the Sunshine Coast or in the Hinterlands, its approximately about 1 – 2  hours drive back to the Brisbane campervan hire depot, depending which part you have decided to stay.
This route is perfect for 14 days on the road in your campervan hire from Brisbane and is a great loop to do and is so full of diversity, it'll hold a special place in your heart for years to come.
If you are planning to visit Australia and are looking at campervan hire, talk to our team at Gallivanting Oz as we can help you plan your trip and ensure you get the most out of your holiday.