Our seminars at the Hamilton Motorhome Show (NZ) proved to be extremely popular once again.
If you weren't able to visit the show and pop along to see one of our seminars, you'll have missed out on lots of useful information and travel tips when it comes to travelling around Australia.
But not to worry, we'll give you a quick rundown on where you can access most of this information off our site.
Planning a trip to Australia?
What should you consider first – when to travel? Where to travel to? Where to travel from? How long do you have? So many unanswered questions. Check out our blog 'Planning a trip to Australia', this covers the basics like when is the best time to travel Australia and will give you some information on the seasons and how they differ across the country.
Getting around Australia in a Motorhome or Campervan
If you know 'where' and 'when' you want to go then check out our travel routes as they provide heaps of information on which routes are best depending on the time of year and even, go as far as suggesting the length of time you should allow for a particular route.
Some people are amazed at the scale of this country and it's easy to underestimate sometimes how long you'll actually need to travel a route!
Have a particular Motorhome or Campervan hire route in mind?
Perhaps you are thinking about motorhome or campervan hire in early 2020, why not discover the breath-taking sights, sounds and tastes of Tasmania in the new year? You'll find the typical landscape of lakes, mountains, beaches and mining sites interspersed with charming villages that make up this stunning land. Talk to us today about motorhome or campervan hire from Hobart.
Or maybe it's an escape from the chilly New Zealand winter for warmer weather? Then picture yourself meandering down the coast in your motorhome or campervan hire from Perth to Darwin.  Talk to us today about motorhome or campervan hire from Perth to Darwin (or vice versa).
Or discovering the iconic 'red centre' with a motorhome or campervan hire from Adelaide to Alice Springs – pop on out to see Uluru and wander the stunning Kings Canyon. Talk to us today about motorhome or campervan hire from Adelaide to Alice (or vice versa).
The Queensland coast is always a popular start your motorhome or campervan hire from Brisbane and enjoy the great mix of long beaches, tropical rainforests and the world's largest coral reef on the journey up to Cairns.  Talk to us today about motorhome or campervan hire from Brisbane to Cairns (or vice versa).
An escorted motorhome tour with Gallivanting Oz will provide you with a great mix of adventure, the outdoors, sightseeing, relaxing and socialising and are perfect for first time motorhomes or those more experienced that prefer the camaraderie of group travel.  We are happy to chat with you about how our Escorted Motorhome Tours work, and all the fabulous inclusions.
Ideas & tips to get you started for a motorhome holiday in Australia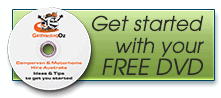 Fancy getting your hands on a FREE DVD (valued at $47) that is full of ideas and tips to help get you started on planning your adventure?
This DVD provides lots of inspiration on where you can go and the types of things you can do while you're here, it also provides information on the types of vehicle hire, campgrounds and some freedom camping and also answers many FAQ's on concerns regarding motorhome travel in Australia.
Check out this page if you're interested in our FREE DVD.
More chances to chat with our team in New Zealand in 2019 – will you be around either Christchurch or Nelson at the end of November?
NZ Agricultural Show – Christchurch
We're at the New Zealand Agricultural Shown Christchurch Motorhome Show from Wednesday 13th to Friday 15th November 2019, maybe you'll be able to visit us there? You'll find us in the trade pavilion.
Nelson Motorhome Show
Or perhaps we will catch you at the Nelson Motorhome Show on either Saturday 16th November or Sunday 17th November 2019?
We always love to catch up and chat with those who have travelled with us, whether they've joined us on one of our escorted tours or whether they've hired a motorhome through us – either way we love to hear all the fabulous things they've got up to and putting faces to names!
Also we wanted to say congratulations to Nigel and Elva who won our competition for two free tickets to the show – we hope you had as much fun as our team did at the show.   
If you have any questions on campervan hire or are looking escorted motorhome tours for Australia drop us a note! We'd love to hear from you.