4 of the best motorhome hire trips from Cairns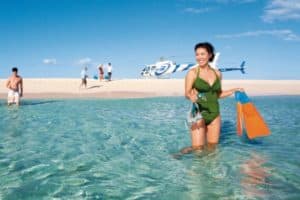 Are you thinking about Cairns motorhome hire and wondering where to go?
Take a look at these interesting and memorable road trips from Cairns:
Cairns to Brisbane – you'll love all the nooks and crannies you'll find on the spectacular Queensland coastline. It's not world renowned for no reason
Cairns Beach Escape – wind your way up the coast, visit the world heritage listed Daintree and relax at Cape Tribulation
Cairns Loop – This is a great trip to give you a great mix of the outback, coast, and good ole fashioned Qld hospitality. Start in Cairns head to the Gulf of Carpentaria to experience Karumba, check out the mining town of Mt Isa, before cruising east for 'coast time' at Townsville and on your way back up to Cairns
Cairns to Darwin Motorhome Hire – experience the magnificence of the big open night sky and see the stars twinkling overhead. This diverse trip has something for everyone.
We have plenty of excellent motorhomes, campervans and 4WD camper rentals from Cairns for you to choose from, whether you are going to Darwin or Brisbane.  In fact, there are plenty of places you can return your Cairns motorhome hire.
Let us share some more details with you:
 Cairns to Brisbane Motorhome hire
The route from Cairns to Brisbane does not disappoint with plenty of pretty bays and beaches to explore in your motorhome.
Some people try to do this route in 7 days, however if you have flexibility, we would suggest a minimum of 14 days, or even longer if you have it available.  It is great to have the freedom to spend more than one night in some of the beautiful areas you will come across.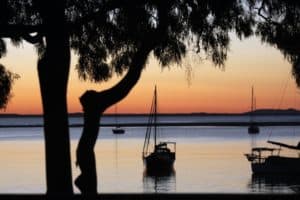 Some great areas to spend time are Townsville, Airlie Beach (Whitsundays), Bowen, Hervey Bay and Noosa.  Other favourite spots of ours are the towns of 1770 and Agnes Water with the beautiful drive off the highway to Bundaberg.
Find out more about all the wonderful places to visit on the route when travelling in your motorhome hire from Cairns to Brisbane.
The best time for this route is May to September, which is the dry season and will provide the most comfortable temperatures. Do note though, that during the months of June, July and August in particular, travellers from the southern states (affectionately known as grey nomads), tend to head north and also enjoy this route. Some popular areas can be busy during this time as well as impacted by school holidays which are late June/early July.
Our top tip for this route is that you'll often find we have 'special offers' to travel in your motorhome hire from Cairns to Brisbane direction, rather than Brisbane to Cairns motorhome hire.  Often people tend to think 'Brisbane to Cairns' which means we sometimes can offer better rates doing the reverse direction.  The great thing about going south is that if you do end up 'ahead of schedule' there are plenty of great areas to explore around greater Brisbane in your motorhome hire too, such as the Sunshine Coast and Gold Coast.  Don't forget the hinterland to both coasts too – many excellent areas such as Maleny, Montville, Kenilworth in Sunshine Coast Hinterland and Mt Tambourine and Springbrook National Parks in the Gold Coast Hinterland.
Cairns Motorhome Hire

For some, staying local to Cairns is the prefect experience. There are some wonderful beach locations north of Cairns at areas such as Port Douglas and further afield across the Daintree River at Cape Tribulation.  It's a sealed road up to Cape Trib which offers some lovely areas to relax with your motorhome hire.  If you are planning to put your motorhome hire on the barge at the Daintree, do check with us, as some of our suppliers have varying rules regarding this.
You can also go for a drive in your motorhome to Cooktown if you wish. You would need to take the sealed road on the southern side of the Daintree River, not take the Bloomfield Track from Cape Tribulation to Cooktown, unless you're travelling in a 4WD.
The minimum time to hire a motorhome from Cairns and drop off Cairns is 5 days, although it is quite popular for travellers to enjoy the beautiful winter temperatures in this location for 7 – 14 days with some nice relaxing beach time.
Cairns and the Qld outback Motorhome hire
There is a great loop you can do from Cairns back to Cairns if you'd like to mix up your coast time in the motorhome hire with some outback time.  For this loop, around 14 days is good, however you can certainly take much longer, in fact it's not unusual for our retired clients to take closer to a month so they can spend time really exploring these inland communities and coastal locations.

Leaving the tropical coastline of Cairns you can head into the Atherton Tablelands, sampling the delicious produce and marvelling at the waterfalls.  Once over the other side of the Atherton Tablelands, you will notice the scenery change fairly quickly.
The Undara Lava Tubes are an interesting place to spend a night or two where you can explore the area with the local Savannah Guides. Pop your feet into the hot water creek at Innot before continuing your way towards Normanton. You'll find a mix of freedom camping and commercial camps along this route. Many people like to spend a night or two at Karumba, which is the only sealed road access to the Gulf of Carpentaria. This is a popular fishing area and also a beautiful drive from Normanton out ot the coast through the wetlands.  There can be fishing comps on here from time to time, so a good idea to call head to make sure the caravan park has a spot for you.
Heading south from Normanton to Cloncurry the scenery changes again with a great showing of the magnetic termite mounds. Break up your journey at the rest areas along the way.
Cloncurry is an interesting town, as is the drive west to the mining town of Mt Isa.  It is popular to do the underground mine while here – if that is on your list, we would suggest booking into that once you know when you'll be in town to avoid disappointment.
From Mt Isa, retrace your steps back to Cloncurry, before heading east straight out to the coast and Townsville.  There are some lovely towns for you to spend time along the way such as Julia Creek, Richmond and Hughenden. Near Hughenden, head north on the sealed road as far as Porcupine Gorge for something a bit different. They say this is like the mini Grand Canyon.  We think this is a great detour.  Head back down to the sealed Flinders Highway and continue your journey out to the coast via beautiful and interesting Charters Towers.
It's a fabulous drive back up to Cairns to return your motorhome hire, weaving in out of coastal hideaways such as Mission Beach and inland towns like Tully, where you will have a chance to climb a gumboot.
This area is also popular to spot a Cassowary – take your time and keep your peepers peeled.
Cairns to Darwin Motorhome hire
Carrying on from the details above, you can travel from Cairns to Darwin in your motorhome rental a couple of different ways. You can go to Mt Isa either via Normanton or Townsville for this memorable trip through the outback to the tropical and lush top end.
Heading west towards the Stuart Highway from Mt Isa, you also have a couple of choices too.  Its good to know about the variation if you have already travelled Barkly Highway before in a motorhome hire through outback Queensland.
At the Barkly Homestead, for a variation through a more remote area you can head north at the Barkly Homestead (fill up with fuel) to Cape Crawford. While the name may suggest it is on the coast it isn't. There is a caravan park at this point and usually fuel is also sold there (check at the time you are travelling). This road is a single lane sealed road in parts and takes you through a less busy road and different scenery.  At Cape Crawford, turn west and head back out to the Stuart Highway, coming back out near the iconic Daly Waters outback pub.
While this route is less busy, it is a lovely variation for those who like to get off the beaten track.
Otherwise, stay on the Barkly Highway arriving at the Stuart Highway (known as the Threeways) near Tennant Creek.  If you haven't been to Tennant Creek before, you may like to detour south to soak up the gold mining, pastoral history and learn more about our aboriginal culture.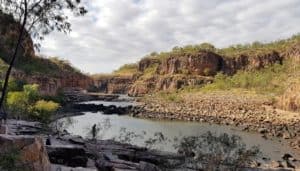 Heading north, you'll love exploring the picturesque top end with thermal springs at Mataranka, the deep gorges and waterfalls near Katherine in the Nitmiluk National Park.  World Heritage listed Kakadu National Park is definitely a worthy detour for its magnificent scenery with the stone country meeting the floodplains.  Also, Kakadu NP is world heritage listed for its culture, and gives you a great opportunity to learn more about the Aboriginal People, one of the oldest cultures in the world.  Finally, a day or two in the Litchfield National Park will certainly tick many people's boxes with the lovely walks in the area and the opportunity to swim at the bottom of waterfalls or relax in bubbling sandstone lined creeks.
If you are planning a motorhome hire from Cairns to Darwin, allow at least 14 days, or 21 is better if you're someone who likes to take their time. The best time of the year for this trip is May to September. You can also travel with Darwin to Cairns motorhome hire if you prefer.
We have plenty more details to help you with planning your holiday around Darwin and Kakadu NP in a motorhome or the entire route from Cairns to Darwin in a RV hire.  We also have some useful videos to show you more and provide more tips to help your dream motorhome holiday become a reality.
Next step
We've given you a taste of some of the popular trips for those considering motorhome hire from Cairns.  There are so many possibilities – even more than we've shown here today.
TOP TIP: when planning a motorhome or RV Hire road trip, Australia is a big country with a range of different climatic conditions.  Our advice is to speak to the experts at Gallivanting Oz in the very early stages of your holiday planning from Cairns so we can inform you of the best time to travel, depending which of the memorable road trips you are going to choose first.
If you haven't checked out our vehicle options yet, take a look at them here and get yourself familiar with the types of vehicles available and then get in touch us with an idea of your dates and proposed travel route and we'll work with you to create the motorhome holiday of your dreams!