If you are picking up your motorhome hire from Sydney and heading north or perhaps you have picked up your motorhome hire from Brisbane and are heading south, either way Waterfall Way makes for a worthy stop and you won't be disappointed you did!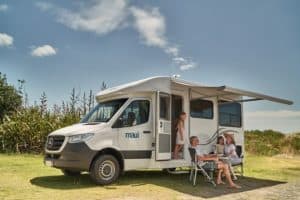 Waterfall Way…even the name evokes a feeling of delight! This dreamy scenic drive winds through ancient World Heritage Gondwana rainforest, open woodland and picturesque rural landscapes, passing through five national parks as it takes you from the Pacific Ocean and lush coastal rainforests, up into the snow gum forests and the breathtaking escarpments of New England High Country. As the name promises, this beautiful route is interspersed with some of the country's most captivating waterfalls, including Wollomombi Falls, Australia's second-highest! A motorhome hire through NSW is the perfect getaway.
The Route
Linking Armidale on the New England Highway with Urunga on the Pacific Highway, this magnificent 185 km drive in your motorhome hire from Sydney is a popular way for holidaymakers to cut between the coastal and the inland highways, to diversify their Brisbane to Sydney road trip. If you chose to, you could drive Waterfall Way in less than 3 hours, but there are so many magnificent waterfalls, lookouts, and rainforest walks along the way that we recommend taking at least 1 or 2 days to ensure you do it justice.
The drive in your NSW motorhome hire begins beside the coastal beaches of Urunga, just south of Coffs Harbour in NSW. Following the Bellinger River, it winds inland past the riverside town of Bellingen, before beginning the climb up into the Great Dividing Range and the New England Tableland, past the charming little communities of Dorringo and Ebor and through the Dorrigo National Park, Guy Fawkes River National Park, New England National Park, Cathedral Rock National Park, and Oxley Wild Rivers National Park, before ending in the charming leafy city of Armidale.
The Towns, National Parks, Waterfalls and Walks
The seaside town of Urunga is loved for its surf, dolphins and coastal birdlife, which can be enjoyed from the Urunga Boardwalk that runs between the Kalang River and the ocean.
Arty and laid back, little Bellingen sits in an idyllic spot on the Bellinger River and is a popular spot to park up your motorhome hire from Sydney for the night (see our places to camp below). Take a dip or kayak, have a nose around the little boutique shops, or enjoy the variety of foodie eats on offer. If you're coming from the coast, pop into the Waterfall Way Visitor Centre to pick up maps and local information.
The drive to Dorrigo National Park spirals upwards from Bellingen through towering World Heritage-listed Gondwana Rainforest, past gushing waterfalls and the Bellinger River. This section of the drive encompasses some of the region's most visited waterfalls, the Dorrigo Rainforest Centre and the incredible 70m Skywalk Lookout which runs along the edge of the Great Escarpment offering incredible views over the national park and Bellinger Valley to the coast. There are picnic areas and all-ability walking trails, the most popular being the 6km Wonga Walk circuit which leads from the Rainforest Centre through 600-year-old subtropical rainforest to beautiful Crystal Falls (and includes two suspension bridges – prepare to get wet!) Top Tip: A wheelchair and a baby backpack may be borrowed from the Rainforest Centre free of charge.
The sleepy country town of Dorrigo has some good camping options for motorhomes (see camping options below) and just a short drive from the town centre you'll find one of Waterfall Way's most popular attractions, Dangar Falls (also known as Dorrigo Falls). It isn't the biggest waterfall in the Dorrigo National Park but it's an incredibly pretty spot with a viewing platform right by the car park, and a steep trail leading down to the base which is wonderful for a swim in the summer months. Hot Tip: Components Café on the edge of Dorrigo has gained a reputation for the best food and coffee on the whole of Waterfall Way!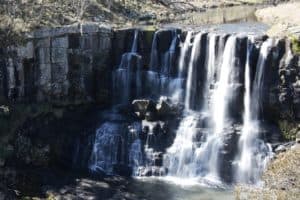 Guy Fawkes River National Park is located on the western edge of the Dorrigo Plateau and known for its rugged, secluded wilderness. The jewel in its crown is the dramatic Ebor Falls, where the Guy Fawkes River plunges in two waterfalls over the edge of the plateau into the gorge 100m below. You can enjoy the spectacular views from the upper and lower viewing platforms, joined by an easy walk.
There are a couple of unsealed detours which may suit if you are travelling a 4WD or suitable vehicle to head on the dirt road. It is worth noting the 2WD NSW motorhome hires can travel up to 12km on a well maintained unsealed road to a recognised campground and with some of our partners, that extends to major tourist attractions. If ever in doubt, please always check before you go down a road that may not be suitable for your motorhome hire.
One of these unsealed detours is into Cathedral Rock National Park, which is a dry eucalypt forest with a spattering of granite outcrops and an interesting walk.
Another spot with unsealed road access is into the World Heritage-listed New England National Park. With its magnificent Gondwana Beech Forests is an 11 km detour from the Waterfall Way along Point Lookout Road with a number of spectacular walks, many starting from the Banksia Point Picnic Area. The star of the show is Point Lookout, just a short 200m wheelchair accessible walk with an awe-inspiring view at the end of it!
Wollomombi Falls are located within the dry rainforest and rugged beauty of Oxley Wild Rivers National Park. This magnificent waterfall is the second highest in Australia, with waters thundering 220m from the top of the dramatic cliffs to the Chandler River below. The falls and wild surrounds can be enjoyed from a few different viewing areas, all giving a unique perspective. The Wollomombi walking track which starts at the car park, is of particular interest to wildlife and bird lovers, with many rare species living in this unique environment.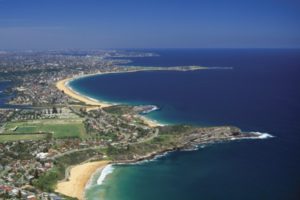 The best time to visit
Well, that depends on what you want to see and do! If you love to walk, the best temperatures are in spring and autumn – in spring the forests are alive with birdsong and wildflowers, and in autumn you'll enjoy cooler evenings and stunning autumn colours. Summer is when you'll see more of the larger wildlife and also have the most rain; so, great for swimming, and the waterfalls are spectacular! Winter gets very cold, but misty and beautiful – and if you're happy to rug up you'll love feeling like you have this magical part of the world all to yourself!
Places to camp
There are lots of good (although generally quite basic) camping options, ranging from council campgrounds, free-camps and rest areas, national park camping and private caravan parks. Here are some ideas to get you started!
The towns of Bellingen and Dorrigo both offer powered and non-powered camping in their showgrounds for a reasonable rate. Both are centrally located, grassy and well-kept, with good clean amenities, flush toilets and coin-operated hot showers.
Roses Park Campground is a community-operated unpowered camp beside the Bellinger River and Thora General Store & Cafe (and the main road, so there is sometimes traffic noise). Unpowered with toilet, but no shower. Gold coin donation.
Dangar Falls Lodge & Campsite is in a nice location a short drive from Dorrigo and the Dorrigo National Park, with views across the valley to the bush, big grassy sites and a short walk from the falls and swimming hole. Campfires are allowed.
Ebor Sports & Rec Area is located opposite the Ebor Falls turn off and is just a short walk from the local pub and cafe, and an easy 1 km stroll to the falls. It has clean amenities with a modern toilet block and picnic tables, but no shower. Small donation. Campfires are allowed, wood available in town.
Wollomombi Campground is a beautiful NSW Parks and Wildlife bush camp with pit toilets and wood BBQs (wood supplied), located within the Oxley Wild Rivers National Park. It's in a great location close to Wollomombi Falls and walking distance to Edgars Lookout. Sealed road.
As you can see there are loads of places to park up your NSW motorhome hire.
Information, maps and more…
For a full range of options, pop into one of the region's visitor centres, where the friendly locals are always happy to advise and answer all your questions.
Waterfall Way Visitor Centre, 29-31 Hyde Street, Bellingen NSW, (02) 6655 1522
Dorrigo Rainforest Centre, 142 Dome Road, Dorrigo Mountain NSW, (02) 6657 2309
Armidale Visitor Information Centre, 82 Marsh Street, Armidale NSW, (02) 6770 3888
NSW National Parks Contact Centre, (02) 9995 6500 or 1300 072 757 (13000 PARKS)
Or download the free NSW National Parks app, for maps, information, and accommodation bookings when travelling in your motorhome hire.
If you are thinking of NSW motorhome hire from Sydney or perhaps even thinking of setting off from Brisbane in your motorhome hire, check out our range of vehicle options and then get in touch with your plans and together, we'll work with you to create your dream motorhome holiday!