There are few holidays that feel more freeing, more adventurous, and more rugged than motorhome travel Australia. Arranging a roadtrip can help you see all the best known and oft-hidden spots our big, beautiful country has to offer. We can sort you out for both motorhome tours and hiring a motorhome. But how do you make sure you're ready to set off without running into some serious red lights?
Here, we're going to look at some tips to make sure there are no brakes to your trip and reminders of what you need to bring with you. We hope you find these useful as your plan your motorhome travel in Australia.
The Motorhome Travel Australia Packing List
First, let's make things simple by putting together a list of everything you're likely to need to bring with you:
Your driver's license
Address book or list of important phone numbers
Multiple kinds of money, including cash and credit cards
Electrical adapters
Phone and camera chargers
Torch
Plenty of water bottles
Changes of clothes for warm, cold, dry, and rainy weather
Sunglasses (including prescription sunglasses for any who need them)
A toiletries bag for each passenger, including toothpaste, sunscreen, shampoo, lip balm, deodorant, comb/hairbrush and soap
Travel kitchenware like cups, bowls, plates, and travel kettle and cutlery
Fresh linens and bedding
Healthy foods (including healthy dried snacks like nuts and raisins)
Vital medicines for passengers as well as general medications for colds, coughs, flus, digestive issues etc.
Maps of everywhere you plan on visiting, as well as a working GPS
If kids are coming with you, don't forget to bring some sweets, favourite toys, extra clothes, and diapers and bibs for the youngest
Some travel board games, playing cards, and road trip CDs for the long trips
A good book or three
The benefit of a motorhome road trip is that you have plenty of space to bring everything you need, living in the lap of relative luxury and prepared for all kinds of eventualities. When you team up with a campervan hire company, some of the above, like kitchenware and bedding, might already be provided, so make sure to ask.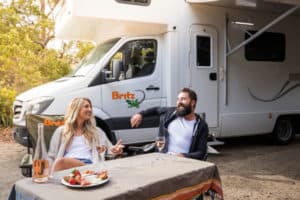 Know Your Needs
Before signing the dotted line with a campervan hire team like Gallivanting Oz, you need to make sure that your vehicle is able to provide for all of your needs on the road. We have a range of vehicles of different sizes, with different amounts of beds, and options like awnings and air conditioning that might be more important depending on the season. We have plenty of choices for the perfect option for motorhome travel in Australia.
Get in touch with us and tell us about your trip, how many are going, when you're planning on making the trip and more so we can recommend the option best suited to your trip.
Make Sure You Can Drive It
Before you set off into the great wide outdoors, make sure that you're able to handle the motorhome that you rent or buy. With a bigger size and wider turn radius, drivers might be surprised with how differently they handle. Get behind the wheel for a casual practice run before you take it out for real.
Plan the Route Ahead
Its a good idea when planning motorhoem travel in Australia at a popular time, to plan any camping or major rest stops ahead of time. Not only is it a good idea to know where to go next, but also because you have to consider the vehicle. Know the height and width of the motorhome and how accessible any stops are so you don't end up rolling onto a site that your vehicle has no trouble setting up for the night. You also want to budget ahead for how much you might be paying for campsites and know what facilities you can expect at each, so you're not let down by any missing essentials.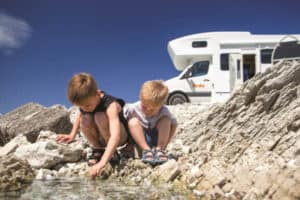 Don't Be Afraid to Ask for a Little Help when planning Motorhome Travel in Australia
If you're new to the area you're exploring or to road trips in general, you can always get a little help. Our escorted motorhome tours are there to help ensure that you're always heading in the right direction, with camping sites, attractions, and experiences like boat cruises and day tours laid open for you to choose between.
Get out There and Explore
Get it just right and you're sure to discover the wonder, fun, and relaxation that can be enjoyed with a motorhome tour across Australia. Keep the tips above in mind and do your prep work and you'll surely be motoring along in bliss.
Gallivanting Oz is here to make sure that your motorhome travel in Australia is safe, fun, and fulfilling as possible. Whether you're getting in touch for campervan hire alone or you could use our motorhome tours service, don't hesitate to ask any questions. We're glad to help any and all travellers.