This is our second tour this year, with our first being in Tasmania.  We're excited about our 35-day escorted motorhome home tour setting off from Perth today!
We have 16 eager Gallivanters, bags packed and engines at the ready today to set off in 8  motorhomes, on our 35-day escorted motorhome adventure of Perth to Darwin, with tour escorts Jean and Dave leading the way.
In just over a month, our travelling companions will bare witness to some of the most amazing sights Australia has to offer – incredible sights that a number of Australians never see for themselves.
Some of our tour feature highlights are:
Setting off from Perth, heading north they'll explore the delights of Western Australia's stunning scenery and picturesque turquoise waters and coastline
They'll discover the ancient desert sculptures of the Pinnacles
Explore the gorges and formations carved by the Murchison River such as Natures Window at Kalbarri National Park
Along the 12,500 km coastline see some of the world best known beaches and interesting coastal towns
Enjoy an eco cruise with dolphin and dugong spotting in Shark Bay, departing from Monkey Mia
There are more boat cruises to be enjoyed at the world largest coral fringing reef at the stunning Ningaloo Reef on a glass bottom boat, plus they will experience an eco boat cruise at Yardie Creek. They'll also love the amazing snorkelling experiences at all these exquisite places
A visit to the Karijini National Park to experience the deep red gorges you can only access on a rough unsealed road. We have arranged a special 4WD day trip for this as the road is no good for 2WD motorhome rentals
Three incredible days in Broome allowing time to immerse themselves in this romantic pearling history and multicultural city and the chance to marvel at some of the worlds natural wonders
A thrilling 4WD day tour of Windjana Gorge and Tunnel Creek
A must for all Gallivanters travelling through West Kimberley is a boat cruise in the iconic Geikie Gorge
A visit to the other jewel in the crown, is the Bungle Bungles, and they'll enjoy another 4WD day tour of this spectacular place
Shortly before crossing the border into the Northern Territory they'll get to cool off and enjoy a sunset cruise and fun times out on the waters of Lake Argyle
Having spent 4 weeks already on the road exploring the magnificent Western Australia they'll be soaking themselves and feel rejuvenated in the fantastic Mataranka Springs
A picturesque boat cruise to explore the sandstone country of Nitmiluk National Park and the famous Katherine Gorge
Another World Heritage listed National Park at Kakadu and the wonders of a dawn cruise on Yellow Waters – its most famous wetland and home to the big salty crocs. This area is abundant with Aboriginal culture and rock art along with its amazing wildlife – Kakadu National Park is an incredible experience
Finishing up their last couple of days with another fabulous boat cruise on the magnificent Mary River, before staying on a NT cattle station
And for their final farewell they'll experience several stunning waterfalls that cascade into crystal clear pools, iconic magnetic termite mounds at Litchfield National Park before heading north to Darwin to learn more about the WWII history of the area
After a little more than a month on the road, our Gallivanters will be going home feeling enriched and enamoured in what this glorious country has to offer.
What you can expect on our escorted Motorhome Tours?
All our tours of Australia are escorted by members of the Gallivanting Oz team that bestows you the confidence to tour this gargantuous country at your own pace, with the knowledge that you have the support along the way and the camaraderie of a great group of like minded travellers.
All our small group tours include a premium motorhome and that includes insurance, campground fees, some evening meals and many of the must-see attraction entrance fees. Also, as part of our family run business we host the odd evening meal and there's always a relaxed happy hour to encourage the camaraderie of the group and ensure that a good time is being had by all.
Our tours come with a full set of comprehensive travel notes, maps and driving instructions too so you can rest assured that this tailored tour will ensure that you don't miss out on any of the golden nuggets and hidden gems that this country has to offer.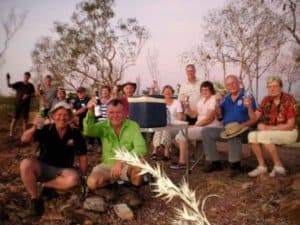 Travel at your own pace or hang off the tail pipe of our tour leaders – it's up to you. We're here to help guide you through and be there for any questions you may have along the way.  We specialise in small group tours, with a maximum of eight motorhomes on tour.
Our tours are specifically designed and fully researched to provide you with the best experience and mix of adventure, sight seeing and relaxing for first time motorhomers or those that are more experienced. You'll love these tours if you like the camaraderie of a group adventure and also want amazing value for money where all the hassle of organising such a detailed and well thought out holiday is all done for you.
This tour Perth to Darwin is already leaving, and all our other tours this year have reached full capacity. However, if you want to get in on the action on 2019 tours, get in touch and we will send you details on next year's tours, hot off the press!