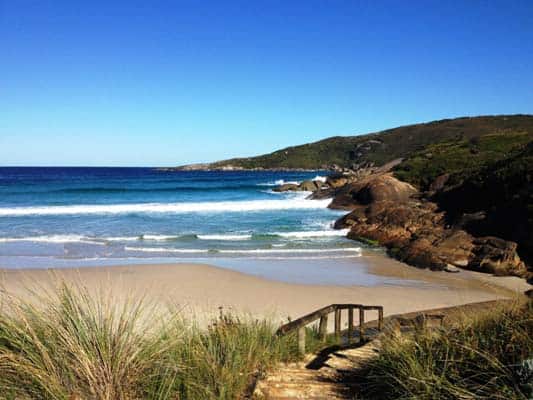 The beautiful city of Perth is the perfect place to start a campervan holiday. Located on the south-west coast of Australia, it's the perfect place to start exploring in campervan hire Perth. Whether it's a trip along the coast you're hoping for, or you want to venture further towards the heart of the country, there are so many opportunities.
However, before you can go anywhere, you'll need to find the perfect campervan for you. With so many options to choose from you may need some help in selecting the right one for you. That's what we're here to do. We can help you find the right campervan to hire in Perth.
Your Vehicle Options
You can choose from a wide range of options, and we'll help you to choose the right one. Firstly, you need to know what to consider selecting the best campervan for your trip. Some of the things to think about include the size of the vehicle and the time of year you will be travelling. Your budget and where you want to go will need to be taken into account.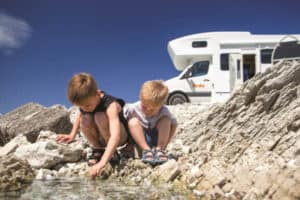 For the camper options to get you off the beaten path, you can consider a 4WD camper. The 4WD options have a fridge, portable cold water, a roof rack and other convenient additions. If you want something can handle going off-road and still provide plenty of space and comfort, a 4WD vehicle is a great option.
Campervans and motorhomes come in a variety of sizes, with options up to 6-berth available. They provide you with a home away from home. With onboard amenities including a kitchen, shower and toilet, some with awnings, TVs and beds. If you want to travel in style and comfort, you can find the perfect choice for your trip. Whether you're a couple travelling alone, a family or even a group of friends going on an adventure together, there are so many options available for you.
Where to go in your campervan hire from Perth?
Of course, one of the most important things to decide is where you're going to go. The best thing about getting in a campervan is that you can set off on an adventure and go where you like.
You get to enjoy yourself not just when you stop for the night but along the way too. If you start your journey from Perth, there is a great choice of both short and long trips for you to take.
If you want to explore the south-west corner of Australia, the Perth South Western Circuit route is ideal for you. It takes you along the coast, as well as some beautiful lakes on your way to and from Kalgoorlie.
A circuit route is perfect if you don't want to see anything twice. You can complete the circuit and see something new every day. It's also up to you which way around you decide to drive the circuit. You could head south from Perth or you could go east and south when you get to Kalgoorlie.
This circuit is 2,150km and should take you around 14 days to complete. Along the way, you get the pleasure of stunning white beaches, national parks, wineries and the beautiful outback too. It's also a good choice for wildlife, and you could even spot humpback whales from July to October. This is a circuit you could do at any time of year, although it might be cold in winter.
Another option if you want to set off from Perth is to drive to Darwin. Of course, you could also drive just part of the way. Other excellent places to choose along the Perth to Darwin route include Exmouth
and Broome.
The full Perth to Darwin route is a long one, totalling 4,500km. You'll want to take a minimum of 25 days to do it, so it's a good pick if you're thinking about taking a month or so away. A good six weeks or more gives you time to really set your own pace. You'll get to see what the coast of Western Australia has to offer, before landing in the Northern Territory.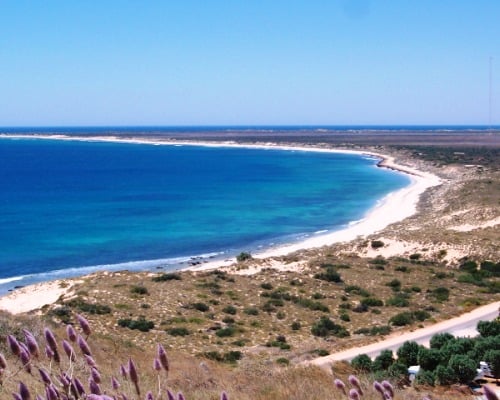 Along the way, you can marvel at the crystal-clear waters and stop at Ningaloo Marine Park to see the fringing coral reef. In the Kimberley Region, there's a fantastic range of scenery and you'll get plenty of opportunities to see wildlife too, from crocodiles to kangaroos. The best time for this route is May to September, which is the dry season in the north.
For anyone who's thinking about travelling east from Perth, the Perth to Adelaide route is another amazing option. Starting in Perth, you can choose to first travel along the southwest corner of the WA coast. Or you can make your way east to Kalgoorlie if you're interested in Australia's mining history, before continuing south and then east to enter South Australia. This iconic Australian drive will take you across the Nullarbor plain and over Australia's longest and straightest road. Anyone wanting to spot some whales is likely to see Southern Right Whales from June to September, and there are chances to spot other wildlife along the way too.
This route is at least 2,750km, requiring a minimum of 14 days. You can do it anytime, but summer can be hot, so winter and spring are often best. It's your choice which route you take, what you want to see along the way and how long you want to take too.
Get Personalised Service from Gallivanting Oz
Start your journey from Perth off right. Getting set up with the perfect campervan is the first step. We'll work with you to find the right campervan for your trip. Are you planning on going off road? Then you'll want to hire a 4WD. Sticking to sealed roads? Then you'll want a 2WD.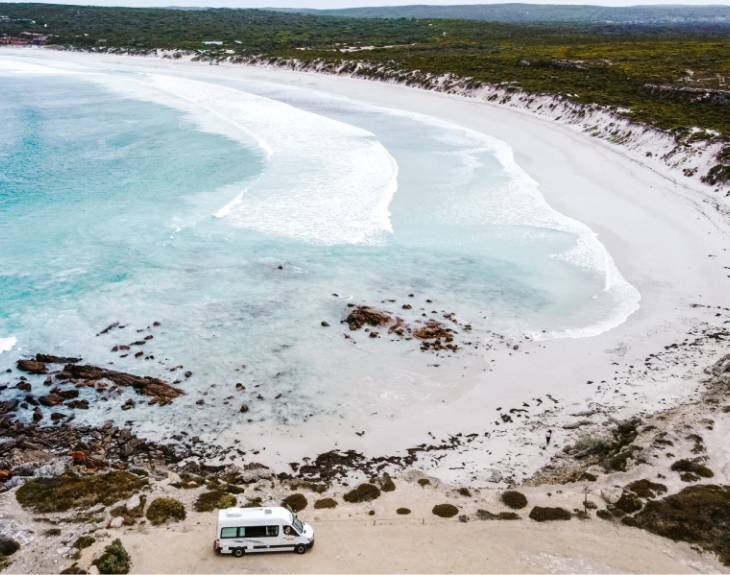 Our service is personalised and we can match you up with the right campervan or motorhome that works for you. Our campervan hire in Perth connects you with the very best vehicles for hire to make it easy for you to understand your options.
You can take a look at our Vehicle Options to see the range that we have on offer. Use the filters to select the criteria you are looking for in your campervan hire from Perth. When you find the campervan that looks right for you send an enquiry for a quote.
You can also get in touch with us by phone or email if you want to speak to us directly.
Don't worry if you're not sure which campervan might be for you. We can help! Speak to one of our motorhome holiday specialists. We can make some suggestions based on your needs and find you the perfect campervan hire from Perth. We will take into account your budget, how many people are in your group and your absolute must-have conveniences to suggest the best motorhome, campervan or 4WD camper for your trip.
If you don't know where to go, we can help you to plan your route. Check out our South-western circuit. We have other popular routes across Australia too.
We use a number of campervan suppliers, which allows us to offer you the best options and ensure you can hire a campervan wherever you are. Best of all, you won't have to pay any extra costs by choosing to use our service. You benefit from our advice and our connections to the best vehicle suppliers, and you can make your booking directly with us for convenience.
Get in touch with us today to find out how you can hire your campervan from Perth. Speak with our motorhome hire experts to ensure you find the right vehicle for your trip!