If you are planning on spending a few days in Perth and the surrounding area either before you pick up your motorhome or perhaps even after you've dropped your motorhome off, then we have a great recommendation for you!
If you are currently looking for motorhomes to hire, then check out our range of vehicles here.
Having picked up their motorhome, our tour leaders Dave and Jean headed out to Rottnest Island for a day trip as they were foot loose and fancy free for a day before their Perth to Darwin escorted tour began.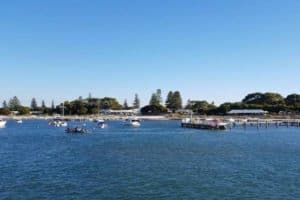 There are several ways you can get over the island, there are lots of tour companies that offer day trip specials (just Google Rottnest Island tours and day trips) or you can hop on the ferry yourself from one of three locations:
Pier 2, Barrack Street Jetty, Perth City
1 Emma Place, Rous Head, North Fremantle WA 6159
B Shed, Victoria Quay, Fremantle WA 6160
Our gallivanters Dave and Jean, were staying at Fremantle Village and they were able to organise the whole trip from there. A Rottnest Island Express bus picked them up from the campground (and dropped back there at the end of the day which is very convenient as parking is a premium down at the wharf and surrounding areas!) which meant they were comfortable leaving their motorhome without having to worry about finding parking. It is not possible to take your motorhome (or any vehicle) over to Rottnest Island.
After a short and pleasant drive along the foreshore from camp, with running commentary on all the old buildings they passed, it wasn't long before the Express Bus dropped them conveniently off at the ferry. If you can, we suggest booking your tickets online ahead of time with one of the 2 ferry operators:

Especially in peak season, ferries can fill up fast and there are only a certain amount of ferries to and from the island each day. Ferry ride usually takes around 30 minutes out to Rottnest Island.
You can also book a bicycle from the ferry operators, or you can do what our gallivanters did and that was to hire the bikes from the hire shop over there, 'Pedal and Flipper Depot' which is behind the Hotel and signposted on the footpath. The hire company was a very slick operation with several choices of bikes, including electric bikes with varying seat styles (they also hire flipper and snorkel sets). Hiring on the Island for Dave and Jean was the better option for them as they could see what they were hiring.
Dave and Jean did a little bit of research before they left for Rottnest Island, and decided to do the 22 km stunning and picturesque loop of the Island, as they felt this one well within their biking capability. If cycling is not your thing, then there is a hop-on and hop-off bus that operates around the island all day that offer 1-day adult passes as well as 1-day child passes too. For the latest costs check out this website here for the most up to date information on getting around the island
You'll want to pick up an island map, which you can get on the ferry or if you miss one on the ferry then you'll be able to get one from the bike hire shop. You'll also find the maps easy to navigate as there are signposts dotted around the island showing you the way too.
If you want to hire bikes, then there are three basic cycle loops you can do. Dave and Jean elected to take the long one which is the 22 km loop but with several side excursions to exquisite little bays and tracks meant they ended up doing approximately 35 km for the day!

The cycleways are the roads on the Island and you'll find them safe and comfortable to ride along as the island is traffic free apart from the bus or service vehicle, which is just as well as it is a very popular destination for cyclists! The topography is undulating so please bear that in mind when considering hiring a bike, but Dave and Jean didn't find it too strenuous.
Rottnest Island is all about the coast with its beautiful vista of turquoise ocean, breaking waves and stunning rock formations. There are several sheltered little bays harbouring moored out boats along with idyllic swimming and snorkelling opportunities. There are a number of salt lakes dotted throughout the interior of the Island with a prominent lighthouse.

While you are on this island, don't be surprised if you cross paths with the native fauna! Everybody visiting the Island expects to see the famous Quokka (a small macropod about the size of a domestic cat). They are quite prolific on the Island and are reasonably friendly but be warned there is a fine for feeding any wildlife on the Island.
Spending time on the island, you'll want to either take with you a picnic or you'll find the small village at the main harbour has several eateries including a well stocked general store.
Overall, for our tour leaders Dave and Jean, it was a brilliant day out for them and also for the many other travellers and their families.
If you can make a day trip out there either before or after you've picked up your motorhome, we really do recommend hopping over to visit this stunning island.
If you are spending a few days in and around the Perth area, check out our Top 5 Things to do in Perth blog here, you'll find some really good ideas on places you can visit during your time in this metropolitan city.
If you're keen on booking your motorhome, then get in touch with us and we'll make sure we'll pair you up with the best vehicle to suit your needs for your amazing adventure down under!