Great news! You're thinking of picking up a Adelaide campervan hire and travelling around the gorgeous surrounding areas of South Australia! You might be wondering what the best spots around Adelaide are to explore before getting out of the city. It's something we often get asked; "What are the best places to visit on my Adelaide campervan hire holiday?" So, with no further ado, here are our Adelaide highlights! Let's start with a very practical question…
Should I visit Adelaide before, during or after picking up my campervan hire?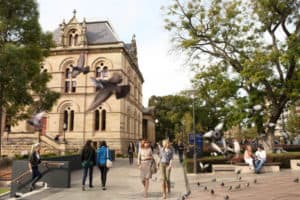 There's no right or wrong answer here! Like all things on a motorhome holiday, you get to decide what suits you the best.  To help you decide, here are some things to consider about visiting Adelaide's gorgeous city centre.
The Hotel Option
Many people decide to tag a couple of days either side of their holiday and stay in a city hotel. The benefit of this is that you are right in the heart of it all. Jump on a bus or tram (which are mostly free in inner-city Adelaide) or stroll to Adelaide's many city attractions.
There are top quality restaurants and bars on your doorstep. You don't have to worry about matching flights to campervan hire depot opening times. Top Tip: allow an hour for the handover at the depot so you know all the ins and outs!
The Caravan Park Option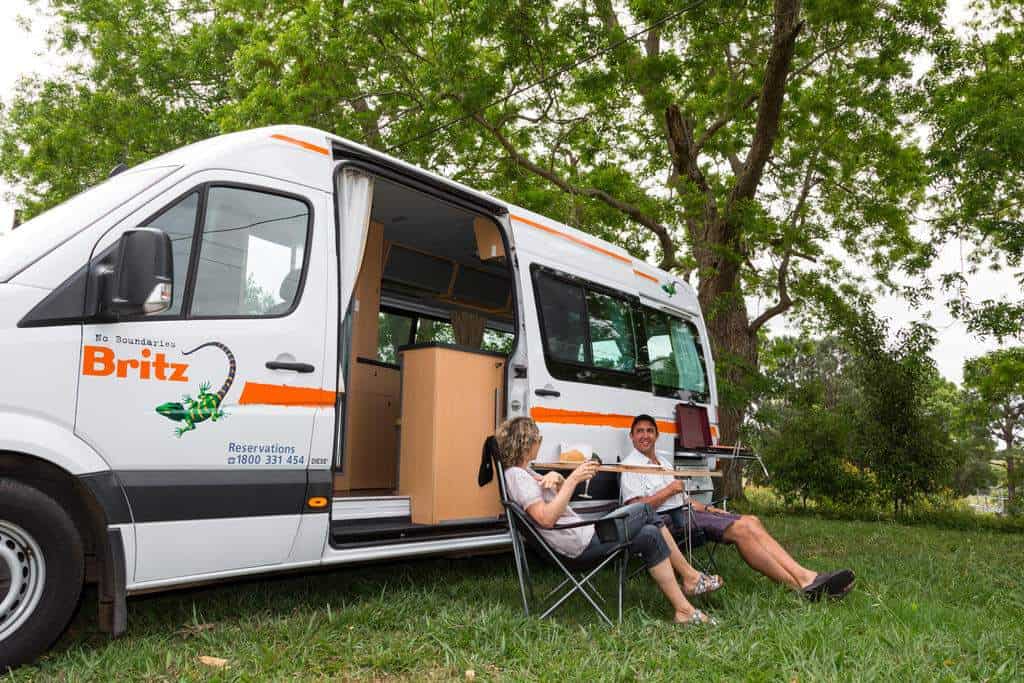 Like many capital cities around Australia, there are very few caravan parks in inner city Adelaide. However if you are prepared to stay a little out of the city centre, there are some excellent options, and some real benefits too!
One such benefit is that you get a little extra time to get a feel for your campervan. Take your time with the handover, ask any questions. You can get your grocery shopping done, unpack your bags and relax.
City caravan parks always have great public transport options, often right at the door. In the evenings swap travel tips and tales with fellow travellers over a cool drink. And of course, once you factor in taxis, meals, laundry and premium hotel rates…it's usually a bit of easier on the hip pocket too!
Should I include Adelaide on my South Australia campervan hire holiday?
Very important message for Adelaide campervan hire holiday-makers! If you're not familiar with South Australia and its fascinating history, we highly recommend spending some time in Adelaide before you set off. The historical colonial architecture, markets and attractions like the state museum and art gallery build a great foundation of knowledge of South Australia. Which in turn this adds depth and colour to the rest of your South Australian travels on your motorhome holiday!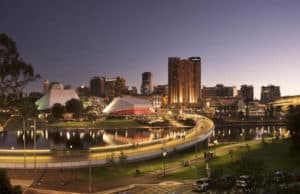 The land now known as Adelaide and surrounding plains are the traditional lands of the Kaurna (Gah-nuh) people who know it as 'Tarntanya'. This translates to 'place of the male red kangaroo'. The city of Adelaide was founded in 1836. It is rather unique for an Australian city because it was laid out and planned. Adelaide's city centre is compact. Perfect for its attractions, shopping areas, cafés and restaurants and interesting nooks and crannies to easily be explored on foot. The inner city is built in a grid formation north and south of the River Torrens (Karrawirra Parri) surrounded by a figure-eight of beautiful parkland.
To the north of the river is elegant and affluent North Adelaide. To the south, Adelaide City and the CBD. The river is traversed by the Riverbank Pedestrian Bridge. This connects the two sides of the Riverbank Precinct and its surrounding parkland. Day or night this bridge gives stunning city views. It is surrounded by all the major attractions, making it the perfect place to start exploring. Jump off at the Adelaide Railway Station and you'll be in the thick of it!
What are the best attractions to visit in Adelaide on my campervan hire holiday?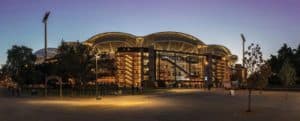 Get amid some sports history while in Adelaide! Go on a tour of The Adelaide Oval or join their exhilarating RoofClimb for spectacular panoramic views! Wander the Adelaide Botanic Garden to enjoy rare plants, bush food and stunning Victorian glasshouses. The last of their kind in the world! Make some new feathered and furry friends and support conservation at the beautiful not-for-profit Adelaide Zoo.
Just south of the river, the North Terrace Cultural Precinct you'll find the Art Gallery of South Australia, SA Museum and the Migration Museum. These are all excellent, and entry is free. Walk a few blocks further south to the iconic Adelaide Central Market, located between Grouger and Grote Street. This is a must-do. If you want to get to the heart of Adelaide's vibrant culture and there's over 70 vendors under one roof! The surrounding streets are also home to Adelaide's colourful Chinatown; the very best place to get a taste of Adelaide's awesome multicultural culinary scene! (This isn't in the city centre, but worth a mention. If you fancy some fun and festivity, catch the tram from the CBD out to Adelaide's favourite beach suburb, Glenelg.)
Where can I park may campervan hire in Adelaide?
THought about parking in Adelaide to explore the city? Finding suitable parking can sometimes be challenging in the heart of the city. We suggest downloading the City of Adelaide's excellent Park Adelaide app. This shows all vacant carparks parks across the city in real time. An easier option is parking at the parkland surrounding the city and take a free city bus or tram in.
Hot tip: Search for playgrounds or sports fields on Google Maps and there is usually parking nearby.
Where else can I go with my Adelaide campervan hire?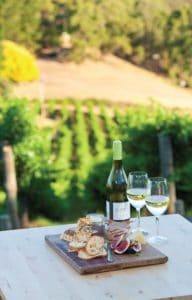 We have loads of ideas if you're looking for a one way campervan hire from Adelaide. Such as heading east on the popular Adelaide to Melbourne driving route. Or how about, if you're travelling over the period May to September of going through the iconic Red Centre from Adelaide to Darwin exploring the highlights along the way? Another option is to finish up here after a bucket list trip across the Nullarbor on the very popular Perth to Adelaide route.
Preferring to stay in South Australia with your campervan hire? No worries. Closer to Adelaide there are many picturesque areas to spend some time with the added bonus of many wine regions. Adelaide Hills, Hahndorf, Barossa Valle, McLaren Vale and Clare Valley to name a few.
The stunning coastal areas of the Fleurieu Coast is popular as heading inland to Coober Pedy for a spot of opal mining. Oh, and we should tell you about another of our favourites, the Eyre Peninsula – perfect to explore with an Adelaide Campervan Hire.
Ready to go?
We hope we've given you some great ideas and got that travel bug biting! If you have more questions, our experienced and friendly travel team are always delighted to help you plan your Adelaide campervan hire adventure. Speak to us to plan for the best time to visit, how long you'll need and which is the best motorhome or campervan hire to get the very best from your Adelaide and South Australian holiday.