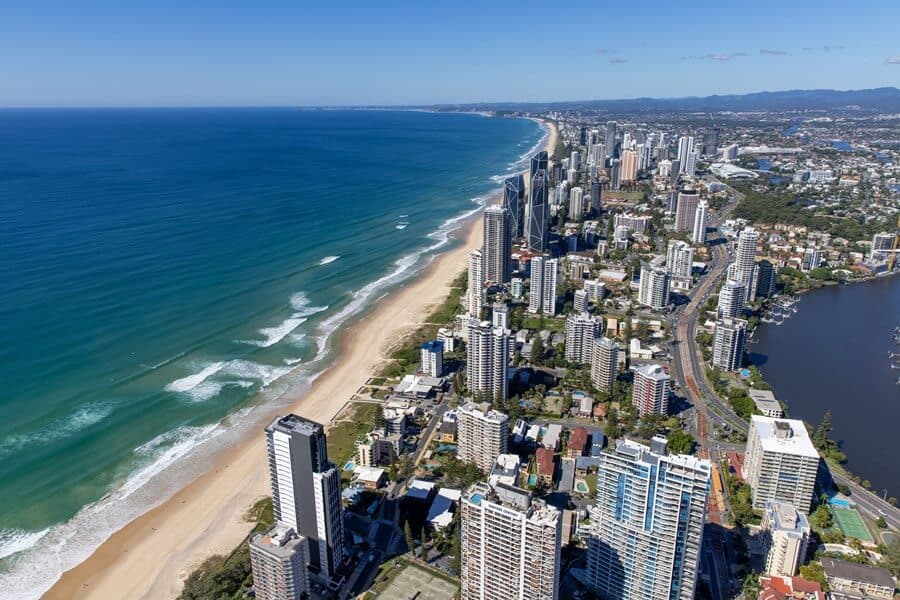 The Gold Coast is undeniably one of the most beautiful parts of Australia, and a must-do destination on a Brisbane campervan hire holiday.
The action-packed Gold Coast can either be the sole destination for your Brisbane campervan hire holiday, or form part of a bigger road trip. This iconic holiday mecca is famed for over 60 kms of spectacular white surf beaches, relaxed lifestyle and sunny holiday vibes.
Picture this: awaken to an ocean sunrise, enjoy a morning swim or stroll along the sand, then venture down to breakfast at one of the many local eateries. Relax and plan your day over a delicious breakfast whilst enjoying the ocean breeze and views of the rolling surf and white sand. Sound blissful? It doesn't have to be a pipe dream! Hire a campervan from Brisbane, book into one of the many shady, beautifully appointed beachfront holiday parks for a taste of the million-dollar views…and lifestyle.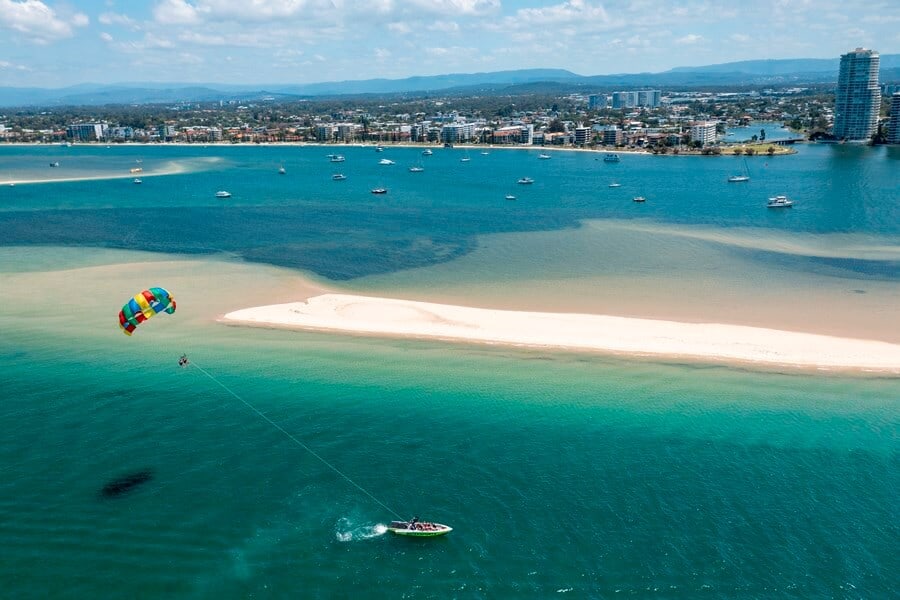 Both our international and interstate customers mention regualarly that a Queensland motorhome holiday wouldn't be complete without a visit to the Gold Coast. But, what many people don't realise is how quick and easy it is to visit the Gold Coast on a campervan hire holiday from Brisbane. Literally an hour after picking up your campervan from a Brisbane campervan hire depot, your toes are in the sand. Important Note: Surfers Paradise is just the tip of the iceburg! Let us know if you'd like more information.
Of course the Gold Coast could also be a wonderful spot to spend a few days at the end of your Cairns to Brisbane motorhome holiday too!
What is the best time of year to visit the Gold Coast on a campervan hire holiday from Brisbane?
Great news!  This warm subtropical Brisbane and Southeast Queensland region is perfect for a campervan hire holiday all year round.  Picture what your perfect Brisbane and Gold Coast campervan hire holiday looks like, then read on to discover which is your perfect season!
Spring (September to November):
With its oceanside position on the warm and sunny Pacific coast, the Gold Coast doesn't get that chilly 'spring' feeling found further inland. Sunny days are followed by mild evenings, and temperatures range from 18-26°C. Fancy sun, surf and a little adventure on your Brisbane campervan hire holiday on the Gold Coast? Fishing, surfing, kayaking and bushwalking are fabulous activities for this time of year, with mild, sun-soaked days. This is also a great time of year to experience some small, local art and food festivals. And hiking the Gold Coast Hinterland's beautiful mountain trails is perfection, with animal, bird and plant life at their bountiful best!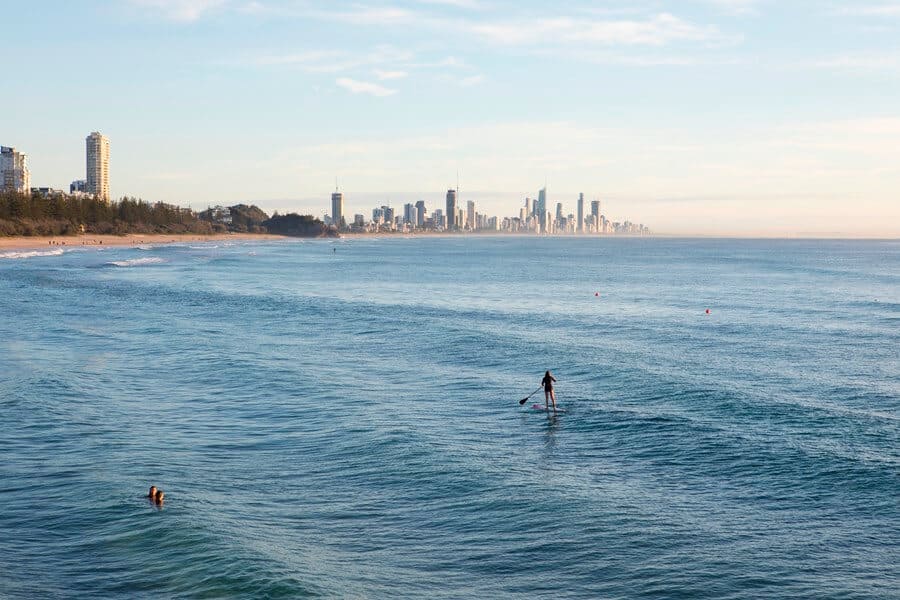 Summer (December to January):
This is the warmest season, and also the wettest. But it rarely rains for longer than an hour or two in one go. It's all about swimming, cool drinks and relaxing by the beach this time of year. The average daytime temperatures are between 26-34°C. It's humid but that's offset with a lovely ocean breeze. And when afternoon storms roll in over the ocean, you can retreat into your airconditioned campervan with a cool drink to enjoy the tropical display! Lots of the Gold Coast's theme parks revolve around water, so this is a great time of year to visit them! The biggest parks include Sea World, Whitewater World, and Wet n Wild. (NB: If you hire a campervan from Brisbane, these theme parks are all on your way to the Gold Coast).
Autumn (March to May):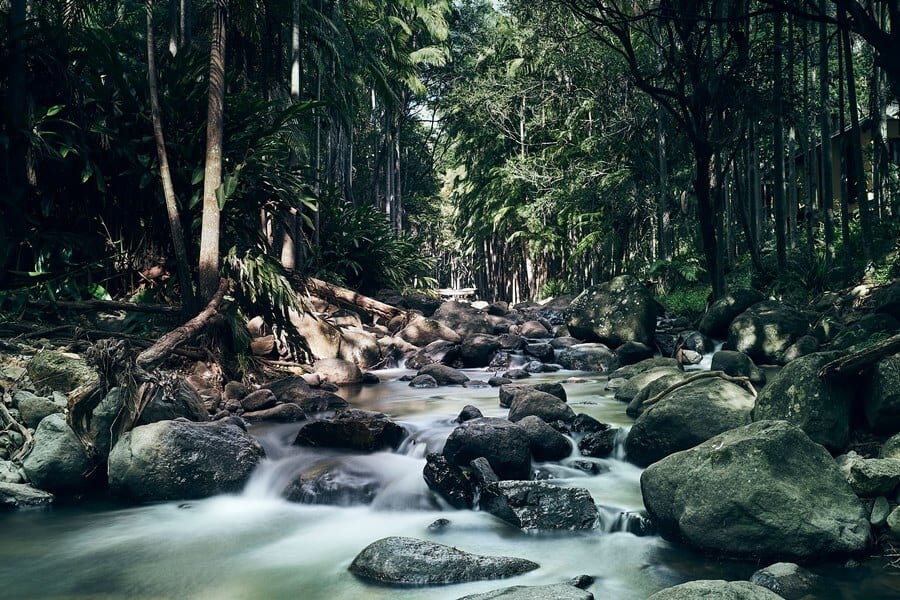 If you enjoy warm weather but want to avoid the crowds on your Gold Coast campervan hire holiday, this season is your best bet. The days are still warm but less humid than summer (average of 22-25°C) and the evenings are lovely and cool. Autumn is the ideal time of year to learn to surf at one of the coast's many surf schools. The ocean is warm, and the waves (and crowds) are smaller and gentler this time of year. This is also the busiest season for the Gold Coast's arts calendar. You'll find plenty of opportunities to enrich your campervan hire holiday with outdoor sculpture, music and food events.
Winter (June to August):
Although the Gold Coast climate is perfect year-round for a campervan hire holiday from Brisbane, it can still get quite chilly in winter! But that said… it's usually nothing that a cardigan and pair of long trousers can't fix! Generally, the temperature sits at a balmy 20-22°C during the day and drops down to 10-12°C at night. This is the driest time of the year, so the days are glorious and sunny, and the milder temperatures make it perfect for long walks…or long lunches! This is a fabulous time of year to hit the Gold Coast's famous theme parks; beat the crowds and the heat!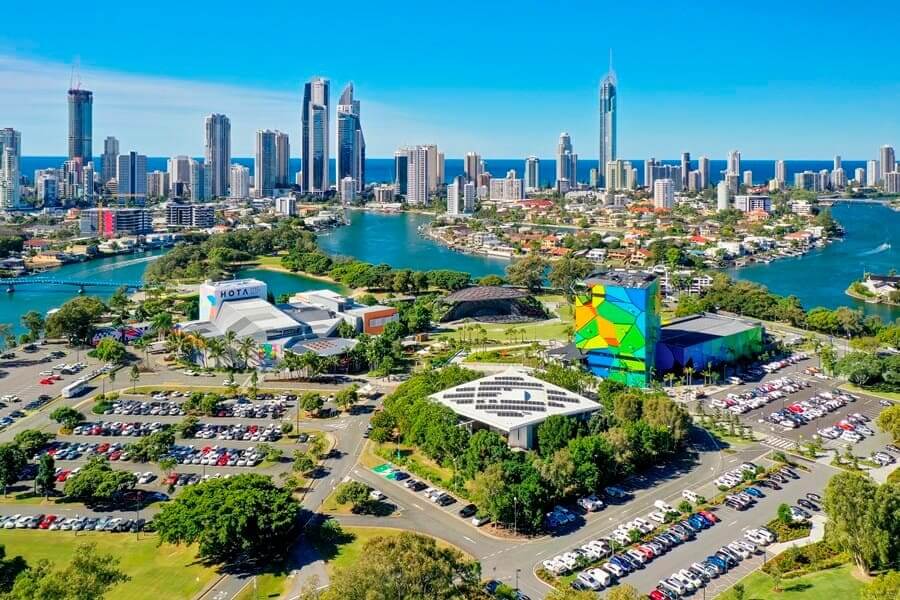 Exploring the magnificent waterfalls and World Heritage forests of the Gold Coast Hinterland is another perfect cool-weather option. But the pièce de resistance is whale watching, as the humpback whales arrive from icy Antarctica! After their epic 3-month journey, they amble up Australia's east coast to birth their calves in the warm waters of the Pacific Ocean. The beauty of hiring a campervan from Brisbane for your holiday is that you're mobile and free to travel wherever whenever you like! Cruise the coastline to watch the whales from shore (Burleigh Hill or Point Danger Lookout are great vantage spots.
Found your perfect season for a Brisbane campervan hire holiday to the Gold Coast? The next step is finding you your perfect campervan! Take a peek at our large range of motorhome hire options. Or for answers to all your burning campervan hire questions contact our friendly travel team for prices, advice and a personalised information pack!
Images courtesy of Tourism Australia.