Let's delve into some common misconceptions about motorhome hire and give some clarity around what a motorhome holiday in Australia is really like.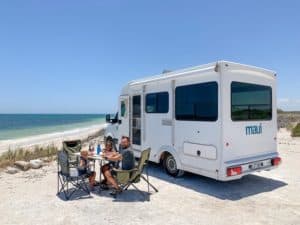 We've heard from a few, that the thought of travelling in a motorhome hire is not 'everyone's cup of tea,'.  While we love motorhoming, we also know that if you haven't been so lucky to have travelled in one before, you may have a few misconceptions about motorhome hire.  Let's see if we can convince you to give up your poolside bar and 5-star accommodation and give it a try!
We will admit, there is still some old-fashioned stigma attached to camping and motorhome holidays. Some still think that camping means staying in something small, uncomfortable, and perhaps a clunky old thing that our grandparents may have taken on their holidays back in the day!
Well, we're here to let you know that times have changed and maybe surprise you that motorhome hire is now a home-from-home, or an apartment on wheels, if you will!
Put your beliefs to one side for one moment…pop down your margarita and check out some of these myth busters!
1.      Motorhome holidays are old fashioned
If you still have pictures of cars pulling along an old battered caravan, then think again!
We have a range of motorhomes to suit everyone's budget.  For those who enjoy the finer things in life, you'll love our premium range of vehicles (average age 0 – 2 years). Many love our premium economy range (average age 0 – 4 years) or for those on a tighter budget, you'll appreciate the economy range (average age of vehicles 3+ years). These days, most come equipped with TV's, DVD's, Bluetooth, radio, USB/AUX input stations, air-con, toilets and showers (some have separate toilets and showers!), up to 3 separate double beds,  apartment-style kitchenettes fully equipped with gas hobs and grills, some even with external BBQ, fly screens, cruise control, reversing camera, camp table and chairs…..the list goes on!
What this means is that you have all your creature comforts out on the road with you with a motorhome hire.  Pull up at a rest stop and fix yourself a nice cuppa and enjoy the view!
2.      Motorhome holidays are for old people

Motorhome holidays are fast becoming a real passion on a global scale! They are in a category of their own – it's for those:
Who loves adventure
Love the outdoors
Exploring new places
Meeting new people
Waking up with the sun
Lazy mornings
Making a cuppa at the drop of a hat
Soaking up and experiencing the rich historical culture of the land
Spending quality time your family and friends
…the list goes on!
There's a lot to be said for travelling as a 'grey nomad'…you've got all the time in the world.
You can do whatever you want whenever you feel like it. However, motorhome holidays are not just for retirees, adventures in a motorhome hire is brilliant for families and young couples, as well. Creating life-long lasting family memories that will be cherished for eternity. Check out this blog if you'd like some ideas on some fun games while on a road trip with your family keeping the young ones entertained for hours!
We have to say this is one misconception about motorhome hire that we hear far to often!
3.      Motorhomes are difficult to drive
With the incredible advancements we've had in motor vehicle technology over the years, you'll be amazed at just how simple it is to drive a motorhome hire!

For a start, you'll find the driver's seat positioned quite high up in the drivers cab so you get great visibility and they usually have oversized mirrors too. Some motorhomes are equipped with reversing cameras and all of them power steering, making it super easy to manoeuvre the bigger vehicles. Most motorhomes are also automatic, so you don't have to worry about crunching any gears!
As with driving anything new, you'll have a slight adjustment period, but it won't be long before you are feeling confident behind the wheel of your homely companion.
Check out our other blog that goes into a little more details on what it's like driving a motorhome hire and it also talks about drivers licence requirements too.
If you are new to motorhome hire and are concerned about driving one of these, let us know when you submit your enquiry form and we'll give you a few tips to help with that feeling of uncertainty.
4.      Motorhomes are uncomfortable
Gone are the days of plastic table and chairs and uncomfortable mattresses!

Imagine a motorhome so luxurious with an inner sprung mattress, fly screen on main cabin door and opening windows, a separate toilet and shower so you can keep your toiletries dry…oh and a comfy seating area? And don't forget the awning, offering welcoming shade on a hot summer's afternoon should you decide to dine outside for lunch!  In fact, you might find the modern motorhomes so comfortable you won't want to give it back!
If luxury or a certain list of features is your thing, there are many motorhome hire options to choose from in our premium and premium economy range. If specific features are important to you, please mention it on the form you submit when enquiring about a motorhome hire for your next adventure or have a chat with us, so we can make sure all your boxes are ticked!  This is an easy misconception about motorhome hire to bust.
5.      Motorhome hire holidays are expensive and aren't worth the hassle
We'd have to say that travel is one of the things you can buy that makes you richer! Yes, money does make traveling a possibility, but it doesn't 'enrich' you like making memories with friends, family and discovering new cultures and experiences!

There are different types of holidays you can go on and it will all depend on what type of experience you are looking for. If you are after a city break then you probably wouldn't consider a motorhome hire as you'll be getting around mostly on foot.  However, if you are thinking of hiring a car and travelling around and booking hotel rooms as you go, then you might want to consider a motorhome hire to give you so much more freedom and of course having your kitchen with you all the time, offers great savings on the food bill ….and healthier eating options too if that is your thing!
When looking at motorhome hire, we offer the best range of options, at the best value, making sure we've considered the list of features you'd like.  We'll also include any special promotional offers for you too, which can offer great savings.  And the best bit? You'll get to experience our excellent customer service and expertise without paying any extra for dealing with us!
There are some great ways to bust that miconception about motorhome hire being expensive. Travel dates make a huge difference to the cost.  Sometimes, by moving the dates only a little, or reversing the route, there can be soem good savings to be had.
If you are booking super early, there are also early bird booking discounts or if you are planning on travelling for 21+ days then more discounts become available to you too. At the time of your enquiry we'll check all these offers out and apply them to the personalised information pack we'll send through to you upon enquiry.
When you are in a motorhome hire, you have less to worry about! You only have to unpack once and your home moves with you every day! There's no early check out times and you have the freedom to pick and choose where you want to explore for the day and in your own time. Instead of being bound to a single place and missing out on attractions and experiences because they're too far away from where you're staying, you can go anywhere.
When heading out in your motorhome hire, you'll be amazed at how friendly everyone is and how varied the people are that you'll meet on the road – they are from all walks of life! Motorhoming carries with it, its own culture almost, a bit like an unspoken rule, where people you meet greet you with a sense of acknowledgement and knowing that you are out and about experiencing something great whilst exploring this incredible country!
Our hearts lie in this country and we just love it so much. With its diversity of sceneries and experiences to enjoy, it's a holiday of a lifetime, and all of us here at Gallivanting Oz would love to help you create your dream motorhome holiday.
If you are looking for advice on what motorhome hire would suit you on your trip, get in touch with us now and we'll help take you through the process of finding the right motorhome for your holiday.
You can check out the range of motorhomes we have on hire here. We look forward to hearing from you.  And of course we'd love to make sure you still don't have any misconceptions about motorhome hire!