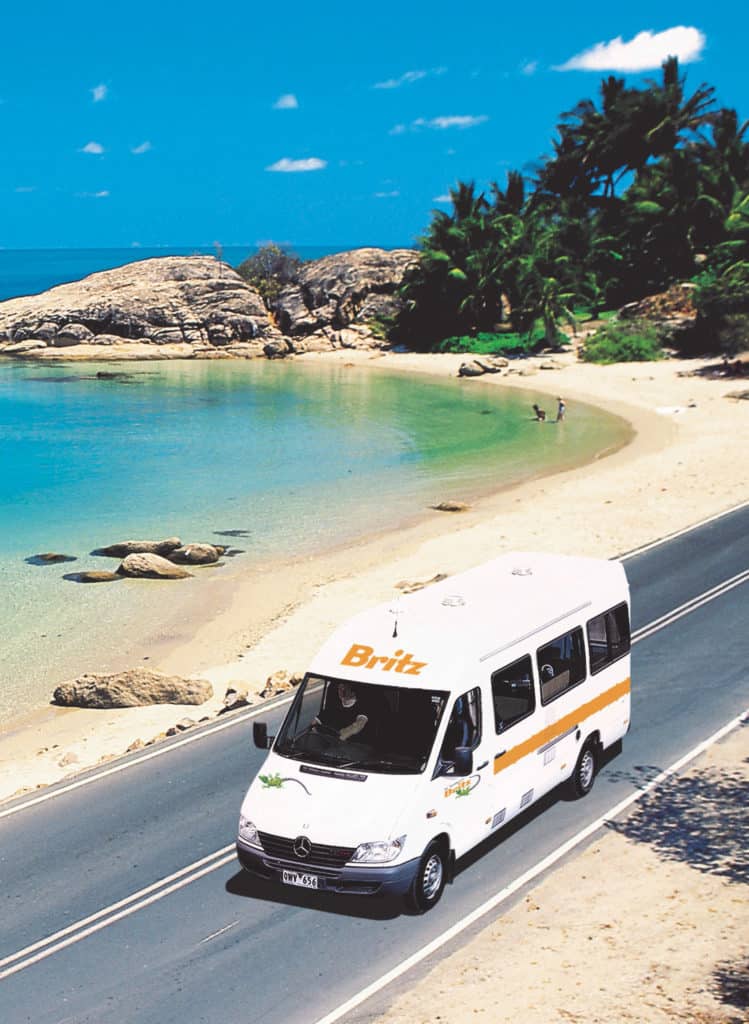 Ahhh, Cairns. Even the name makes you feel relaxed, don't you agree? In terms of campervan holidays, Cairns is one of our most popular destinations. When first-time campervanners ask us to recommend destinations, a Cairns campervan hire holiday is often the first place on our list. Why? Because it's easy, it's incredible and you're guaranteed to have a good time.
If you're dreaming of a Cairns campervan hire holiday or a big Aussie road trip to/from Cairns, this will help you to get started. Here are the answers to our most frequently asked questions.
Why are Cairns campervan hire holidays everyone's favourite?
We're an intrepid bunch at Gallivanting Oz At any given opportunity, you'll find us bundling up the family in a campervan hire to head off and explore our beautiful country. Between us, we have a myriad of favourite campervan hire destinations, but one place that always tops everyone's list is beautiful Cairns. With epic experiences of every kind in every direction, a Cairns campervan hire holiday allows you take advantage of every second… whether you have 5 days or 5 weeks!
How far are the Cairns campervan hire depots from the airport and the city?
The other reason Cairns campervan hire holidays are so loved is because they are so easy! All the campervan hire depots in Cairns are minutes from the airport and all located along the same small stretch of the Captain Cook Highway. Then, once you've picked up your wheels from the Cairns campervan hire depot, it's just 5-minutes' drive south to the tropical city centre!
Which supermarkets have the best parking for a Cairns campervan hire holiday?
Once you pick up your luxurious little home on wheels, you'll be keen for the fun to begin. But first, you'll need supplies! More of an explorer than a foodie? You may want to land in Cairns, hire your campervan, grab a few essentials and set off immediately. A few minutes' drive from the Cairns campervan hire depots, the Friendly Grocer on Collins Avenue is great for basics, with outdoor and street parking. (It's a very pretty drive to get there too; right through the middle of the beautiful Cairns Botanic Gardens!)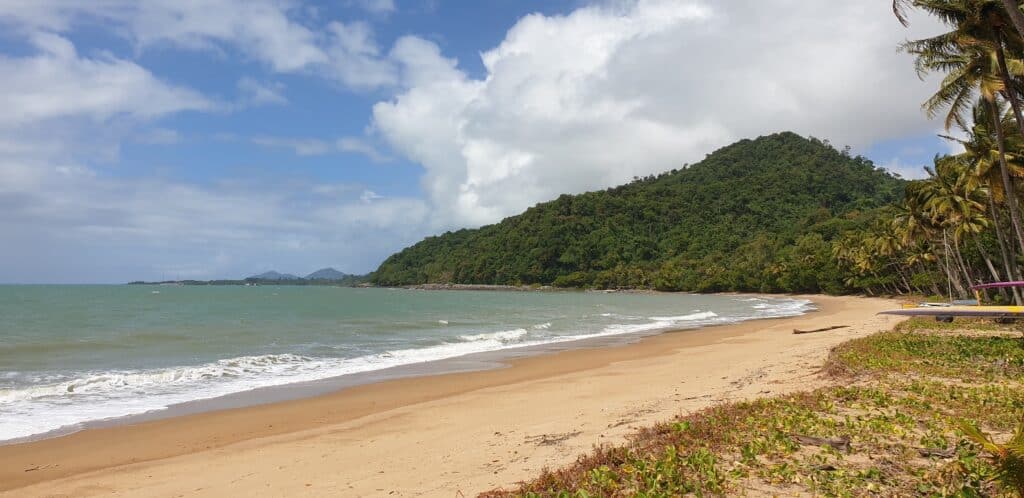 Prefer to get the fridge and pantry fully stocked as soon as you leave the Cairns campervan hire depot? The best shopping centre with easiest campervan parking is at DFO Cairns on Brown Street. The Coles supermarket here is always quieter than the bigger centres and there's outdoor parking all around the building. (Plus, it's surrounded by residential streets if you need a backup parking plan!)
Should I stay in Cairns and do day trips on my campervan hire holiday?
As we mentioned earlier, the huge variety of regional attractions is where a Cairns campervan hire holiday really comes into its own! Surrounded by a myriad of incredible world-famous destinations, no matter which direction you drive you can't go wrong. And one of the very best things about hiring a campervan in Cairns is that you can take your time exploring.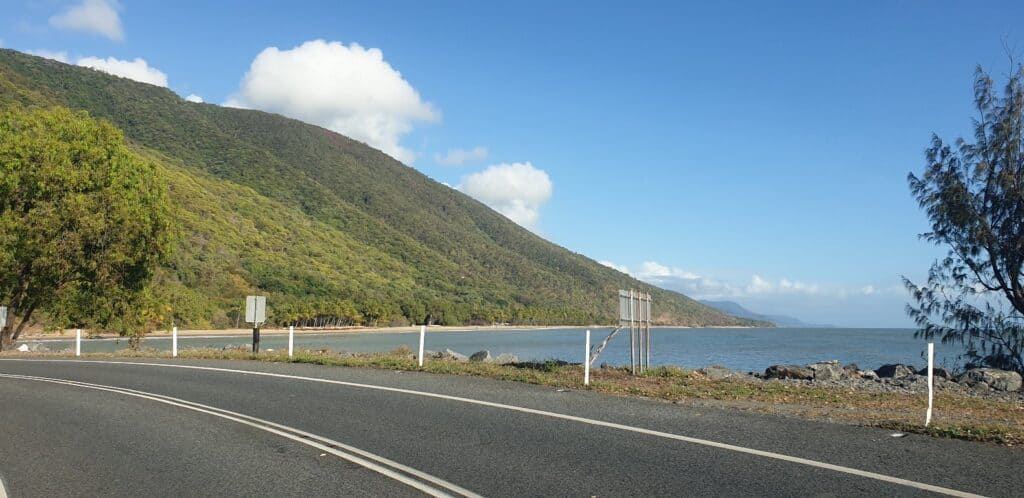 Although staying in Cairns and doing day trips is perfectly doable, it does mean a large part of your day is taken up with driving. It's also worth considering that in some of the remote and stunning places in this region, camping can be one of the only accommodation options. Which means once the crowds leave for the day, you have these gorgeous places all to yourself.
All that said however…
Staying in Cairns on your campervan hire holiday does mean you have a huge choice of activities, shops/markets, restaurants, and nightlife at your disposal! So, as usual, it's down to you and your personal preferences. Maybe you'll decide to do a bit of both!
We'd strongly suggest booking ahead your caravan park if you are going to stay in Cairns – it's a popular spot!
What are the best things to see and do on my Cairns campervan hire holiday?
CAIRNS: This small, tropical city is as friendly as it is laid-back and features great attractions, restaurants and activities. Taking a stroll along the foreshore with it's gorgeous swimming lagoon is a must. There's the Night Markets, the Botanical Gardens and families will love the exciting mix of high ropes and ziplines in a wildlife park at ZOOM. And of course, this is where most of the cruises depart from for the Great Barrier Reef. There are lots of great caravan parks in town which means you have both accommodation and transport for your city stay. Alternatively, some motorhomers decide to tag a day or two in Cairns onto the beginning or end of their campervan hire holiday.
TO THE NORTH: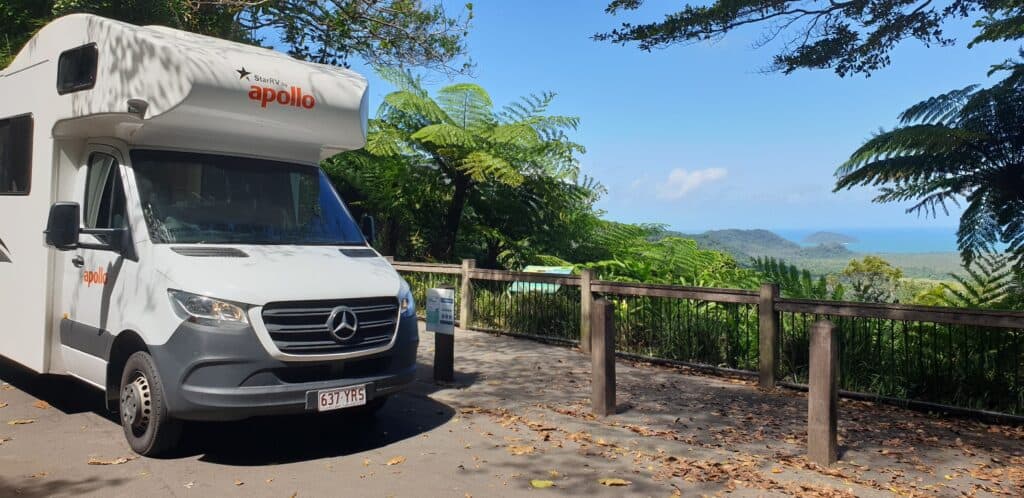 The ancient World Heritage listed Daintree Rainforest, the chic seaside resort town of Port Douglas and beyond, historic Cook Town.  Does your Cairns campervan hire holiday wish-list include spotting a crocodile in the wild, strolling pristine tropical beaches, or exploring the oldest rainforest in the world? You are in the right place!  And you couldn't be better catered for on a campervan hire holiday than in this region.  There is a huge choice of excellent campgrounds, ranging from unpowered national park camping, right through to top-end resort-style caravan parks.  Parking for large vehicles is always well-catered for here as well.  And with this region's high-density of top chefs, relaxing and indulging in some fine dining should definitely be on your list while you're here!  It's a sealed road to Cooktown.
Another popular place to visit north of Cairns is Cape Tribulation. Pop your motorhome on the vehicle barge to cross the Daintree River and enjoy the meandering drive up to Cape Trib. You'll definitely need to book your campground in advance up there. Please note that on the map you'll see there is a road connection Cape Trib and Cooktown, called the Bloomfield Track. This one is for the 4WD's only, not 2WD motorhomes.
TO THE EAST: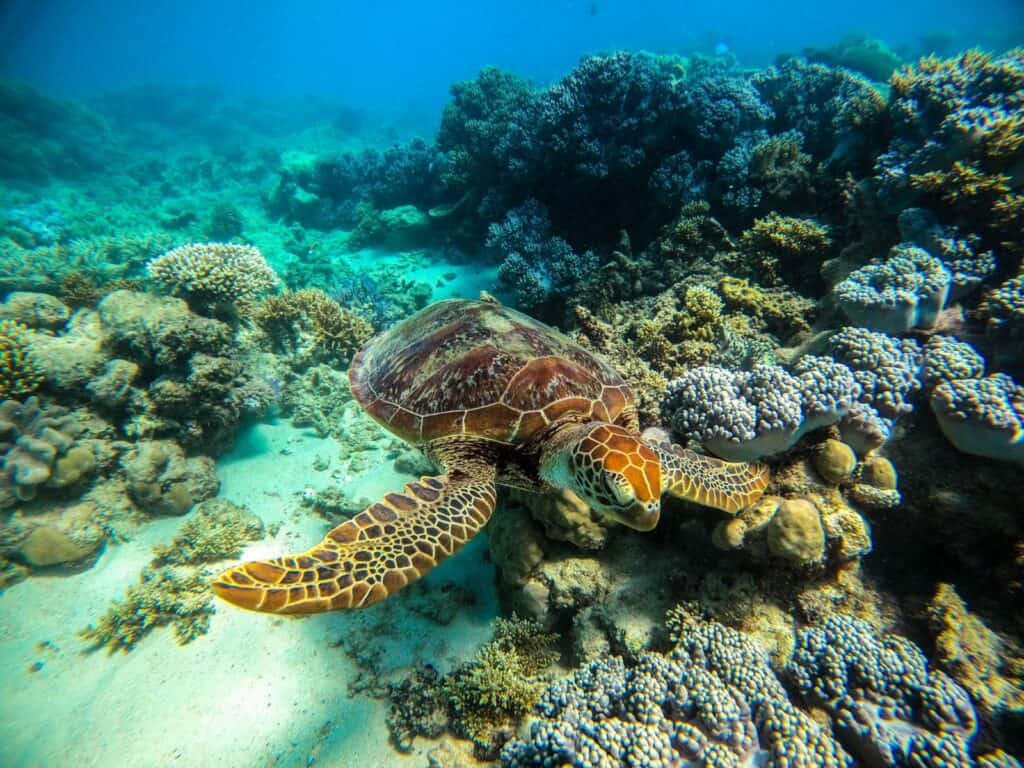 The magnificent Great Barrier Reef. When you hire a campervan in Cairns, the World Heritage Listed Great Barrier Reef is obviously one place you can't drive it out to! But fear not, free caravan park pick-up and drop-off is offered by every cruise operator here. Spend a day on the reef, head home and relax in your little home-away-from-home, and you're ready to hit the road the next morning. No café to find, no bags to pack, no check-out to worry about.
TO THE WEST: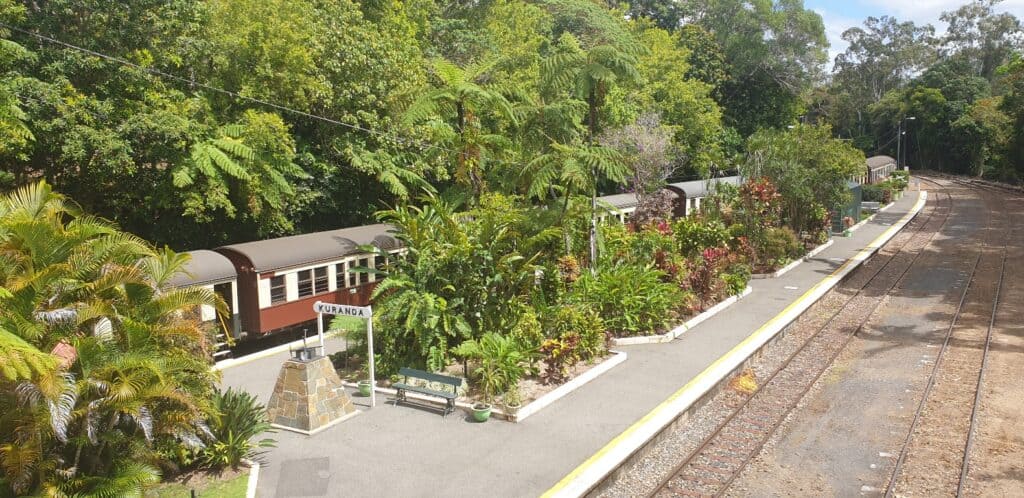 The misty rainforests, magnificent waterfalls and food trails of the Atherton Tablelands, and travel beyond to the 190,000 year-old Undara Lava Tubes. Take the Skyrail Rainforest Cableway to Kuranda for breathtaking birds-eye views over the rainforest, then peruse local art, handicrafts and produce at the Kuranda Markets. Visit the coffee plantations and chocolate factories. Take in panoramic views from rainforest hiking trails, or perhaps try out white-water rafting on the forest-lined Baron River. (Ideal for beginners of all ages, and lots of fun!)
TO THE SOUTH:
Drive south hugging the coastline, rainforest and the mountains, through cane fields and banana plantations to Queensland's most unusual tourist attraction, Paronella Park. (You can read more about this 1930s hand-built castle, waterfall and gardens and other places to visiting in our blog on Motorhome hire Cairns). Continue further south to the coconut palm fringed white sandy beaches and laid-back villages of Mission Beach. Keep an eye out for cassowaries on the trails through the beautiful surrounding national parks, then cool off in the icy waterfalls and rockpools.
If you are looking for that perfect campervan for your trip, drop us a note. Check out our huge range of motorhome and campervan hire options to suit your taste and budget. Get in touch and send us a campervan hire quote and we'll send you a personalised information pack.