What are Australian motorhome hire holidays all about? Adventure and relaxation, reconnecting with friends and loved ones, enjoying stunning scenery and getting back to nature.
Sure, sure, these are all very important things. However, we're going to lay it down on the table: one of the greatest joys of motorhome travel is… food!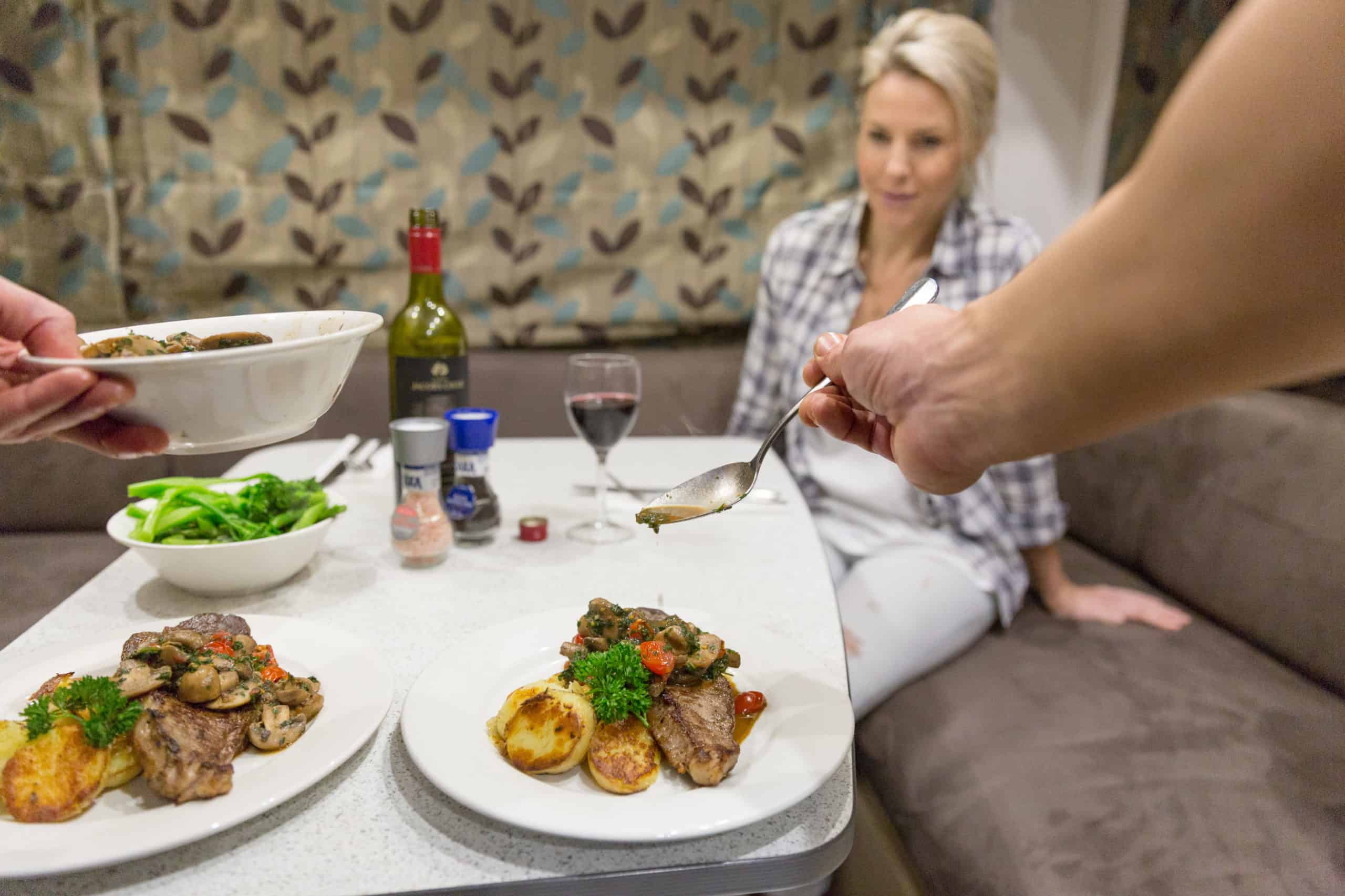 As you know, there are multitudes of options available when it comes to hiring a camper in Australia; each with its own special merits depending on your choice of destination, what you love to see and do, the size of your group, your budget, etc, etc…but no matter type of vehicle you select or what adventure you choose (don't worry we're here to guide you through all of those choices too) it's hard not to obsess about eating when, every single day, you come face to face with the county's finest produce, fresh from the ocean, paddocks and fields.
But when you're in your motorhome hire surely it's not possible to eat as well as at home, right? WRONG!
Whipping up incredible meals while on the road is not only possible, it's easy, inexpensive and most importantly, it adds a real depth to your travel experience! Whether you are cruising our beautiful coastline in a luxurious motorhome with all the bells and whistles, getting off the beaten track in a family campervan or embarking on a big Aussie outback 4WD camper adventure, read on, because with our motorhome cooking tips and recipes, you'll be dining like a food critic.
What cooking equipment will I have in my motorhome for hire?
The cooking facilities in our motorhomes vary almost as much as the vehicles themselves; some feature full-sized 4-burner stoves, some have an oven, and others a slide-out outdoor BBQ. However, no matter which vehicle you choose, rest assured you will be well equipped to create gourmet fare for gracing your table under the stars. Every campervan boasts quality cookware and all the utensils you need, plus a fridge and plenty of room for food storage.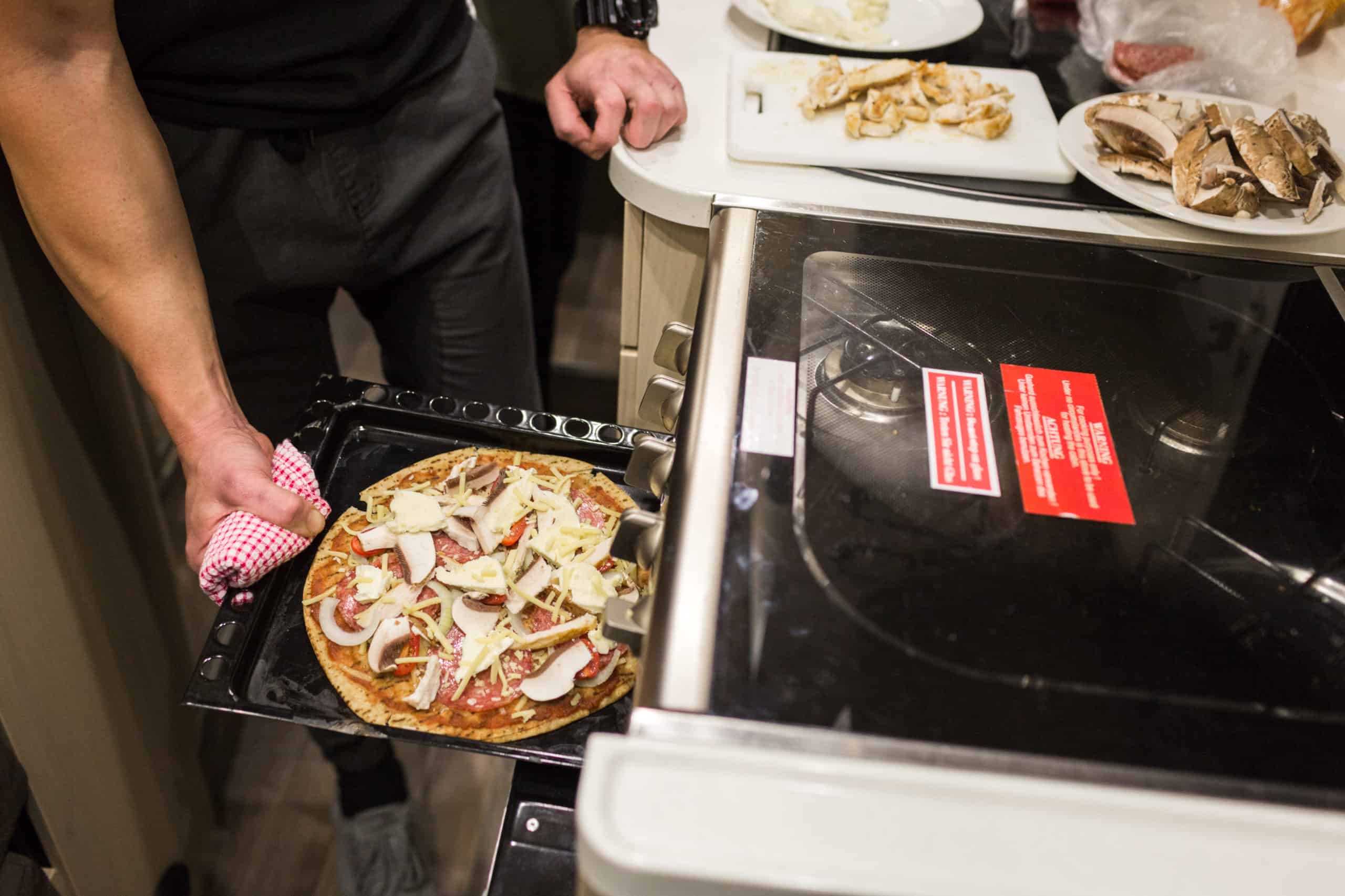 Don't forget most caravan parks have full camp kitchens, BBQs and sometimes even campfires for your roast spuds. If you're travelling with a group, fancy a roast chook for Sunday lunch, or are just feeling a bit social, mosey on down!
Pantry essentials for motorhome hire holidays
Everyone has their own cooking style, fav ingredients and secret spices, but here are a few staples that we consider essential for making your motorhome nosh shine!
Salt, pepper and sugar. This requires no explanation. Season, then season again!
Thyme. Marinades, stews, pasta sauce – throw a handful of thyme into just about anything for instant depth of flavour.
Cajun seasoning. From fish to your fajitas, this spice combo gives an explosion of flavour and a nice little kick!
Fresh garlic, garlic butter or squeeze-tube of garlic. Because everything is better with garlic. The end.
Lemons and limes. Tangy and refreshing, keep a few of these babies on hand for an instant salad dressing, to add interest to your drink, and add a zing to seafood and dessert.
Parsley. It's the world's most popular herb for a reason, as delicious as it is versatile.
Tins of 3-bean mix, chopped tomatoes, salmon and a packet of pasta. With these, you have the base for innumerable quick, easy and highly tasty meals! Go forth and create! Don't forget to let us know if you create a new motorhome culinary masterpiece!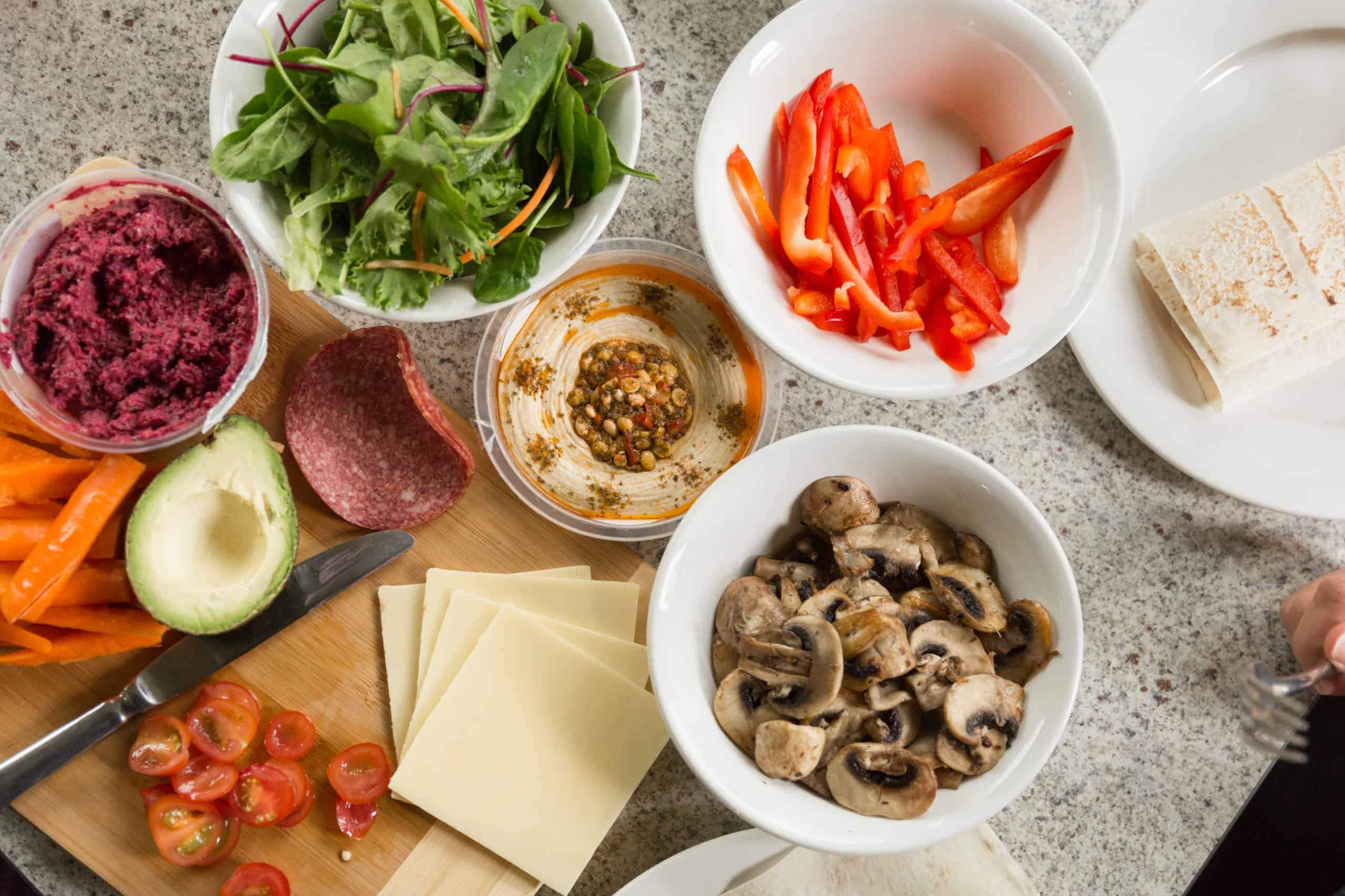 Aluminium foil & baking paper. These two little rolls make life on the road a breeze. Pop baking paper on a communal BBQ for an instant clean cooking surface that's a cinch to clean afterwards and learning to cook a whole meal in foil is a bona fide game-changer!
Large leak-proof plastic container. From marinating meat and making salads, to storing leftovers, trust us, you won't regret this $5 investment!
Tips and Hacks
When you're cooking in a compact space, organisation is key. Before you start to cook have all ingredients out of the fridge, prepped and ready to throw into the pot!
If you can, make meals that only require one pot. Stews and soups are quick easy and delicious.
Cook and eat local seasonal produce. Keep an eye out for markets, roadside stalls and don't forget to ask locals what you should be sampling in the region. You'll often end up a recipe thrown in too!
Keep an empty soft drink bottle on hand. Admittedly a strange one, but believe us, there is nothing better for mixing salad dressing and pancake batter or filling with water to clean a public BBQ with ease!
Easy recipes for tasty motorhome meals!
Breakfast : Bacon and eggs…camper-style!
This brekkie is sensational when you've returned from an early morning walk and worked up an appetite! For a quick and easy fry-up, pop a couple of narrow pieces of streaky bacon in your frying pan, then use the rim of a wine glass to cut a hole from the middle of a piece of bread. Drop the piece of bread in beside the bacon and crack an egg into the hole. If you have cherry tomatoes or mushrooms, squeeze them in beside the bacon too. Posh up with avo and parley if you like.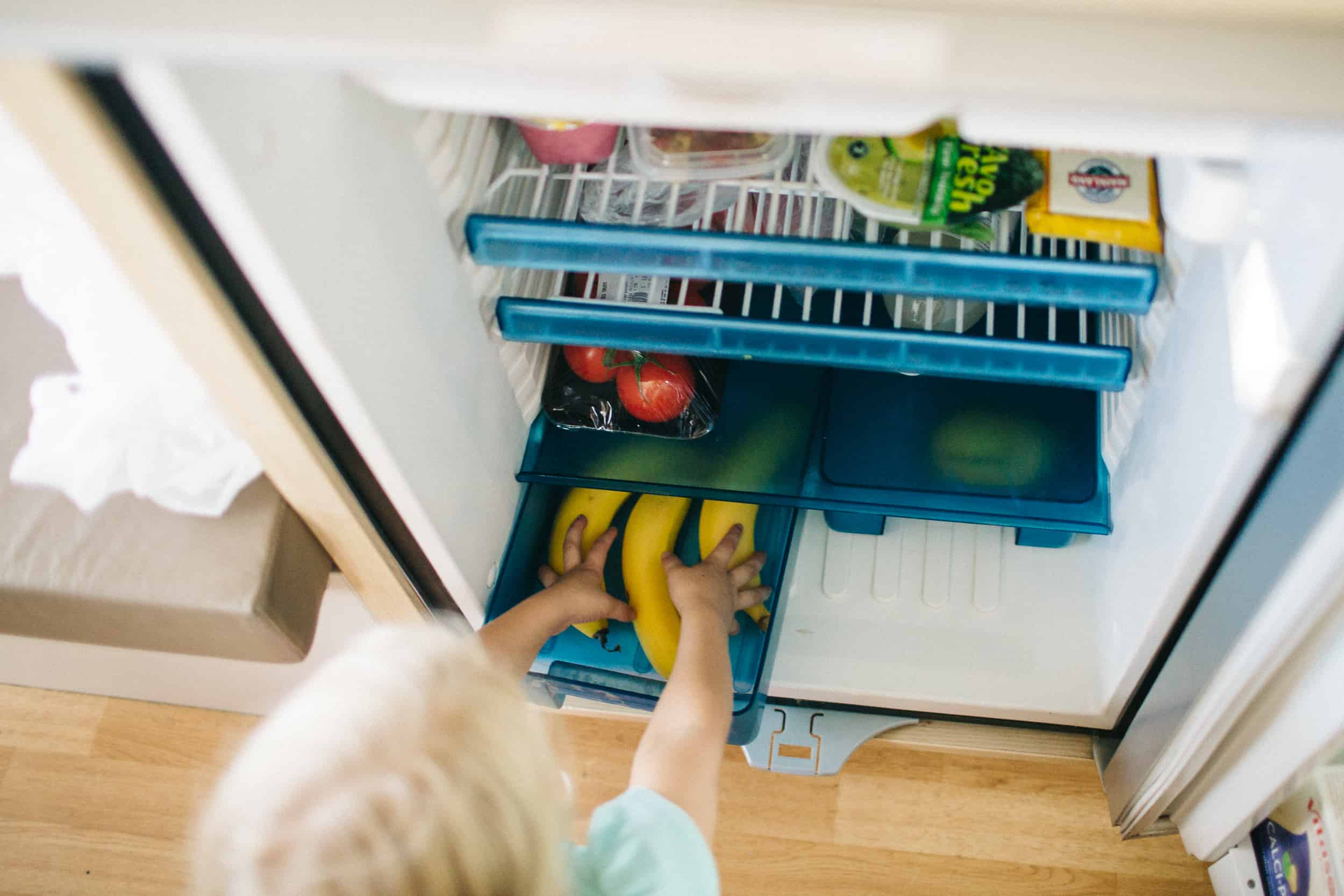 Lunch: Non-bake motorhome frittata
If you're sick of sandwiches and fancy something filling but quick to make, this non-bake frittata is just the ticket! Whisk up 4 eggs, add a dash of milk and a couple of handfuls of grated cheese, a few halved cherry tomatoes, whatever herbs you have to hand and season well. In a frying pan, slowly cook an onion in a bit of butter, then pour in the egg and cheese mixture and sprinkle some chopped parsley over the top. Cover with foil, turn down to low and cook for 10 minutes. Stand for 5 minutes then slice and serve with some crunchy salad leaves and fresh bread.
Dinner: Cajun prawns cooked in foil on the BBQ
Good food doesn't have to be complicated and this delicious recipe is testament to that!  Perfect if you've pulled up your motorhome for the night in a seaside location, with access to fresh seafood.
Place a long length of aluminium foil on the counter. Cut a fresh cob of corn into 4 or 5 sections and a zucchini into thick half-moons and pop onto the foil. Chop a chorizo sausage (or similar) into nice chunks and throw on top of the corn and zucchini. Peel and de-vein a handful of prawns (about 10 or so, for 2 people), preferably leave the tails on. Top with cut up cubes of garlic butter (or regular butter with 3 finely diced cloves of garlic), a generous squeeze of lime and liberal sprinkling of Cajun spice. Wrap up in the foil to make a parcel and cook on the BBQ for 10 minutes. Put into bowls or eat right out of the foil – yum!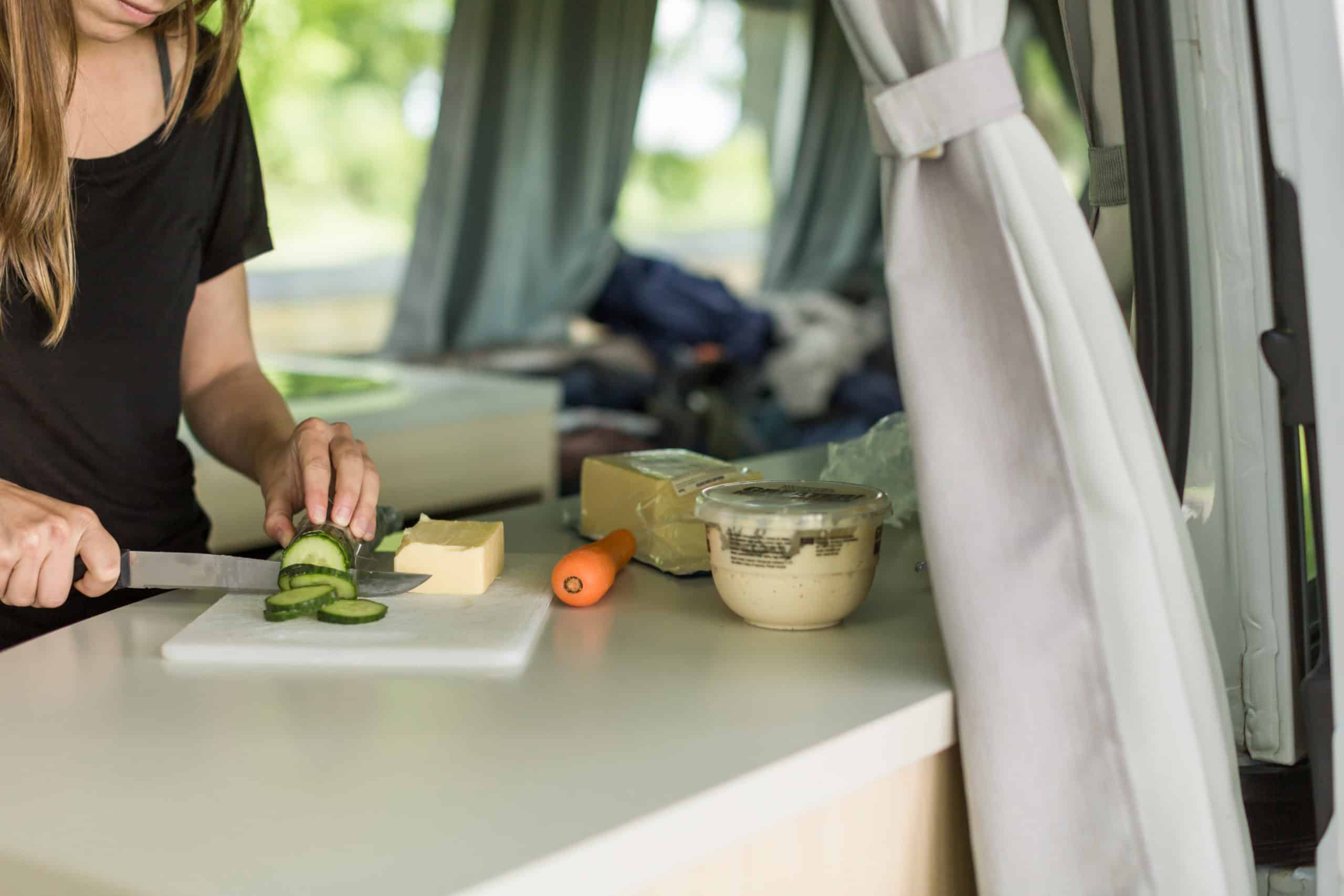 Dessert: Caramelized Pineapple wedges
This one is an oldie but a mouth-watering goodie! Pop fresh pineapple wedges into a plastic bag with a little cinnamon and sugar (brown, preferably) and grill on the BBQ (or a frying pan works too) for 3 minutes on each side. If you happen to have ice cream in your freezer, this is the time to shine!
Want to try some campfire cooking too, check out this article Easy Campfire Cooking in your campervan!
If you are keen to get out in a motorhome for hire for your next adventure and taste some on the road cooking, get in touch with our team of experts and they'll find you the perfect motorhome for hire for your trip!