Here's a few top tips to help make that holiday a trip of a lifetime!
If you are thinking about hiring a campervan for a holiday in Australia, these top tips will help you plan your dream holiday.
Some people get concerned about travelling long distances with kids in tow. If you are visiting Australia and have never been here before, then you may not be aware of the many amazing things this country has to offer everyone of all ages.
Top Tip No.1: Planning your journey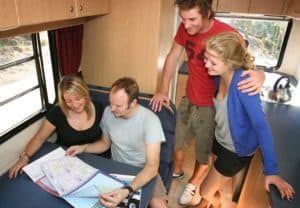 What type of campervan family holiday are you interested in? The age of your children might help you decide that one! If you have older children you may be more interested in off roading or harder to reach places to explore, or if you have younger children you might like to check into the well-equipped camping holiday parks that have swimming pools and play areas. Whatever takes your fancy, get the kids involved in researching and planning the holiday. This helps with their excitement and gets them on board for the trip that lays ahead.
How long are you planning to take for your trip? To be honest, regardless of the amount of time you plan on spending on your family holiday in a campervan, it's great to know that Australian towns and especially cities, have lots of good playgrounds that can help break up a journey. The other great thing about the freedom of travelling in your own campervan is that you can stop anytime to take a break. If you are cruising along the coastline, you'll more than likely be able to find a suitable beach to stop at and take a break!
Top Tip No.2: Preparation, preparation, preparation

Make a list! Write your list weeks in advance and get yourself ready before your packing frenzy. This will give you plenty of time to revisit the list and allow you to keep updating it. It'll make for a much easier time when it comes to packing and getting ready to leave.
We have a packing list you may find useful and you can download that here and we've also written a blog about what to pack, you might find this useful and can read that blog here.
The motorhomes come complete with all your cooking gear, and usually bed linen is included at no extra cost (the exception is if you choose one of our older suppliers, where it's available as an extra fee or we can put together an excellent package that includes it). The main things you need to consider packing are your clothes/toiletries and stopping at a supermarket for food on the way out of town.
Top Tip No.3: Making your family holiday in a campervan fun!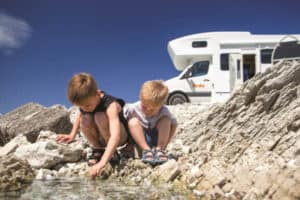 There's not much point in having a holiday if there's no fun involved! It's always handy to prepare for a rainy day so that means packing some board games, travel games, cards and books.
We have found, and hear it so often from our existing customers, that travelling like this with family is a great way to reconnect and spend quality time with each other again. There's nothing quite like being out on the open road with the family in tow and spending time with each other and cruising around at a leisurely pace.
While most of our motorhomes have an on board DVD player, we find that so many families like to be 'unplugged' when away from the usual family routine. While the places visited are always high on the highlight list for families, it is this 'family time' that is always remembered and treasured.
If you're looking for things to do on your travels, check out our Travel Routes pages as we have lots of ideas on places to visit and things to go and see. Alternatively, check out the nearest information Centres as they'll provide you with heaps of information too.
Top Tip No.4: Consider shorter day trips with longer stops

Some families may find writing a plan for each day and allowing enough time for the day to day tasks can help eliminate some of the stress. It will also help create a more relaxed holiday – one that the whole family will remember!
For other families, who have to have a highly organised life in the usual daily routine, it may be the perfect time to do the opposite when on holiday. This is best done when trying not to cram too much into the days you have available to be away.
It's worth considering everything in this plan, from the time it takes for everyone to get up in the morning to preparing dinner. Have a think if it might be better not rushing out extra early one day and to set off a few hours later with a happy family in tow!
You'll find that having a more leisurely plan in place with shorter daytime distances mixed in with longer day time stops, will make for more time to create and enjoy the special memories you'll be making. There will obviously be days where you'll need to hit the road early, but if you incorporate some of these less stressful days, it makes for a much more relaxed and enjoyable time.
Top Tip No.5: Eating the right foods!

Now we're not here to tell you how or what to eat on your holidays, but it is worth considering how often you might want to go out and eat vs staying in and cooking in the campervan. See if you can put in the budget an amount for trying out the local delicacies you'll no doubt discover across your travels!
There's something about travelling too that seems to increase the appetite! We're not sure if it's the fresh salty air or perhaps it's the change from the everyday routine. Regardless, when travelling with children it's worthwhile stocking up with plenty of snack foods for the lengthy road trips.
Our advice – steer away from the high sugar content snack foods unless you are prepared to have the kids on a sugar rush and nowhere to run around and burn it off! One other tip is to freeze the kids bottles of water. We've found that it takes them a lot longer to drink their drinks and paces out the numerous toilet stops along the way!
Take advantage of local markets along the way and get the entire family involved with meal preparations. The beauty of travelling in the motorhome is that you don't need to spend heaps of money on eating out – you can make fun family meals in the camper. Who doesn't love a fun Mexican night with make your own fajitas! Many campgrounds also have BBQ's available which are perfect with a prepared salad for an easy holiday meal.
If you are staying somewhere that allows campfires, what a perfect opportunity to teach your children about cooking over the fire. This is usually one of the highlights for the little and big kids!
Top Tip No.6: Making memories
Whatever your plans are, your holiday will surely take you on an exceptional journey and you'll create some wonderful memories to share in years to come. Don't forget to pack your camera and maybe pack a scrapbook for the kids to collect memorabilia along the way or even a diary for them to journal their journey!
Top Tips for hiring a campervan
When you hire a motorhome through us, we'll discuss with you your travel plans and itinerary and make sure that you are hiring the best vehicle that suits your needs.

You'll need to consider the right size for the amount of people travelling with you and ensure that you have a vehicle that has the right type of restraints required for your children depending on their age. You can check out the company policies for Britz, Maui and Mighty here and Apollo, Cheap, Hippie and Star RV vehicles here.
If you are planning on being out on the road for a while, we'll discuss with you the best layout to suit your requirements as there are so many variations to consider. You'll most likely want an on-board toilet and shower but most likely won't want a campervan where the beds are permanently made up as this can take away precious lounge space.
Check out our 'Vehicle hire – Getting started' page for more information on things you'll need to consider when hiring a campervan.
There are so many variations and styles of campervans that it can be daunting to choose the right one. Contact us and we can work with you to make sure you are getting the most out of your time and money!