There is such a big choice when it comes to researching various family motorhomes for hire.  Never fear though, we have provided tips and clarity for you as to what will be perfect for your family.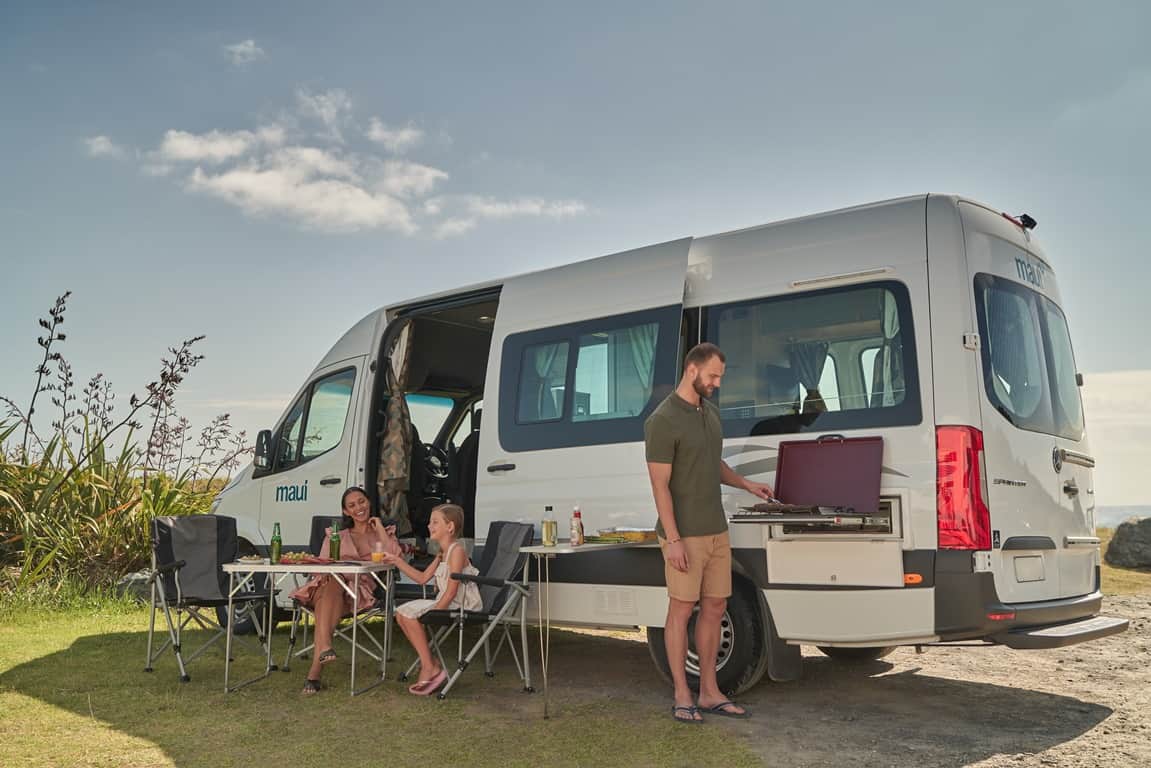 We reckon motorhome road trips are the very best way to travel and explore Australia as a family. Grow little minds, enjoy the flexibility to make and change plans as you go, and get lost on purpose! Kids love being involved in planning the daily route and activities, which promotes their confidence and independence. In addition to learning about the world, having a family adventure together teaches children many things! It can teach them to value experiences and people. Rather than possessions and creates family bonds that last for a lifetime.
Heading off on a motorhome road trip with the family? It is vastly different to staying in a holiday apartment, or even camping. It's the ultimate sense of freedom to take the road less travelled, but with all the comforts of home. You are in charge of your own itinerary! You have your own facilities, you can cook your own meals and park up for a break wherever you want!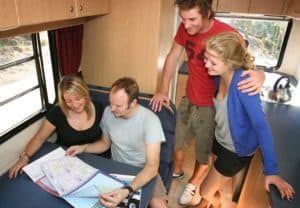 Where to go with your motorhome hire
Choose to beach-hop, explore the local cultural or historical sites or trek through a national park. Free-camp by a beautiful river shaded by gum trees one night. Then spend the next night in a big family focused holiday park, with pools and playgrounds and jumping castles and a chorus of 'Polo' to answer your kids' 'Marco'. (PS: if you don't know what we're talking about: a) we envy you and b) we suspect you don't have children!)
So, have we convinced you?
Great! Then let's answer some of your most commonly asked questions for you. Find out about family motorhomes for hire, and get you out there making some memories!
Top 7 Questions asked about family Motorhomes for Hire in Australia
1. How do I choose the right campervan hire for my family?
This is always question number one, and with good reason – it's so important to get that right and having the right features can make an enormous difference when you're out on the road!
The first thing is to consider is the type of holiday you are planning, and the length of time that you will be travelling. Bigger motorhomes not only allow for more people, but also give you more space which may be something to consider for longer or more relaxed trips.
The second is layout. If you're travelling with little ones, the last thing you want is for them to be seated right at the back of the campervan (with you right at the front!) when you're on the road or finding that the corridor isn't wide enough to fit a travel cot, or there aren't enough anchor points for child seats. It's also important to bear in mind that most four-berths have a bed at the rear of the camper and a luton bed over the cab, accessed by a ladder – every kid's dream once they're four or five, but every parent's nightmare if they're younger than that! We do, however, also have six-berths with two lower level beds which may suit you better.
Which is the best motorhome for young children?
As our team at Gallivanting Oz includes parents with young children these features (which you sometimes don't think to ask until you're out on the road!) are ones that we're very aware of and have tried and tested ourselves on our family motorhome hire holidays. Just ask us about the best options for your situation and we're always very happy to advise!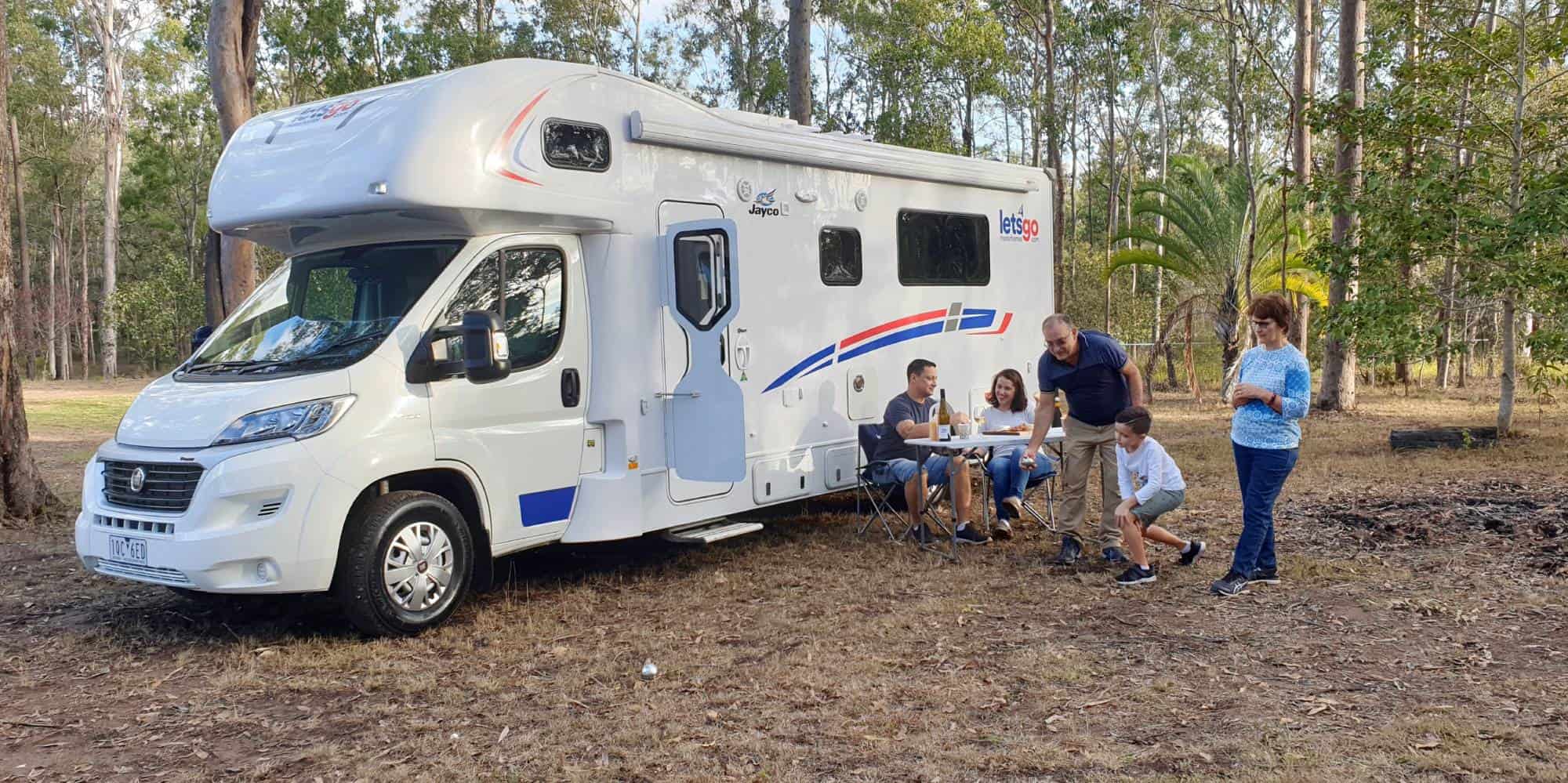 What sort of features are helpful to consider in a motorhome hire when travelling with a family?
The third consideration is the features that you want in your family motorhome hire. It costs more to have an onboard shower and toilet, but it's also very convenient! (If you're keen to keep the budget down, some families opt to buy a portable chemical toilet from a camping shop to save those night-time treks!) Other features that you may like to consider are air conditioning, solar panels, three way fridge, bike racks or shade awnings
How do we find out more about family motorhome hire?
Have a chat with the team to understand the key differences between the various family sized motorhomes for hire or you can search for a motorhome or 4WD camper hire.
2. What should I pack for my family on a motorhome hire holiday?
You know those people who make family life look like a doddle…the ones that can be packed and off to the beach in 5 minutes flat, who always have a nutritious home-baked snack ready to whip out and seem to find life's tricky moments amusing instead of stressful? Yeah well, usually we have no advice to give on that, HOWEVER, we DO know that it's a cinch to be that easy-breezy-headscarf-wearing type parent on a motorhome holiday! Why? We're not totally sure, but maybe it's because life instantly becomes simpler and lots more fun…but whatever it is, believe us you'll unpack, relax, and remain in that state for the whole holiday!
So, back to the question. What should you pack? Not much. Our motorhomes are so well equipped that you'll find just about everything you need, from bedding to cookware to a first aid kit. Throw some clothes and toiletries in soft bags, some activities for the kids (and maybe their boogie boards if you're off to the beach) then stop off at the supermarket once you're on the road. Done!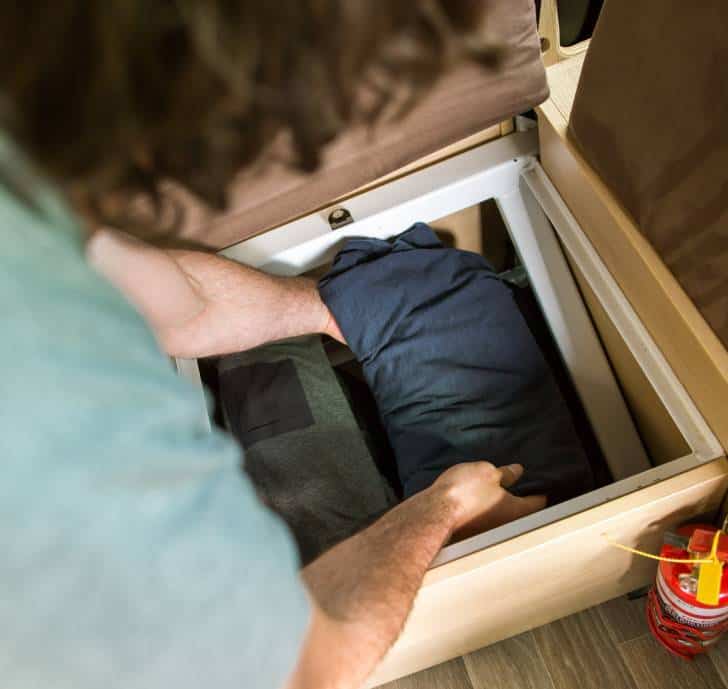 3. Where are the best places to travel with family motorhomes for hire?
Australia is made for motorhome road trips! Explore stunning white beaches, lush tropical rain forests, glistening rivers and the beauty of the red outback.
There is an Aussie motorhome road trip to suit every family, be it long or short, relaxed or action-packed, beach or bush! If you're not sure where to start, why not jump onto our and our interactive Route Planner for some inspiration and awesome pointers!
4. Is it difficult to drive a big family motorhome?
This is something that lots of people worry about, but the short answer is no – it's actually really easy! There's great visibility from big windows, big mirrors and reverse cameras and the power-steering is really impressive. A good tip when you're first getting used to driving your motorhome hire, is to request 'drive through' campsites…and avoid undercover parking like the plague!
Of course the family motorhomes for hire will seem big compared to your car to start with, but it won't take long and you'll be super comfy behind the wheel.
5. Can I cook family meals while travelling in motorhomes for hire?
The good news is that can cook family meals easily while travelling in your motorhome hire. Not only that, you will have a ready access to the freshest regional produce you may even be able to up the ante on your usual offerings! With a fully equipped kitchen in your motorhome and ready access to BBQ's (either built into your camper or utilise the free ones at council picnic areas and caravan parks), meal prep couldn't be quicker or easier! A good tip is to cook a double sized one-pot meal every few days, then freeze half of it for an easy meal on those days where you want to walk off the beach and put your feet up! You'll find some more great motorhome cooking tips here.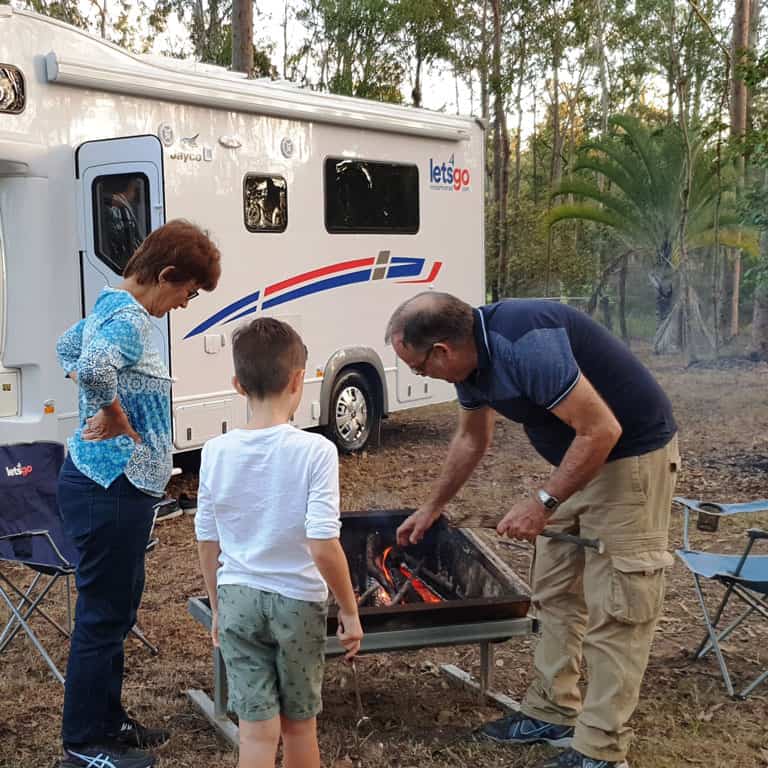 6. Can we take our pet with us in family motorhomes for hire?
Although pets are not permitted to travel in most of our motorhome hire vehicles, we're happy to report that, we do have some options for motorhome travel with your fur baby. There is a one of pet cleaning fee of $200, regardless of the length of hire. Have a chat with us for more details if you'd like to bring your dog with you on holiday.
7. How do I empty the toilet when travelling with my family in a motorhome hire?
If you've never emptied a motorhome toilet before it can seem quite daunting, but trust us, it's not nearly as bad as you imagine! A blue liquid is added to the loo, which break down all the waste down and gets stored in a contained cassette. You'll find dump points in most towns and nearly all caravan parks, and it's simply a matter of pulling out the cassette and emptying it into the dump point. Usually there's not even any smell!
We think we're a little biased! We do think a motorhome holiday with your family is one of the best things you'll do…and look back on fondly in years to come. A good chance to unplug, unwind and spend time as a family enjoying nature and making happy memories.
We have 3 berth options for small families who'd like something compact. With the larger 6 berth motorhomes for our larger families. Its not unusual for 2 – 3 families to travel together too. Each in your own space but it can be lots of fun in a group. Either way, we have you covered.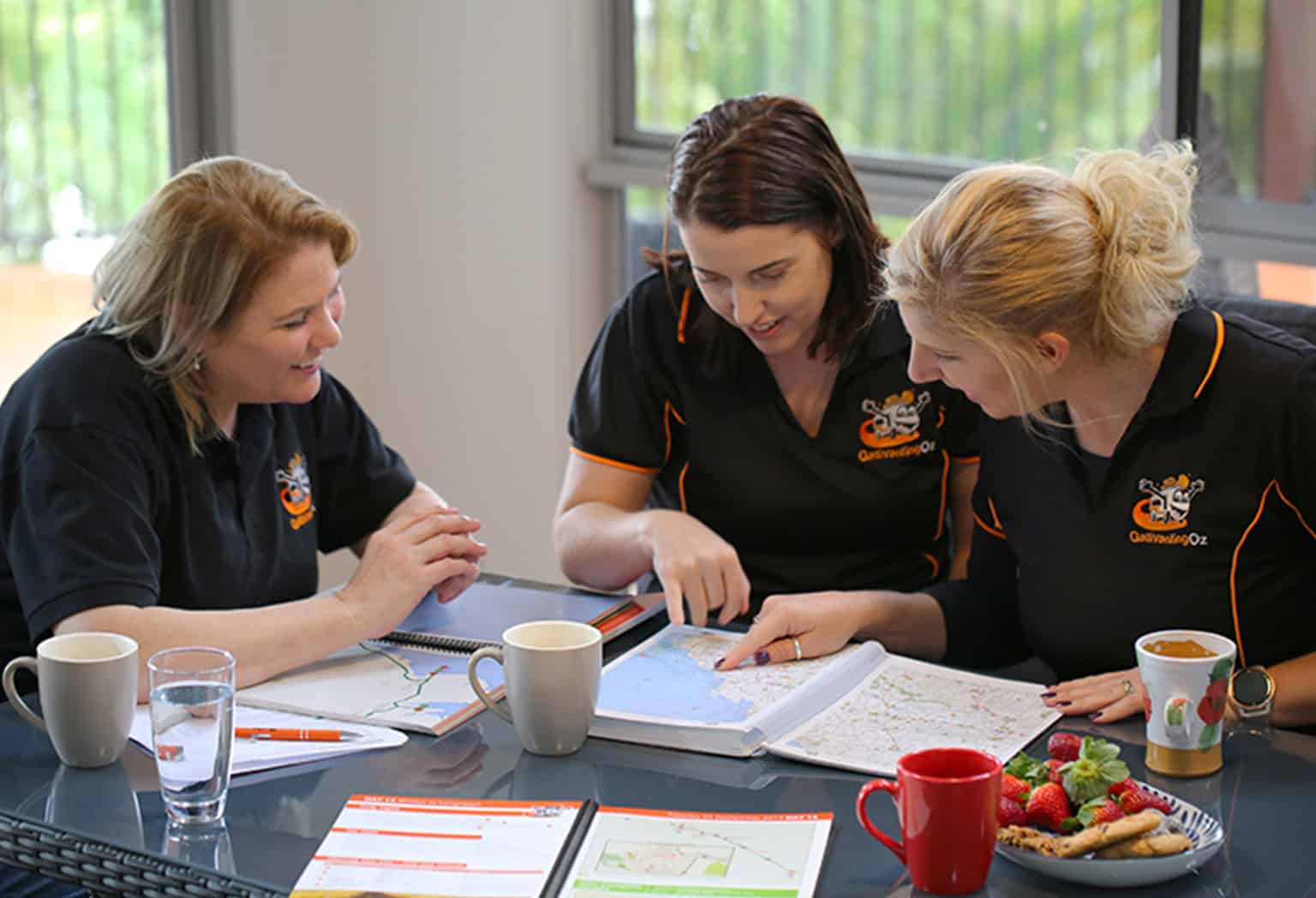 Our top tip? Book as soon as possible for the best rates and availability. Especially if you're planning to head out over school holidays. There's great flexibility right now if needed regarding border travel restrictions so great peace of mind.
Have a chat with us! We'll talk you through the various family-sized motorhomes for hire, to determine the best option for you. You can give us a call on 07 3314 1518. Or you can send us an email to campers@gallivantingoz.com.au. Click on our "Get a quote' button on our website to get an idea of pricing for your travel dates.