If you are planning a motorhome holiday in Australia, find out how to save money while you are travelling.
As experienced travellers of this diverse country, we have put together a list of money saving tips which could save you big $$
Specials offers – get the most out of seasonal special offers and make sure you are getting the biggest bang for your buck! There are a series of special offers all year where you can grab some amazing discounts. If you are flexible with your travel dates and find yourself travelling either early or in late season (i.e. shoulder season), then you could make the most out of some of these offers that can go up as high as 70% off motorhome hire. This is because some of the rental brands are looking to get their vehicles back to specific depots, so if your travel dates and desired location fall in line with these offers – you could save big $$ for sure!
Travel for 21 days or more to receive long hire discount and some of our brands will even waive the one way fee.  You'll often find that travelling for 21 days is cheaper than 20 or 19 days.
Check out our latest Special Offers here and chat with us to see what we can make work for you.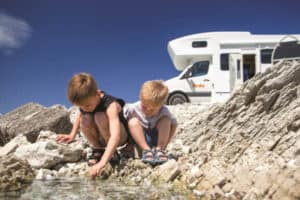 Traveling at off-peak season – this is slightly different to travelling either early or in late season (as mentioned above in the Special Offers). Off-peak season usually refers to the period of time when there is less than maximum frequency or demand so many of the motorhome hire companies drop their prices to encourage its customers to venture out and explore our vast country during this period (usually during the early winter months like May and early June, and during school term times). So, if you are planning on travelling off-peak season, this will be a great time to save money. Check out our blog here which delves into a lot more depth of the definitions of off-peak and shoulder seasons and what could to be taken into consideration to save you money.
If you work this into your travel itinerary, you could plan to alternate your nights with freedom camping and plugging into a campground to fully charge your auxiliary battery. Depending on your usage, most motorhomes will need to be plugged into power at a campground every 2nd or 3rd night. You can also check out free, low cost and commercial camps via Wiki Camps (a low-cost app – see Travel Apps) to keep costs low and also Camps Australia Wide guide which provides details of thousands of freedom camping locations throughout Australia. Check out this blog for more information on Freedom Camping.
Travel coupons – wherever you are planning on travelling to, be sure to check out the local Tourist Information Centres. Not only will they give you useful advice on local amenities, they'll also have flyers and brochures the quite often provide offers on things like 2 for 1 deals on some of their local attractions.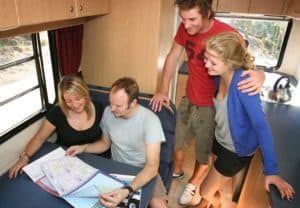 It's also worth noting here that if you are planning on visiting local attraction, check out their website before you go. Most of them, especially in the larger cities, will combine deals with other attractions in the city, so you could get entrance into 3 or 4 major attractions at a cheaper cost as they bundle them in online deals.
Shopper dockets – whenever you find yourself at the supermarket, be sure to check out the bottom of your docket for numerous offers. The larger grocery stores tend to have money off fuel vouchers saving you up to 10c per litre. Back in the day we also used to have 'Cheap Tuesday' where fuel prices were lower than the other days of the week. Sadly, those days are behind us now, so our advice is to fill up if the price is low!
You'll also often find 2 for 1 offers on the bottom of your shopping docket for the liquor stores. On the back of the shopping dockets you'll also find other offers, like food specials from some of the local take out stores in that area such as 2 for 1 pizza offers.
Shopping malls – if you find yourself in a shopping mall supermarket towards the end of the day, be sure to stop by and check out the food courts as they often have massively reduced prices to get rid of that day's food. That means dinner that night could be sorted at a fraction of the cost! You'll also find this in the bakery and fresh food section of the supermarkets too – very helpful if you are shopping for that nights dinner!
Wi-Fi – Australia is full of FREE Wi-Fi hotspots! There are a number of places around this country with amazing FREE Wi-Fi facilities. Some caravan parks will have FREE Wi-Fi or at least have access to Wi-Fi at a relatively low cost too. You'll even find that some beaches have FREE Wi-Fi. some galleries/tourist attractions, libraries, café's, fast food establishments and even some shopping malls will have FREE Wi-Fi.
 If you are keen to find out the hot spots for your journey, get in touch with the local Tourist Information Centre for more specific advice to that location. Also, before you leave home, you could download the 'WiFi Map' app as this app will scan your surroundings and find you the location of the nearest wireless connection. If you are travelling from overseas though, be sure to check your roaming charges before you do anything on your phone unless you are connected to the Wi-Fi.
Travel Apps – with over a million different apps available, its hard to know which ones are useful for you. We have done a bit of research (we are not affiliated with any of these or suggest that these are the best) and feel that the following FREE apps may be of use for your journey:

Google Maps – this is easily one of the best navigation apps for your mobile. Although you'll need an internet connection to find new locations, you can however save an unlimited amount of number of maps on to your phone for later offline use. The GPS on your phone or tablet will work without a cell signal.
AroundMe – free app that allows you to search for the nearest restaurant, ATM machine, gas station or shops etc. You can use the app to navigate to the venue too – just be careful of those roaming charges! Places Directory (for android only) also allows you to browse what is nearby you.
WikiCamps – full of the most up-to-date information on points of interest, campgrounds, caravan parks, Tourist Information Centres and even dump point locations, this app is very useful in planning your trip. Best part is this app works completely offline if you download all the content to your device before you go.
Currency Exchange Rate Apps – there are many free apps but XE Currency has long been the best, we feel! – these can help you save money and figure out where you want to buy your money from at bargain prices!
Last and by no means least….. the type of motorhome you hire can save you money too. If you are willing to hire a vehicle, say between 2 and 5 years old, you'll still get all the benefits of 24-hour roadside assistance that a new vehicle receives but still works out cheaper purely because the vehicle isn't considered to be 'new'.  Also hiring the motorhome that best suits your needs, for example if you plan on spending each night at a campground, could you do without an onboard toilet and shower? We have gone into a bit more depth on the right choice of vehicle for your needs here in this blog.
For more detailed information on how you can save money, get in touch with us as we can help you select the best vehicle for your needs and advise you on the best time of year to travel and other money saving tips. Give us a call now to find out more!