What better way than to experience the breathtaking eminence of Australia's largest National Park covering almost 20,000 km2 (just a fraction smaller in size than the country of Wales) and home to Aboriginal people for more than 65,000 years!
If you are planning on heading to this area and would like to know more information on the best motorhome or 4WD camper for you, we are the experts that can help you with this. Depending on the areas you would like to visit and experience you are looking for, it is possible to see and do a lot in the world heritage listed national park, in either a 2WD or a 4WD. Get in touch and we can advise you.
Due to the size of Kakadu National Park, we feel it really encompasses the true essence of Australia with its diversity of endless red and rugged terrain, awe-inspiring wildlife, vast floodplains and astounding natural sights such as towering rock escarpment and thundering waterfalls early in the season. We reckon you could spend a month here and still experience something new every day!
We recently had some time in the Kakadu NP during the wet season, which is not a popular time generally for tourists. Being lucky enough to have numerous visits to the Kakadu National Park we find that each time we visit the scenery differs depending on what time it is in the season. Generally, May to September is the most popular time for tourists, known as the dry season, and less humidity and the wet weather is less likely to disrupt holiday plans. For our trip this time though, we decided to investigate this amazing place during the wet season and take in a scenic flight for a different perspective. From this viewpoint you really get to see the expanse that is Kakadu National Park and revel in its majestic ambience.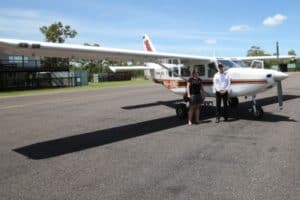 There are a few flight operators that provide this service, and we do suggest you check out the reviews on TripAdvisor and choose one most suitable to what you are after. We went with Kakadu Air, as from our experience we have always received fantastic customer service (which is something we are all about here at Gallivanting Oz), the aircraft in their fleet all have the wings above the windows which allows for uninterrupted viewing (highly recommend this) and all seats are window seats.
We went for the 1-hour flight experience but it's worth noting that some people can find the confines of a small plane a bit much and perhaps a longer flight duration may not suit everyone. Some of the people on our plane found the last 15-minutes of the flight, 15-minutes too long..…mainly because they had probably been looking through their view finder/phone screen for too long!
The 1-hour duration worked really well for us as it sat within our budget and with the extra time we could venture out farther to the waterfalls. Our goal was achieved as we were rewarded with the magnificent scene of Jim Jim and Twin Falls, this was simply quite spectacular seeing this from the air and was worth the extra time alone!
If you fancy taking a scenic flight over Kakadu National Park then you can go at any time of the year, it will ultimately depend on what it is you want to see that will determine what time of year you go and then length of the flight. Scenic flights vary during the year as they focus on the massive waterfalls during the wet season and early part of the dry season. During the latter part of the dry season, the flights will focus more on the land and rock structures, rivers, floodplains and billabongs during the dry season. The views of the escarpment are amazing and not too many places in the world you will see such magical scenery from the air. The 30-minute escarpment viewing flight is very popular for those with a short time frame and desire to see Kakadu from the air.
If you've already been lucky enough to have had the opportunity in a dry season to access Jim Jim and Twin falls from the ground on a previous visit, it is pretty amazing to see it from the air if you happen to find yourself in Kakadu NP again, earlier in the season.
A couple of years ago on a visit to Kakadu NP we had driven into both Jim Jim and Twin Falls in a 4WD (check out our selection of WD's here), so it was great to see everything from a different perspective. The drive into Twin Falls and Jim Jim is only suitable for 4WD and is only open when the river is low enough and you'll find that the falls have pretty much stopped flowing, if this is the case then the road is generally open as you can pass through. Occasionally in some seasons, the road does not open at all. If you do have the opportunity to go in there, we think it is pretty awesome, and highly recommended! There is a boat ride through a gorge with the local rangers to the Twin Falls, which is spectacular – and if time permits, we'd recommend climbing to the top of the falls too.
If you are planning your own amazing trip around Australia, be sure to check out our Travel Routes as we provide heaps of useful information on some of the major routes around Australia. As we've extensively travelled this country, we've made sure we included some of the hidden gems we've found along the way and shared then with you!
We regularly visit this area (its one of our favs!) on our Escorted Motorhome Tours. If you'd like to check out some highlights of these which also includes Kakadu National Park, check out some of the following blogs for the video highlights of the tours – the first few days of these tours take in a lot of the Northern Territory including Litchfield NP and Nitmiluk NP too: