You don't know, what you don't know! If you have never checked out campervans for hire before then you might have some questions. For example do you know why a 3-way fridge is really useful for freedom camping? Do you have to pack away your bed each day to get your dining area back? How do you get an external BBQ to enjoy those balmy summer evenings?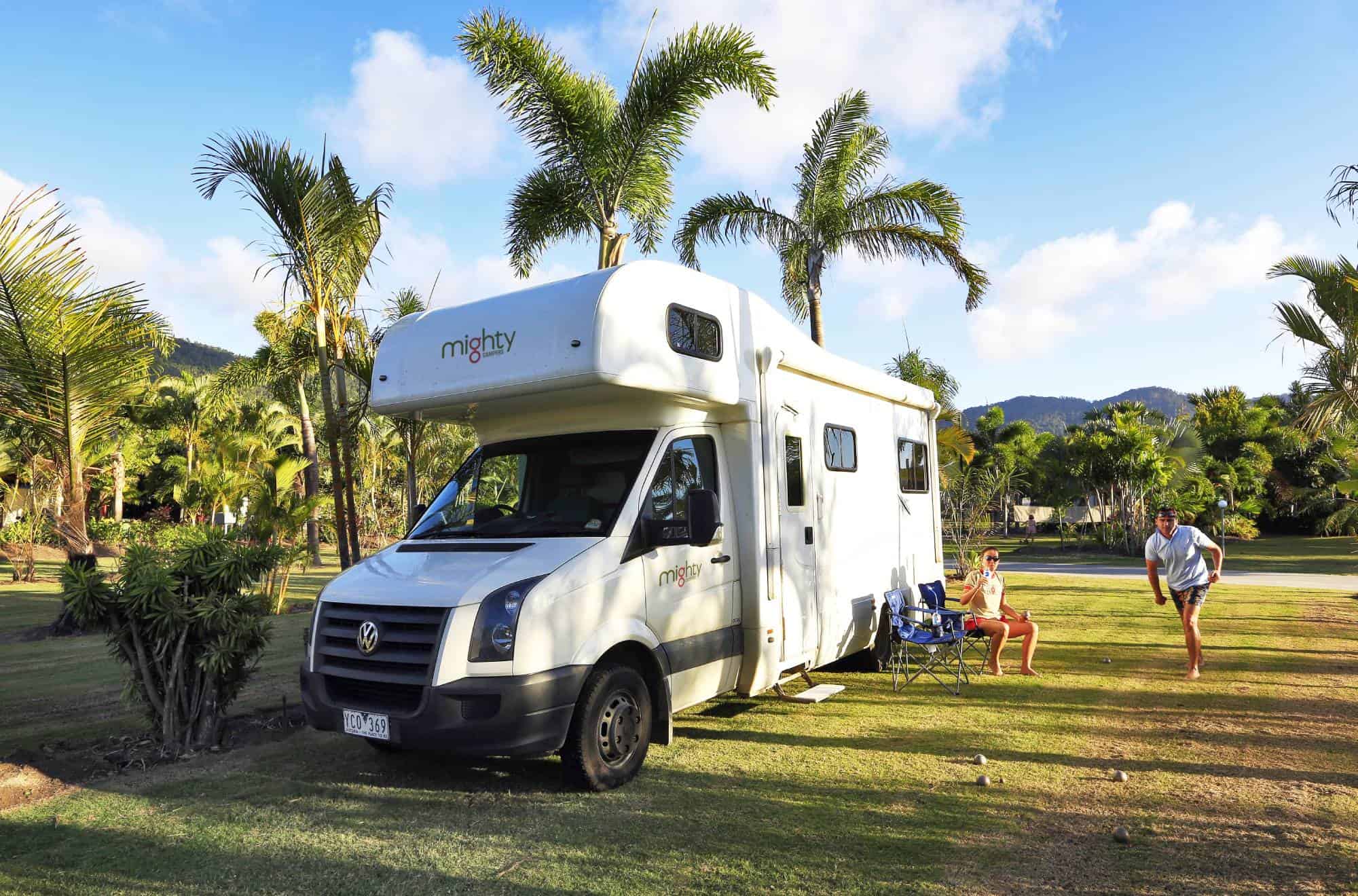 These are just a few of the many questions we get asked every day. If you have never looked at campervans for hire then you may have a few more questions you didn't realise you wanted to ask.
Check out these frequently asked questions. Let us know if you have any more questions we can help with. We are experts with both motorhome hire in Australia, as well as a huge range of travel routes. And most importantly we are happy to speak with you via video chat, phone call or email to answer your questions when planning your next motorhome trip. Planning made easy.
When is it a good time to go on a campervan holiday in Australia?
Anytime! Australia is a vast country that you can go anytime of the year. It will depend on what type of holiday you want, which will help determine where you can go.
It's a good idea to head south during the summer months and north for the winter months. In saying that though, if you are prepared for where you are going, you could go anytime.
Check out our Motorhome Rental Guide and follow our 4 easy steps process to finding out where you could go.
As the country is so big, the climate here can be very confusing. You may want to avoid the tropical heat and humidity of the north and opt for a cooler holiday in the south! Australia has 6 climatic zones with two main seasonal patterns. Wet season and dry season. Check out our other article here on the weather around Australia. That will help you determine where you want to go in your campervan hire, depending on what time of year it is.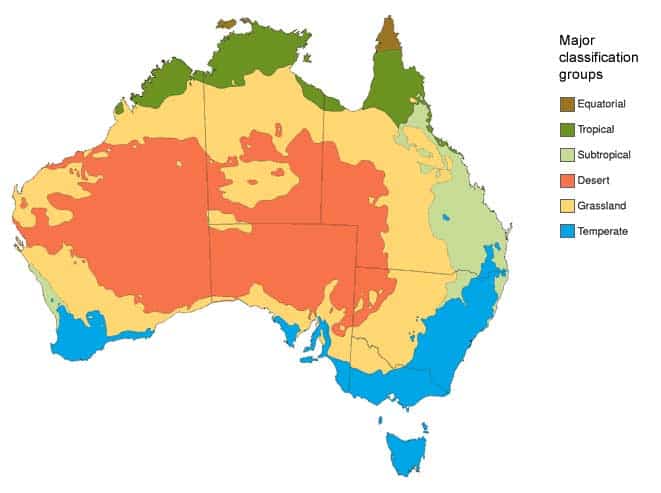 How long will I need my campervan hire for?
Its easy underestimate the time it can take to drive from A to B. It's better to overestimate than underestimate! Our top tip is to plan your itinerary and check out the km's between each destination point. Decide how long you want to stay at each stop over point. From there you can roughly calculate how long the whole trip will take.
We have given an outline of our suggestions of how long you could take to the most popular routes around Australia. On our Travel Routes pages you can see each route, how long we advise and what time of year is good along with some top highlights of that route.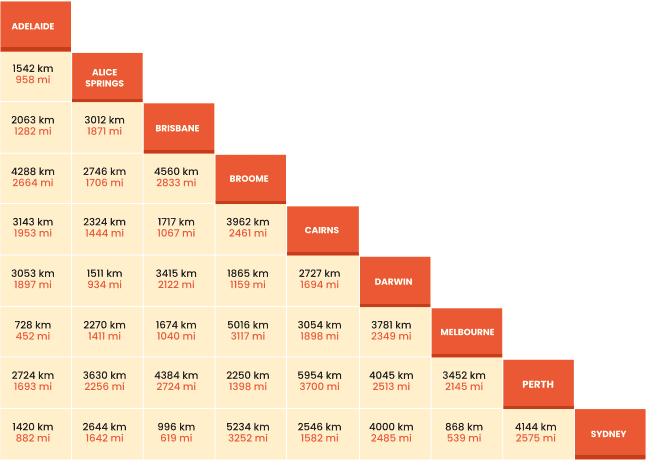 What does my campervan hire come with?
All our motorhomes and campervans for hire come with onboard creature comforts. Our larger motorhomes come with a well-established kitchen, microwave and onboard toilet and shower.
Our smaller campervans will have some kitchen facilities such as sink, fridge and gas stove cooking. Whether you are hiring a 4WD camper or a 6-berth motorhome, they all come with suitable sleeping arrangements suited to the configuration of motorhome or campervan and the number of people travelling.
All our motorhomes, 4WD campers and campervan hires have 24-hour roadside assist. They have also been maintained regularly to industry standards, and all come with insurance. The level of insurance is up to you which we take you through when you look at hiring. You can check out this article here for more details on insurance.
Do campervan hires have BBQ's?
Some of our motorhomes have onboard BBQ's. These are great to help complete the Aussie outdoor experience! If you are after an onboard BBQ, let one of our travel experts know when you submit your form or speak with us, so we can provide more information. We are also seeing a new range of motorhomes being made with onboard BBQs motorhomes, which we are very excited about!
If your campervan hire doesn't have an onboard BBQ, you will find a lot of public park spaces will have electric BBQ's. You'll just need some aluminium foil and your choice of BBQ food and away you go. You will also find in the majority of campgrounds they'll have BBQ facilities there too.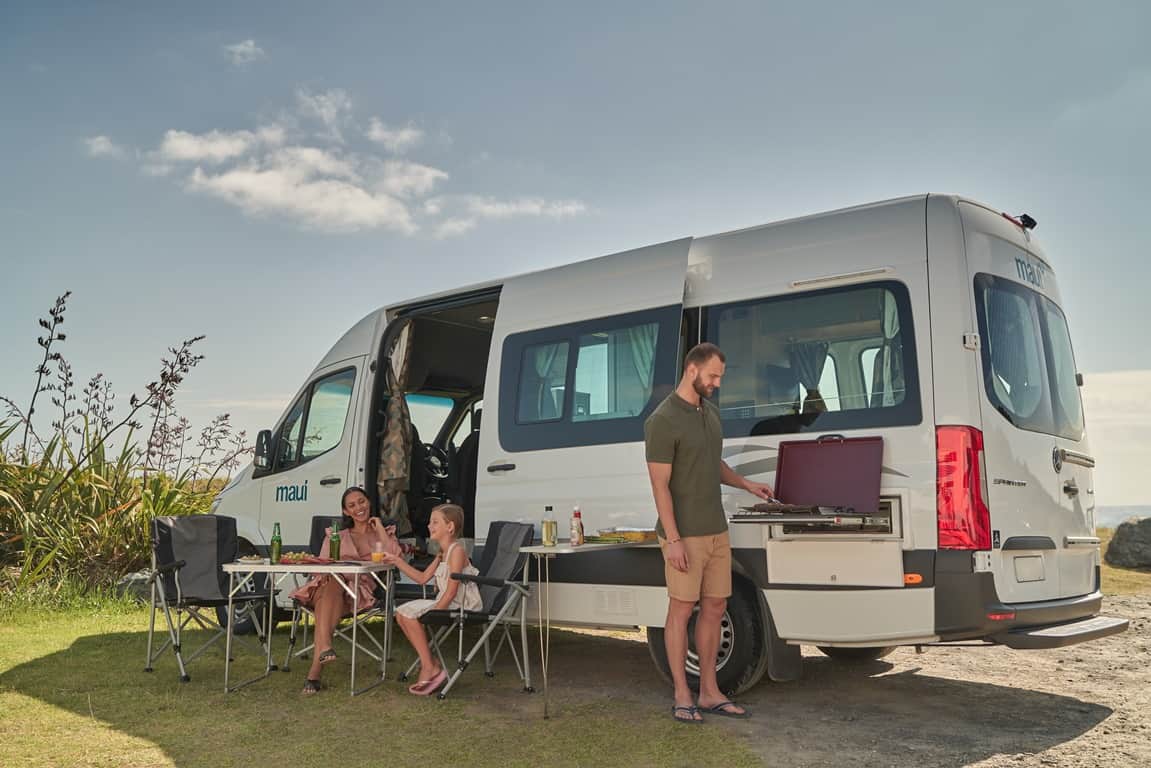 Do I have to pack away the bed each night?
We have campervan hire options that have the flexibility to leave the rear bed left made up.
You will find that in many of the campervans available, the rear seating which is the main eating area during the day becomes a double bed by night. This means if you don't have additional seating anywhere else in the campervan, you will need to pack away your bed each day. For many, those who are planning to be on the road a while, this is not generally the preferred option. You can hire a campervan that has additional seating/eating area which means you can leave the rear bed left made up. This can be a favoured feature for many when looking at campervan hire. Luckily, we have plenty of options which allow the bed to stay up during the day and still provide somewhere to sit down.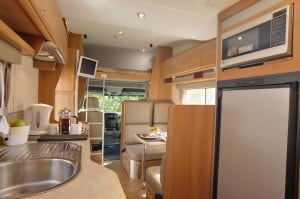 How long can I go between powered campsites?
If you are planning on doing some freedom camping, there are a few things you'll need to know.
Not every campervan can freedom camp. You will need to hire a self-contained campervan meaning it has an onboard toilet and shower.
The main thing you'll need to consider for freedom camping is how long your 'house' battery is going to last in between charging it back up. It is recommended that you plug into mains power every second or third night. Although this depends on how much you're draining the battery with the use of the fridge, water pump and lights. The TV/DVD player also often works on 12 volt which can drain the house battery pretty quickly.
We do recommend plugging in after 1 or two nights maximum. However, there are ways you can be off grid for longer. Speak to us about hiring a motorhome with solar panels, as this helps trickle charge the house battery. You could also look at a campervan hire with a 3-way fridge. These run off the gas instead of the battery when you are stationary.
Freedom camps are low-cost or free spots you can camp at overnight. They are designated areas so you can't just stop wherever you like, but there are many spots to choose from. If you'd like to find some Freedom campgrounds, check out the wikicamps app. For a low-cost investment, about the price of a coffee and cake, it has up to date information on campgrounds across Australia. It also notes where dump points are, has maps, works offline, and has reviews of campgrounds too.
And just in case you were wondering…if you flatten your house battery in the campervans for hire, you won't be stranded. There is a 2nd battery, like a normal car, which starts your engine. But that won't help keep your milk cold for your cornflakes in the morning if the battery does go flat!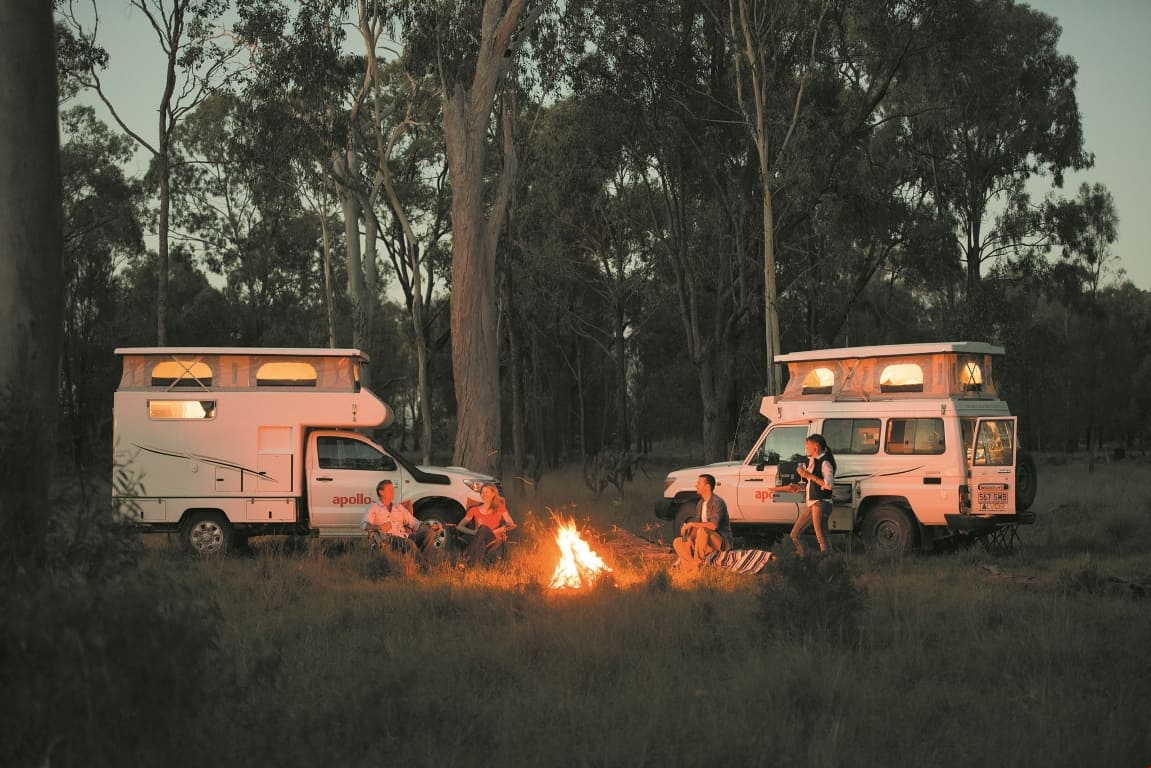 How often do you have to change the toilet cassette in a motorhome?
This really depends on the capacity of the cassette and how many people are using it. On average for a family of 4, you will find you will want to change the cassette every one to two days. This will obviously be longer if there are two of you and you are not using it that often, perhaps just for overnight visits! We would suggest emptying every 3rd day, even if not full.
The beauty of campervans with onboard toilets is the simplicity of emptying them. They are accessed from outside of the campervan. Simply pull the handle and remove the cassette from the cavity. Most toilette cassettes come equipped with wheels making it easier to carrying to the dump point. When you are at the dump point, rotate the exit spout away from the body of the cassette and remove the cap. Tip the contents down the into the dump point. When you are finished, rinse the cassette with water and rinse out.
After rinsing make sure you put a little water into the cassette and pop in the chemicals. Make sure you follow the instructions that come with the toilet chemicals as some do vary.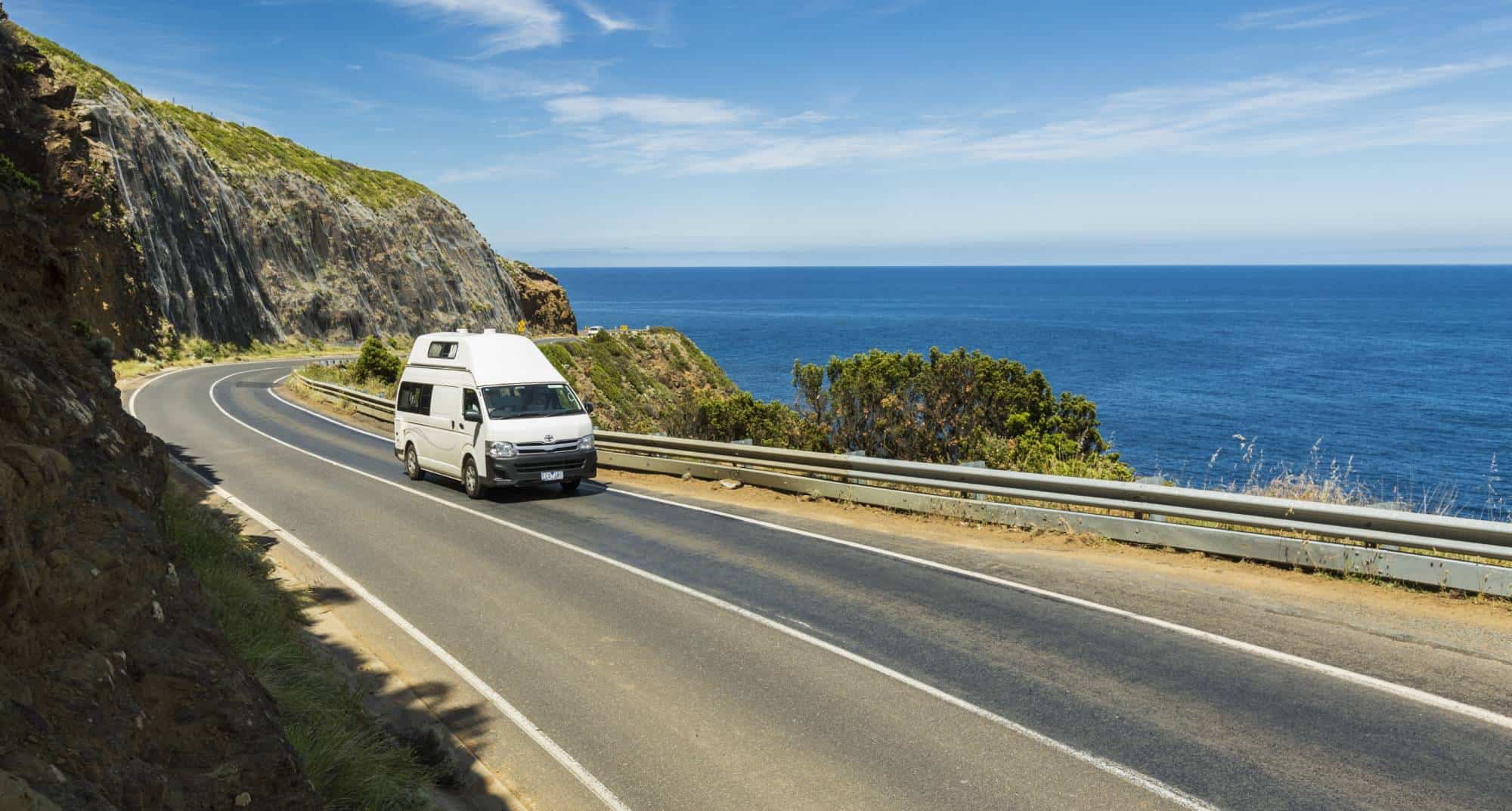 Have more questions about campervan for hire?
These are just a few of the frequently asked questions we often get asked about campervans for hire. If you have any questions that we haven't covered off, get in touch and let us know.
We have a wide range of motorhomes, 4WD campers, and campervans for hire to suit every budget. If you are starting to plan your next trip, get in touch and we'll help organise the perfect campervan hire for your trip.