Hiring a motorhome is an incredible way to explore most parts of Australia, and this is particularly true for a Brisbane campervan road trip! The famously incredible regions surrounding Queensland's sunny capital city instantly bring on those holiday feels!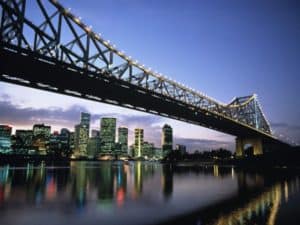 Where are Brisbane's campervan hire depots located?
Brisbane's campervan hire depots are located around Eagle Farm, Northgate and Geebung; close to both the city centre and the Brisbane Airport. You are spoilt for choice when it comes to selecting a motorhome vehicle to rent in Brisbane. You'll find almost every big brand here, such as Maui, Britz, Apollo, Cruisin', Cheapa, Lets Go and many more.
What this means is that you have access to every vehicle style and layout you can imagine. From luxury motorhomes with innerspring mattresses and chef's kitchens, right through to a big comfortable campervans to fit the whole family. (There is even a motorhome hire fleet that lets you bring along the family dog!) Keen to 'go bush'? We also have great 4WD camper options available!
What motorhome is best for a Brisbane campervan hire road trip?
The type of motorhome you should choose for your Brisbane campervan hire depends on a few key things.  Firstly, who you are travelling with and the size of your group.  Secondly, where you'd like to go.  The coast, the outback, the mountains? (Some vehicles are better suited to certain locations.)  And thirdly, the sort of motorhome holiday you would like to have.  Adventure, exploring the local towns and attractions, getting back to nature or relaxing… maybe a bit of everything? 
You can have a look around some of our most popular hire vehicles here.
What are the best destinations for my Brisbane campervan hire adventure?
As we mentioned, Brisbane is the perfect place to kick off your motorhome road trip. Queensland's laid back sub-tropical capital stretches out lazily between the Pacific Ocean and the towering Great Dividing Range. It is surrounded by lush, green hinterland and bordered by some of Australia's most beautiful coastline. On the other side of the Great Dividing Range lies Queensland's fertile food bowl and beyond that, the great red outback!
Route ideas for Brisbane campervan hire: short trips and loops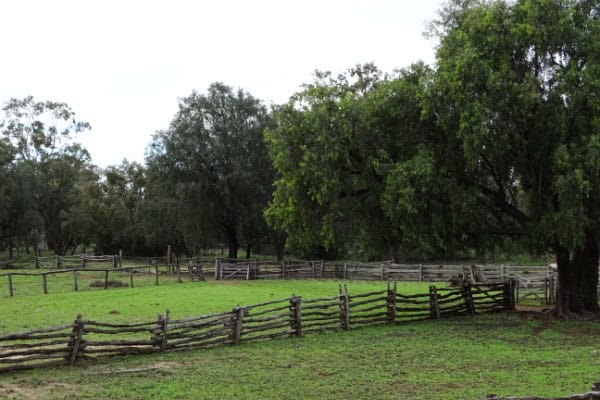 What are the best things to do in this region? Where do we start? There is such diversity of incredible destinations, activities and scenery within a few hours' drive of Brisbane that you could spend months exploring!
To the north and south of Brisbane lie the perfect surf beaches of the Gold Coast and the Sunshine Coast. Pick up your motorhome from the hire depot and you can have your toes in the sand within an hour! There is such diversity of incredible destinations, activities and scenery within a few hours' drive of Brisbane that you could spend months exploring!
Discover why the whole world is in love with the vibrant coastal towns, such as Noosa and Byron Bay. Spend a day discovering the little villages and artisan shops of the Glasshouse Mountains. Hike through the ancient Gondwana rainforests of the Gold Coast hinterland to thundering waterfalls and breathtaking lookouts.
Only a few hours further north, you'll find the whale-watching capital, Hervey Bay. From here, you can take the unforgettable day trip detour to magnificent Fraser Island to swim in sandy azure perched lakes and see dingoes in the wild!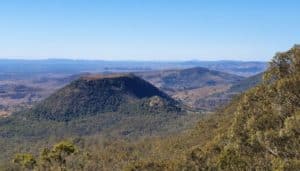 Take your motorhome 'over the range' to discover the lofty views, fascinating colonial history and magnificent floral gardens of the inland city of Toowoomba. Continue on to explore the Granite Belt's award-winning vineyards and the spectacular Girraween National Park. Travel north west for a taste of cattle country and the remote outback. You can either design this trip as an outback/coastal loop, or incorporate it into a one-way journey through to Cairns, or even Darwin! We've included some of our favourite Queensland bush destinations below, in the section about longer one-way road trips.
Route ideas for Brisbane campervan hire: longer one-way road trips
Brisbane is located right in the middle of the east coast, making it perfectly placed for a longer one-way road trip in either direction. Pick up a Brisbane campervan hire and follow the beautiful coastline south to the beautiful harbourside city of Sydney. Or take a magnificent trip north to warm, tropical Cairns. Then after your epic Aussie road trip adventure, simply drop your vehicle off at your final destination!
Roma
We highly recommend venturing inland to explore Queensland's charming outback towns, where you can expect a friendly welcome and a whole lot of bull-dust! The big country town of Roma is a great example, located a 5.5-hr drive from Brisbane and home to the biggest cattle saleyards in Australia. Try to time your visit to coincide with the Tuesday cattle auction to see for yourself how the saleyards sell over 400,000 cattle per year! Be sure to arrive by 8:15am for the fantastic free guided tour at 8:30am. The tours are conducted by local graziers, who teach you all about the local cattle industry as you watch the auctioneers demonstrate their fast-paced skills.
Not far from Roma is one of our very favourite places to stay in your Brisbane campervan hire; Possum Park, just outside of Miles. Surrounded by beautiful bushland, this kooky campground features WW2 bunkers, a full sized TAA plane and lots of bush walks and wildlife. The lovely owners go out of their way to welcome guests, and everyone loves the fun communal campfire in the evening!
If you do decide to head out west, there are plenty of other great unmissable destinations too.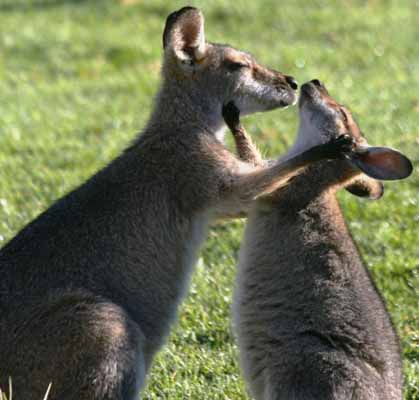 Why not make your holiday a Brisbane campervan hire road trip extravaganza! Wind your way up to the misty Bunya Mountains, for example. (Please aware that the roads up the mountain are narrow and steep in sections, so it's unsuitable for larger vehicles.) There is so much wildlife to see here from wallabies to king parrots to fireflies. It's almost a spiritual experience wandering through the shady coolness of the giant bunya pine forest. It's amazing to see the climbing notches made in the trees hundreds of years ago by the Aboriginal people harvesting the gigantic spikey bunya nuts!
If you'd like to camp in the Bunya Mountains, Dandabah campground, run by the national park is the only one suitable for motorhomes (booking essential). It's a small grassy field on the edge of the forest, with hot showers, bbqs and picnic shelters. It's located next to the 'village' (i.e, where you'll find a small shop, café, tiny museum and a restaurant/bar). The most popular forest trails start about 100 m away from camp.
True taste of Outback Queensland!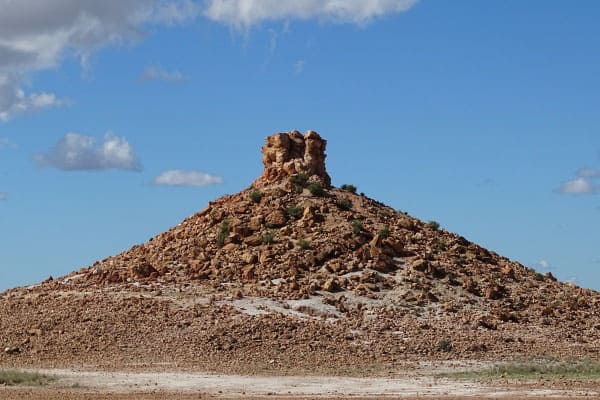 For a true taste of the outback, continue west into Queensland heartland. Explore Longreach, home to the Stockman's Hall of Fame and Qantas and Winton, Australia's dinosaur capital. The incredible Australian Age of Dinosaurs is a must-see, giving you a chance to experience this ancient world firsthand! On the way, walkers should to detour to explore the ancient, hidden world of tree ferns, caves and waterfalls sheltered within the walls of Carnarvon Gorge. You can read all about this amazing place on our website.
For even more great ideas for this route, check out our full Brisbane to Cairns – Outback & Coast Travel Loop.
Or if you'd prefer to have a chat to run through options of vehicles and routes for your Brisbane campervan hire holiday please do get in touch! At Gallivanting Oz, we know Australia because we go!