A family motorhome hire roadtrip is on the bucket list of many, and we'd like to make it easy!
The very words evoke feelings of freedom, of adventure…or fear! He's hitting me! I need the toilet again! Are we there yet? Just joking…sort of!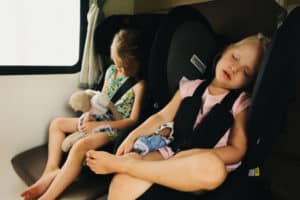 Its so much easier than you think with a family motorhome hire. Travel with kids can be incredibly rewarding and adds a whole new dimension to any trip. Seeing things through their eyes is just magical, as is watching their self-confidence and interest in the world grow and develop quite naturally. It's just so good for them! Experience has taught us, however, that everything goes much more smoothly with a little planning and preparation before you leave and you too can adopt the family road trip mantra 'Be prepared, not scared!' If you are looking at hiring a motorhome for your family, get in touch and we'll make sure you get the best vehicle for your family requirements. Also check out our vehicle options and chat with us!
Meanwhile, check out below our list of top tips for stress-free family travel!
Tip #1: Plan your route
This is vital! Ensure that you factor in your family motorhome hire road trip, a 15 minute stop every 2 hours, and expect a couple of shorter ones in between! It's a good idea to check online for towns with good spots to stop with kids – parks with a playground, family friendly country pubs or a national park. Remember your motorhome comes with a kitchen! Generally speaking, Australia does this well with lots of playgrounds, particularly in coastal towns.
Tip #2: Safety First
The last thing you want to do is to have to unpack every bag just to find a band aid for a scratched knee. Have a first aid kit with all the basics at arm's reach, including tweezers, thermometer and fever medication, just in case! We recommend putting it in a small backpack, along with hats, insect repellent and sunscreen. (See Tip #3 for more essentials)
Tip #3: What to Pack

Carrying on from the last point (important enough to have its own number), think about everything you'll need before you go and make sure it's accessible. This includes:
The Essentials – Ziplock bags for wet clothes, dirty nappies or car-sickness emergencies, tissues and your own body weight in wet wipes.
Change of clothes (and maybe even swimmers and towel if you're passing a nice swimming spot)
Games and Toys (see tip #4)
Food, water and snacks (see tip #5)
You might also like to try out some of our Road Trip Hacks: Pack plastic trays for a good surface for playing with lego, toys or doing drawing without the pencils rolling away. Plastic over-the-door shoe holders are perfect for keeping activities, toys and pens tidy and accessible. Plastic cups are great to put snacks in and can be popped into the drink holders – no spills!
Tip #4: Activities for Long Car Journeys
This can be the make or break point of a successful family road trip. We all know 'Eye Spy', but after round 23, you may find the will to live slipping away…so here are some of our favourite activities!
Songs and Group Games.

Eye Spy – (because it's the original and the best!) Vary for younger kids using colours or sounds.
Travel Bingo – There's lots of printable versions available online, or make your own! The kids tick each item off as they see it until – bingo!
I went to the Market – is a good one for slightly older kids – it's a challenge so it keeps them focused and it improves the old grey matter too – winning! The game, for the uninitiated, is played thus: Kid 1: 'I went to the market and bought an apple' Kid 2: I went to the market and bought an apple and a tin of paint, Kid 3: I went to the market and bought an apple, a tin of paint and pair of spotty socks…you get the gist!
Down by the Bay – Now this little road trip gem needs some prior planning if you don't know it. YouTube will show you the way. It's a rowdy, sillier-the-better, rhyming song – great fun and annoyingly catchy!

Colouring pencils, books and travel games – Pack a large clear folder for each child with all their goodies in – jazz it up with a couple of new items for the trip.
Map the Journey – Keep the kids engaged and interested in where they by printing out or buy a map, give them red marker and get them to mark out the journey as you go!
Audiobooks – download a few books before you go, or borrow CDs from your local library. The kids enjoy being read a story – and you can relax!
IPad, Tablet, Portable DVD Player – We all know that too much screen time doesn't usually result in calm, happy kids…but oooh that lovely peace and quiet! Our verdict is that as long as it's alternated with other activities, a movie or a little play on Minecraft can be a sanity-saver!
Stop and Burn! Ensure maximum energy is burnt off by packing a frisbee, bubbles, inflatable beach ball or skipping rope. Pop them all in a bucket in the external storage locker for easy access.
Some of our family motorhome hire options also have a DVD player that operates while travelling too!
Tip #5: And when all else fails…FEED THEM!
Pack lots of small, healthy snacks. Some of our favs include:

Pack cut fruit and veggie sticks, grapes, cheese sticks, packs of sultanas, mini wraps or sandwiches.
Avoid anything sugary, crumbly and sticky – you know why already…
Try and save any favourites for leverage later!
With all of these tips under your belt, we're absolutely confident that your next road trip will be a wonderful experience for your whole family! Enjoy making those memories!
Need some inspiration for where to go for some family road trips? Check out our blogs on Kondalilla Falls and Carnarvon Gorge.